Kok-Tobe (Kök-Töbe) is the symbol of Almaty and the highest point of the city at the height of 1130 m above sea level. It is one of the most popular destinations within both the guests and residents of Almaty. From up here you can observe the beautiful panorama of the mountain ranges and the Almaty city. During the night time, the view is remarkably magnificent while Almaty is illuminated by its glimmering lights. On of the most brightest lights visible is the 350 m high TV tower that was built on a seismically active area on the hills above Almaty. Kok Tobe translates from Kazakh as "Green Hill" and is located west from the Medeu district at the outskirts of Almaty. 
Formally the mountain was called Verigin, a name of a wealthy merchant who lived at its base. Kok Tobe started to develop after the first Secretary of the Communist Party of Kazakhstan, Dinmukhamed Kunaev, initiated the building of a park here. As a result, the first Central Asian cable car was constructed here in 1965 with the laying of the lower station next to the Palace of the Republic. Engineers from Tbilisi were involved in the main design and installation works. At the top you will find a park with viewing decks, walking alleys, benches and restaurants.
On the initiative of local fans in 2007, a bronze statue of the four Beatles, was placed in the park. 
The statues are next to the the sign 'I Love Almaty', where local people come for photos. The cable car track to Kok-Tobe is 1620 meters long and reaches approximately 250 meters in elevation. The fee for a return ticket is about 1700 tenge.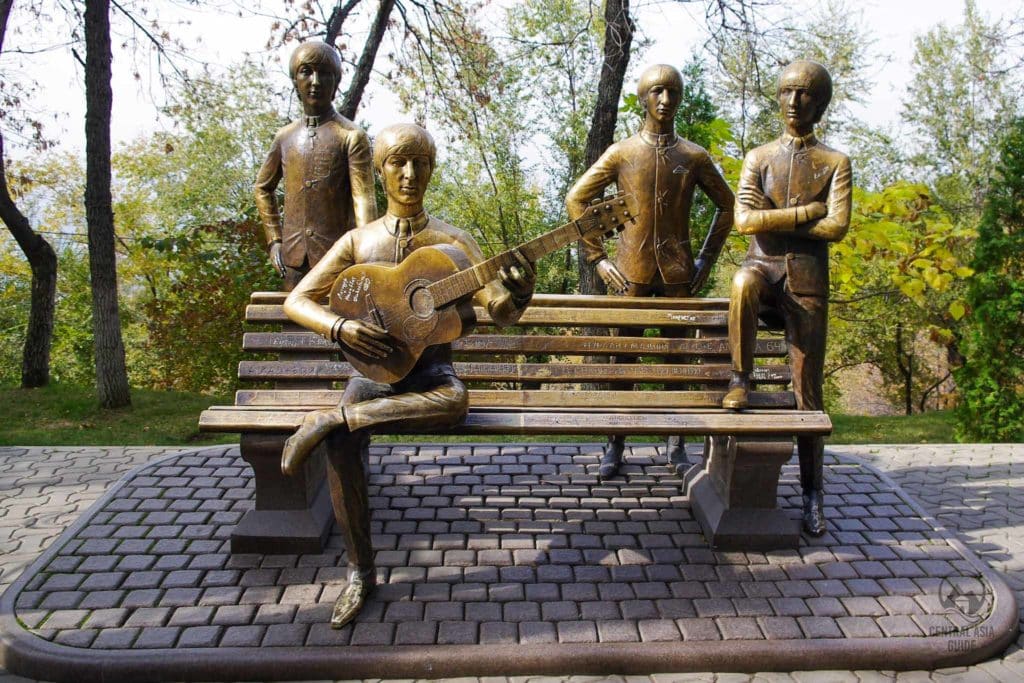 A unique cable car connects the center of Almaty and the Kok-Tobe mountain. The starting point is the station on Dostyk Avenue, the upper station is in the Kok-Tobe park on the mountainside. The cable car will take you over the cottages and houses, straight up to the Kok-Tobe mountain in only six minutes.