Kazakhstan, Kyrgyzstan, Tajikistan, Turkmenistan and Uzbekistan are emerging one by one as promising destinations especially for off-the-beaten track adventures. Central Asian countries have a lot in common after being all part of the Soviet Union and parts of different ancient cultures in the history but have all their own distinct cultures and offer a lot of unique experiences for travelers. This Central Asia travel guide aims in giving you the necessary information of all the sights, attractions and destinations in Central Asia so that you can enjoy the beauty, people and rich history of the region. Our well proven Central Asia tours will have you exploring and experiencing the Central Asia in no time and utilizing all the time and effort we have invested in exploring the region for your leisure.
Most Popular Central Asia Tours
Central Asia multi country (Stan) Tours
Central Asia attractions, destinations & sights
by country
Latest Updates to Central Asia guide
What to do in Central Asia
Things to do in Kyrgyzstan
Kyrgyzstan has so much to offer! Central Asian nomad culture is best preserved in the Kyrgyz mountain valleys that amaze with their nature.
Things to do in Uzbekistan
This time it is Uzbekistan. Have a look at the possibilities of Uzbekistan and dive deeper! Let us know when you are ready to take a tour!
Featured Central Asia destination
Son Kul is the largest freshwater lake in Kyrgyzstan at the altitude of 3016 meters. It is an amazing destination for horseback riding, hiking and to see the nomadic way of life with yurts and shepherds herding their flocks of animals. There is also no light pollution at all in Son Kul which makes the night skies amazing!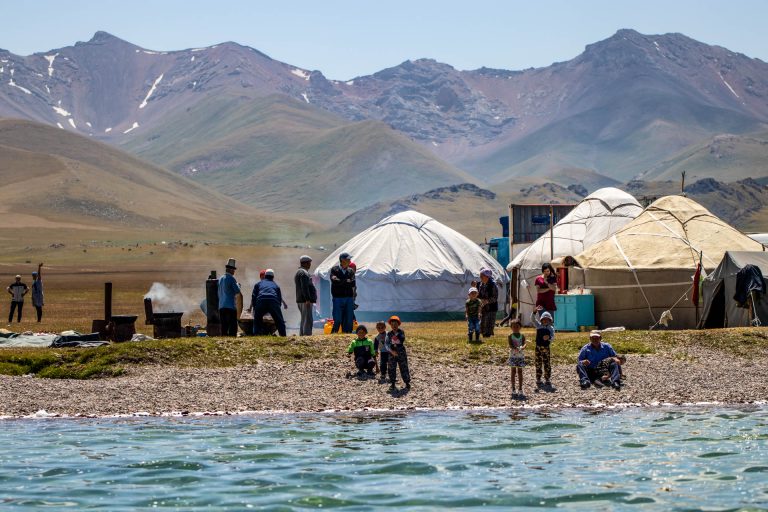 Tashkent is growing rapidly! Tashkent is a great base to explore the Northern Uzbekistan and the city itself offers also a lot to see. Even the Metro of Tashkent is a sight by itself, not to mention the numerous fountains, restaurants and parks of the capital of Uzbekistan.
Central Asia in a nutshell
Central Asia was under the Russian or Soviet rule for about 100 hundred years, some parts even for a longer period, meaning that travelers can make more use of Russian than English, especially in the rural areas. Before the influence of Russian culture, the area was under the rule of different Islamic Khanates and throughout the history Central Asia has been conquered by many different types of civilizations from Greek to Persian and Chinese influence. Frequent changes in the governance in the region have created a melting pot of different cultures that can still be seen today as many of the Soviet drawn borders do not follow the ethnicity of people.
Central Asia's golden era
Central Asia's golden era was during the dark middle ages of Europe when the science and culture flourished in the region and the Silk road commerce brought wealth to the area. The region gave birth to a remarkable amount historic figures who gave their contribution to the development of mathematics, astronomy, literature, linguistics, political science and architecture. Also religion was significantly developed in the region as several of them coexisted in the area at the same time: Zoroastrianism (fire worshipping), Greek polytheism, Hinduism, Buddhism, Judaism, Christianity and Islam all had their supporters. Now Central Asia is mostly dominated by secular Islam but after independence from the Soviet Union where religion was not allowed, Islam has started to gain more foothold again.
Central Asian nature and landscapes
Central Asian nature and landscape are dominated by high mountains and deserts, steppes with several great rivers (and thousands of small ones) that give life to the otherwise mostly arid regions. The mountain nature with pristine lakes and unique valleys are waiting for the hikers to explore all their secrets. Ancient settlements and fortresses can be found abundantly and the people are welcoming and hospitable towards tourists and eager to show their beautiful countries. The quality of infrastructure varies a lot but the lack of it is a part of the experience for the ones who wish to explore deeper. As a conclusion it can be said that Central Asia is a fairly unknown but an easily accessed and extremely rich area to be explored by the ones who want to step off the beaten path.
Central Asia has been the melting pot of different cultures for thousands of years and has developed its own culture with differences between the Stans. If you enjoy ancient cities and marvelous mountainous nature, Central Asia is a must visit for you.
All Central Asian countries except for Turkmenistan are fairly open to Western travelers. Tourists can easily move between the countries.