Gorgeous mountains, alpine lakes and even a large walnut forest, Kyrgyzstan is the perfect place for outdoor adventures and nomadic culture. You can choose from a day of swimming at one of the many lakes, climbing a high peak, or an overnight horse trek, not forgetting fishing and hunting.
Kyrgyz people have been and are still partly nomadic people who move continuously between the mountains and valleys of the regions with their cattle and live in their "mobile homes" called a yurt, like in the picture to the right. If you are not a person looking for an easy vacation but more an adventure, Kyrgyzstan is the place to be.
Kyrgyzstan has 7 regions: Chui, Issky-Kul, Jalal-Abad, Naryn, Talas, Batken and Osh. Some regions have airports but there are very few flights except between Osh and Bishkek. Anyway, the country is best seen by traveling by car as you will be amazed by the gorgeous views of the mountains and valleys in between. Kyrgyzstan has made more progress towards democracy than any other Central Asian state after the collapse of the Soviet Union.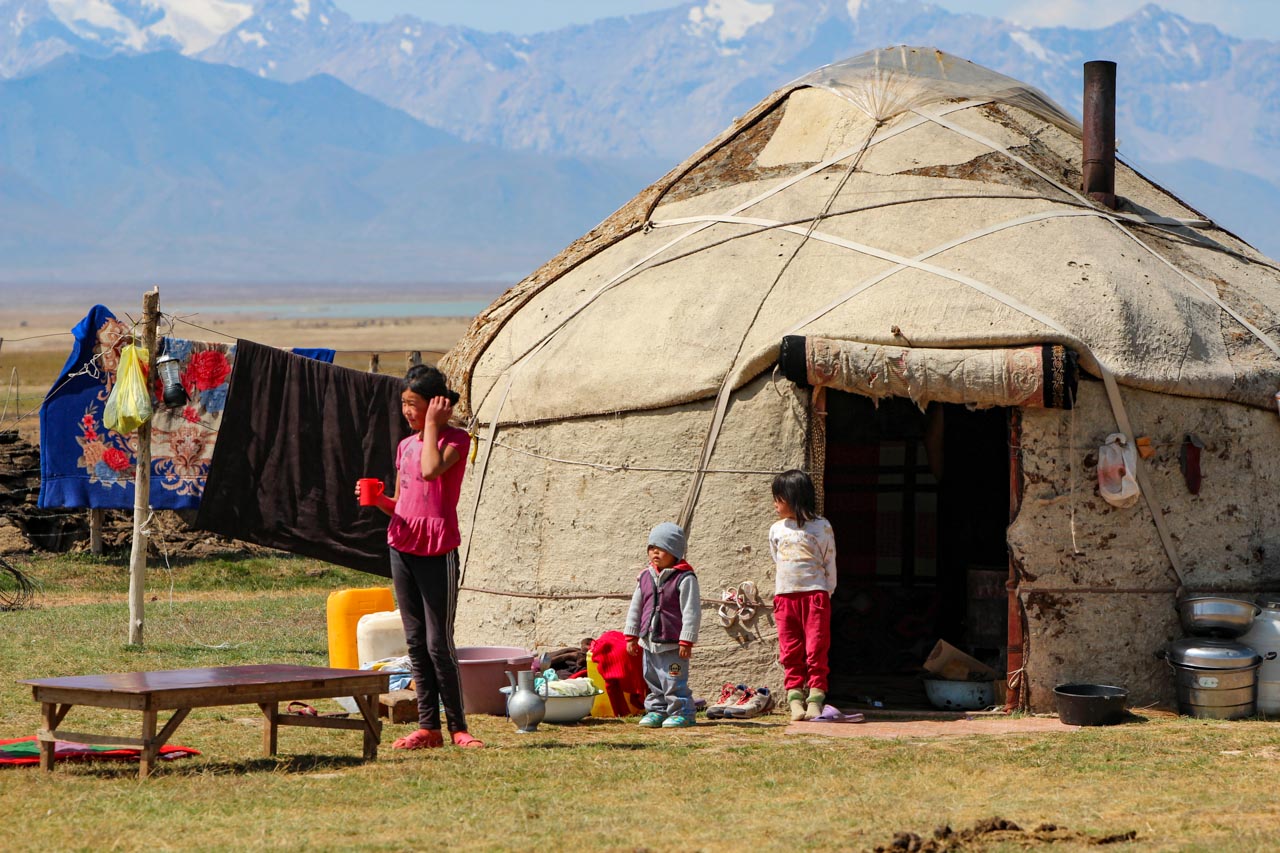 The total area of Kyrgyzstan is 199, 951 km². Over 90% of Kyrgyzstan is covered by mountains.
Unspoiled mountainscapes and rolling zhailoos are brought to life by semi-nomadic, yurt-dwelling shepherds. Highest point: Peak Pobedy 7,439m
In October 2022 the population of the Kyrgyz Republic reached 7 000, 000. The largest ethnic group is Kyrgyz, then Russians and Uzbeks.
Minorities include Dungans, Uyghurs, Tajiks, Kazakhs, Ukrainians, Koreans, and other smaller ethnic groups. 35.5% of the population is urban.
Both Kyrgyz and Russian are listed as official languages in Kyrgyzstan.
In the regions, people mainly speak Kyrgyz. Russian is more common in the Northern part of the country in the Bishkek region. In the southern part of country Uzbek language is widely spoken as well. 
Som is the national currency of Kyrgyzstan. Kyrgyzstani som is the only money in Central Asia featuring a woman on a paper banknote.​
Things to do in Kyrgyzstan
Kyrgyzstan Sights & Destinations
We do not recommend drinking tap water in Kyrgyzstan. In the bigger cities, chlorine level is high, killing all the bacteria but the chemical water quality is not good.
Therefore most locals have filters attached to their taps or they buy bottled water which costs approximately 30 som/liter. In smaller towns, it is better to stick with bottled water totally to avoid stomach problems.
Kyrgyzstan is quite a safe country for tourists, but everywhere, there are certain things to take into account: Keep your valuables under supervision in crowded places such as public transport, bazaar, etc.
Avoid walking alone in the dark streets and look around when crossing the roads as the traffic culture leaves a lot to hope for especially in Bishkek.

The best times to visit are spring and autumn – As most of the Kyrgyz sights are in nature our outdoors it is best to avoid the hottest summer (July-August). 

If you happen to arrive in the hottest time, be sure to escape to Issyk Kul or other higher areas for more cool weather. During winter it is a must to take a trip to the ski resorts near Bishkek and Karakol.
You will find exchange offices easily in many corners of Bishkek. The most famous place is the Sovetskaya intersection Moskovskaya Exchange which is open 24/7. Visa and Mastercard work well with Demir bank and Visa with most other banks as well.
Make sure to have enough cash before traveling to regions as it is harder to find working ATMs in the more remote towns and villages especially.  
Kyrgyzstan is relatively affordable for accommodation, meals, clothes, transportation, and even alcohol. For instance, you can get a bed for $20- $25, lunch for about $5-$10, and a cup of good coffee will be $2.
Transportation inside Bishkek will cost you about 60 som – 400 depending on the distance. However, there is a trick to keep in mind, sometimes drivers increase the price if they realize you are a tourist. Remember to agree on the price before stepping inside or using the Yandex or Namba taxi for example to make sure the metering is not tampered with. 
There are a big number of ATMs in Bishkek and Osh today. Most restaurants and shops in Bishkek accept card payments such as Visa, MasterCard, Union Pay, and others. The visa card remains to be the most popular one. 
Most local small business favor cash though especially taxi services and bazaar vendors.   If you are going to the region's best to get cash, there won't be many places with ATMs there.
At the arrival terminal of Bishkek Manas International Airport, you can get a free sim card. Most likely they will be handed to you at the exit by local young people working for the operators even if you didn't really want one. 
You may also approach Beeline, Megacom, or O (Oshka) stands next to the exit and purchase data straight away. Operator shops are scattered around Bishkek shopping malls and data is very inexpensive. 
Mobile data works well in Kyrgyzstan, especially in major cities. There are few spots with free wifi including the trolleybuses and almost all the cafes provide free wifi in Bishkek.
Mobile internet is cheap and fast enough to do research and stay in touch with video calls. 4G is available in major towns. However, in the mountain areas, there are very often places without any kind of signal, not even for calls. A good example is the Son-Kul area.
During the 8th century, Arab invaders conquered what is now Kyrgyzstan and introduced Islam. Kyrgyzstan remains a predominately Muslim country with around ¨83% of the population of Kyrgyzstan are Sunni Muslim, followed by Christians at 15%. A small percentage of the population are Buddhist or Jewish.

Nevertheless anyone can get alcohol anytime in Kyrgyzstan and the clothing is relatively free. Having said that it is not uncommon for women with very open clothing to receive unwanted attention from the local young guys.
Kyrgyzstan Must Visit Cities
Interesting Facts about Kyrgyzstan