Bazars are a perfect place to see the Kyrgyz daily life and get to know more about the culture. Inside bazars of Bishkek you can smell the fragrance of freshly baked Kyrgyz lipeshka (bread), prepared in tandoor oven (cylindrical clay or metal oven used in cooking and baking) and taste kymyz (fermented mare's milk) and various other local treats. Bazars are an excellent opportunity to understand the ancient traditions of the Kyrgyz capital, to purchase fresh products and souvenirs and to taste traditional sweets. What is special about the Kyrgyz bazars is that they are less organized than in the neighboring countries and in that sense more original and authentic.
You can also get fake Nike socks for less than a dollar or cheap "almost real" most likely Chinese Louis Vuitton bags along with other inexpensive and sometimes low quality products. Bazars are also the place where the Kyrgyz, Uzbek, Russian, Dungan and Korean communities of Kyrgyzstan come together in the interest of commerce. Despite the cultural differences, there is a friendly and pleasant atmosphere in the market even though it might feel a little hectic for a first timer, with the carriage pushers shouting to get way and constant chattering and barter around you. Most of the bigger towns and villages have some kind of bazar. We always recommend visiting them to enjoy the local dishes and atmosphere.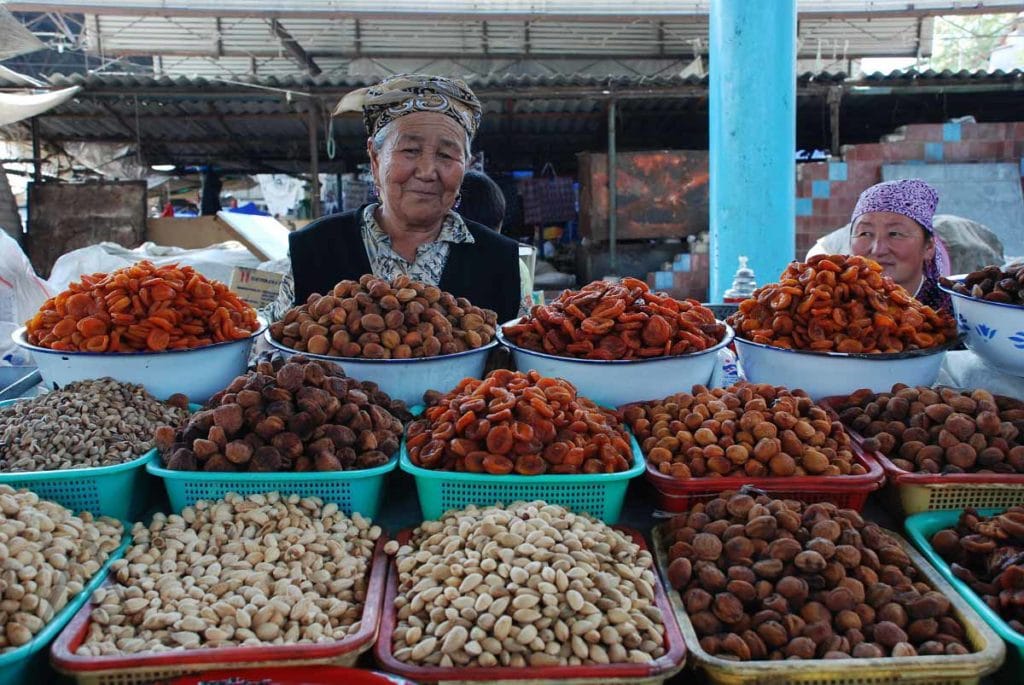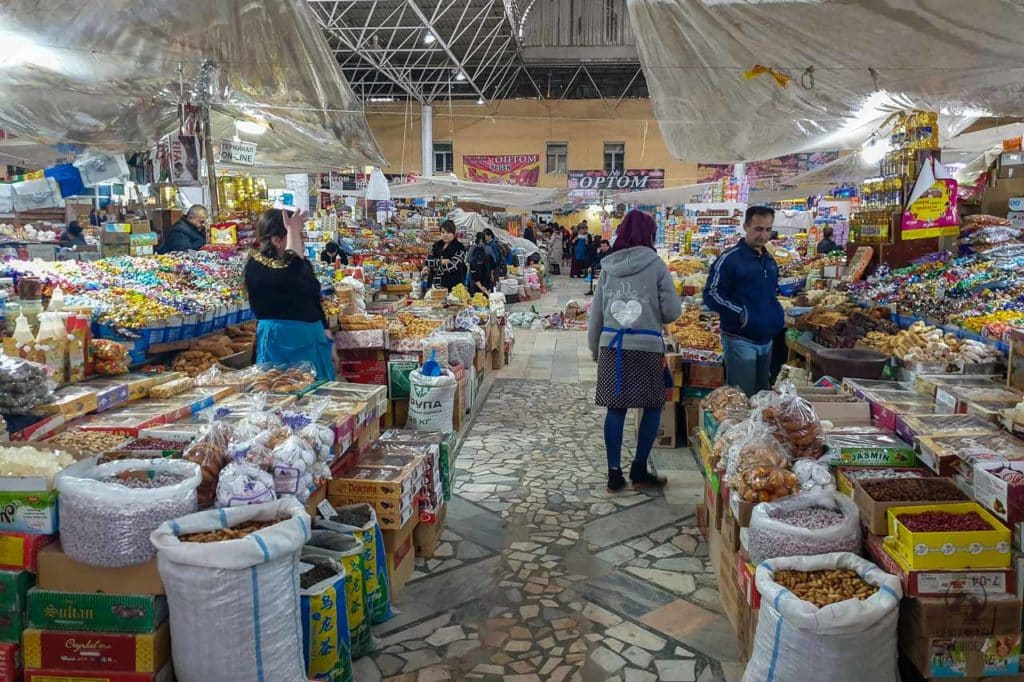 There are also other Bazars in Bishkek in addition to ones that are mentioned here. We have mentioned the ones that we have thought being the most interesting from the perspective of a foreigner or a tourist in Bishkek. 
Osh bazar is the most famous bazar of Bishkek and is located at the western side of the city center and can be reached by walking. Taxis struggle quite often to drop or pick up people as there are a lot of cars trying to find their way around or parking around the bazar area. The market is the same age as the Great Silk Road and is therefore more than 2000 years old, still residing in the same location. 
The area of the Osh bazar is quite big, almost one kilometer in diameter and not very organized, so it is easy to get lost but one can always find their way out after some adventurous wandering. The Ala-Archa river is a good landmark to keep in mind as it cuts the bazar area into half.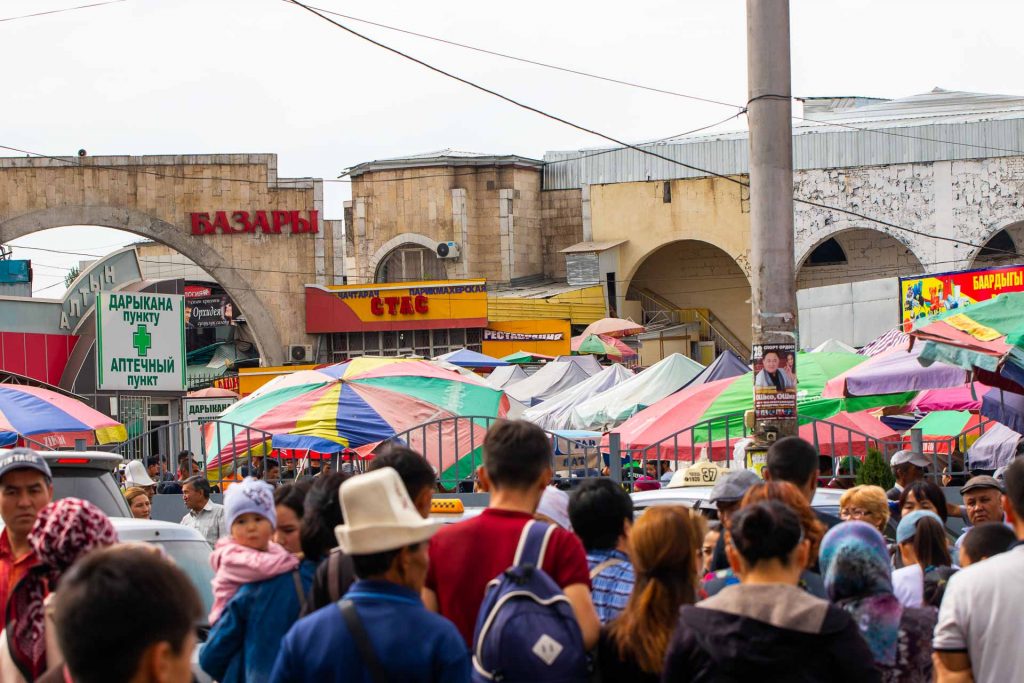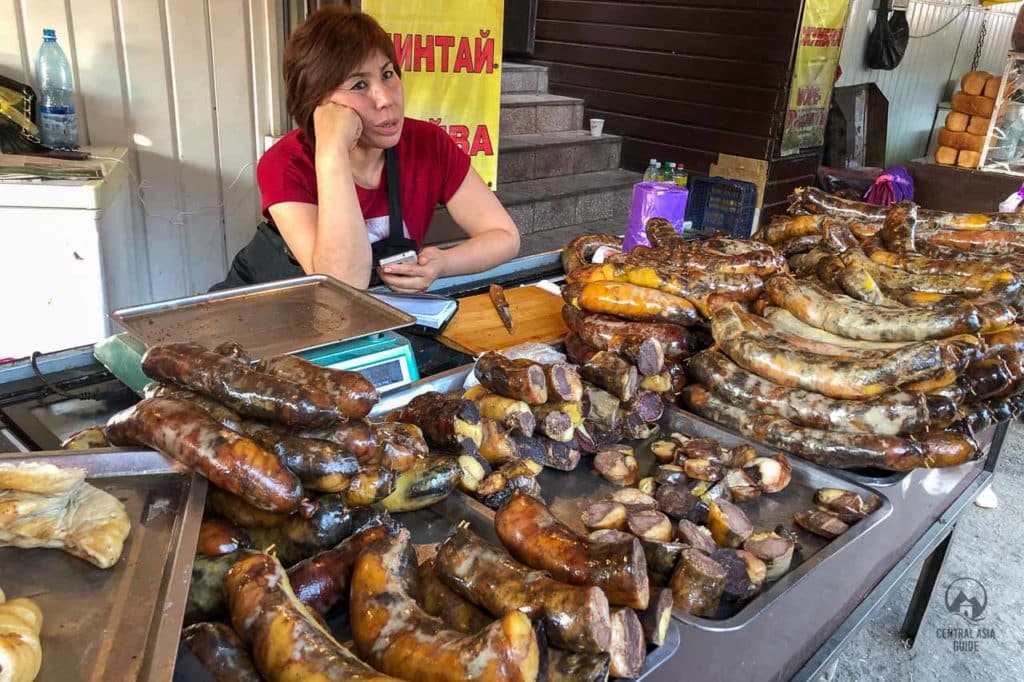 You can find almost anything in the Osh bazar from different food products to household chemicals, clothes, shoes, camping equipment, books, cheap second-hand devices, tools, national souvenirs, etc. The most fun for tourists is the food area with fresh fruits and vegetables and even ready Korean salads, snow-white kurut, apricots and huge watermelons that are much bigger than your head, commonly weighing more than 10 kilograms.
In the meat department of the market, in the indoor area, you can find fresh beef and pork, horse meat, mutton and even yak meat. You will also come across traditional Kyrgyz delicacies such as chuchuk (sausage made from horse meat). It's also popular within locals to buy dried fruits there to make a сompot (stewed fruit). Osh bazar is open every day, seven days a week and the best time to visit is in the morning.
Dordoy Bazaar is a major shopping and employment center for the Bishkek metropolitan area and the entire Chuy River Valley region. It is also one of the main entry points through which consumer goods from China and other countries arrive to shops and markets in Kazakhstan, Russia, and Uzbekistan. There are also goods from Turkey and lately the amount of local goods made in Kyrgyzstan has been increasing. Like a self-contained city, Dordoi bazaar has been built almost entirely out of shipping containers forming blocks and roads between the different areas. It is the largest wholesale and retail market in Kyrgyzstan, and people from all regions come to do the shopping there. 
Dordoi bazar is a vast area, so you can easily get lost without a map and even with a map as you cannot see any landmarks, only endless corridors between rows of containers piled on top of each other. Walking between the containers you can notice men with heavy wheelbarrows, packed with goods coming and going and constantly bellowing to give him way or women and children selling soft drinks and boiled corns. If you get lost we suggest using your nose and to grab nice smelling samsa or other snack, gather your strength and to keep going until you find a way out.
Without a guide it will most likely take a lot of time to find what you are looking for inside Dordoi. On the other hand it is a nice adventure and an experience of how a current day bazar in Central Asia can be. 
The trip from the Bishkek center to Dordoy takes about 20 minutes by taxi and costs about 150-250 som. You can also get a marshrutka for 20 som or a trolleybus for 8 som next to Tsum bus stop. Trolleybuses number 4 and 8 drive to Dordoi Baazar and back. It seems that we cannot always keep up with the changing marshrutka numbers so please check once again before going.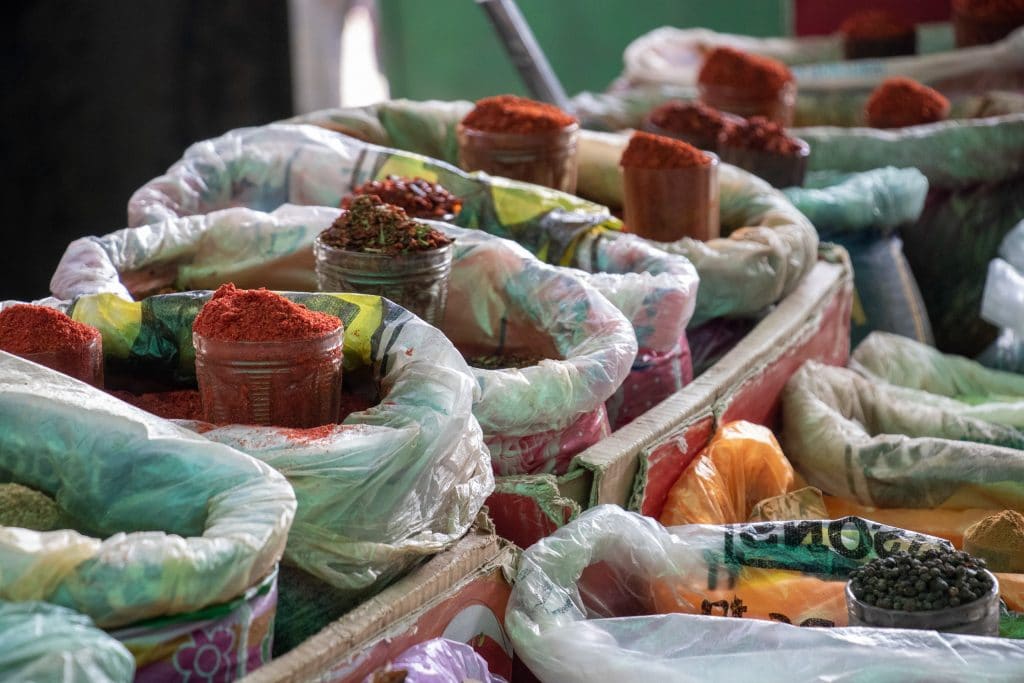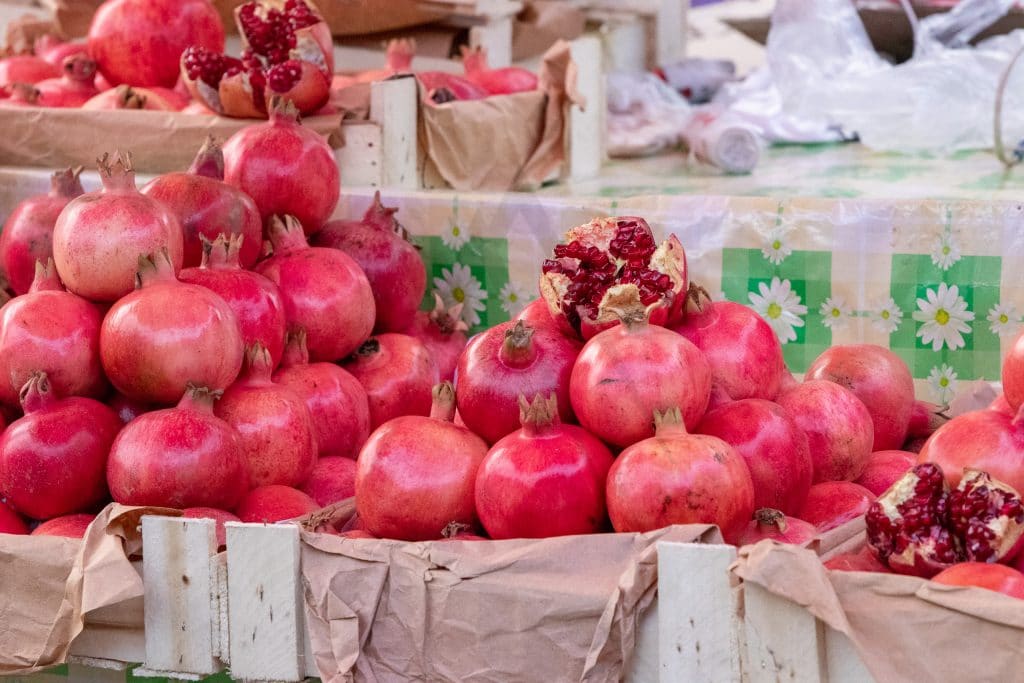 Orto-Sai is another bazar in Bishkek that works everyday, but it is particularly known for its enormous antique goods sales that take place every Saturday and Sunday morning when the street sides are filled with people who have spread around their goods on top of a blanket. The relatively small Orto-Sai Bazar is the perfect place to purchase old-fashioned goods that traders sell from their collections of Soviet memorabilia, Lenin medals, books, and vintage style cameras. 
Next to regular vendors, the ordinary Bishkek residents spread out their blankets to sell items from their homes that they no longer have a use for. These items are usually pretty cheap but the quality also has some room for improvement. Some gems could still be found. There are also second-hand stores where you can find some decent clothes for your hiking trip. You can reach Orto-Sai Bazar by trolleybus 10 from the city center or any marshrutka that goes to Orto-Sai area. Largest movie theater complex named Cosmopark is located nearby the bazar area so you can enjoy a movie to give your legs some rest after walking. Cosmopark also has some English versions of movies!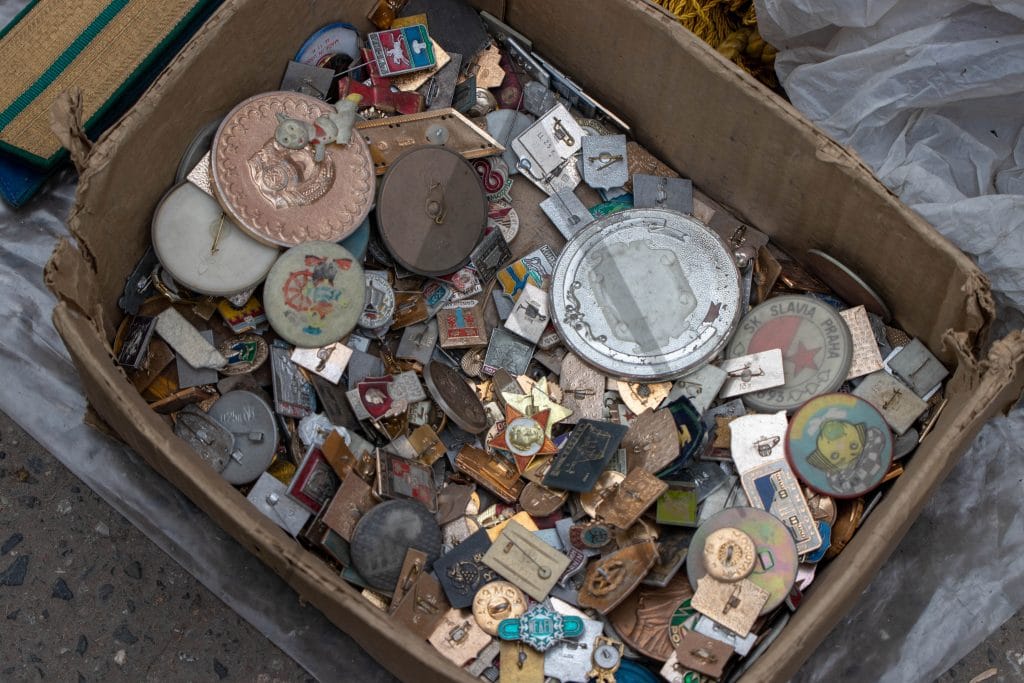 Ak Emir (the white Emir) bazar is a bazaar with relatively high quality food products and is probably the most expensive mini bazaar of Bishkek. It is located in the corner of Moskovskaya crossing Shopokova street. It has a fine selection of fruits, vegetables, nuts, meat, sweets and ready salads. Most vegetables and fruits are imported and look much more appealing, juicy and tasty than the average ones found in Bishkek. You can also find here fruits such as pomegranates, strawberries and apricots all around the year while. 
The Ak Emir market is focused on people who inhabit the central area of Bishkek. On the right side of the entrance to the bazaar, you can notice a small cabin where you can get any variety of always fresh herbs and green products. 
If you want to get cheaper (and don't mind the quality that much) products you can walk just outside the bazaar at the streets leading to it. There one will find vendors selling home grown or home made products like tomatoes, eggs, berries (seasonal), pickled things and honey. You may also see granny's selling walnuts, collected from a garden tree or blueberries raised by themselves. Ak Emir market is open from the early morning till the eight in the evening.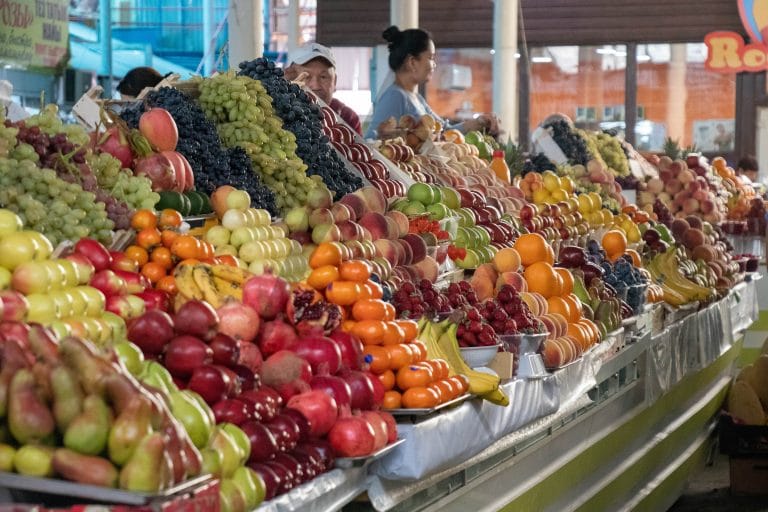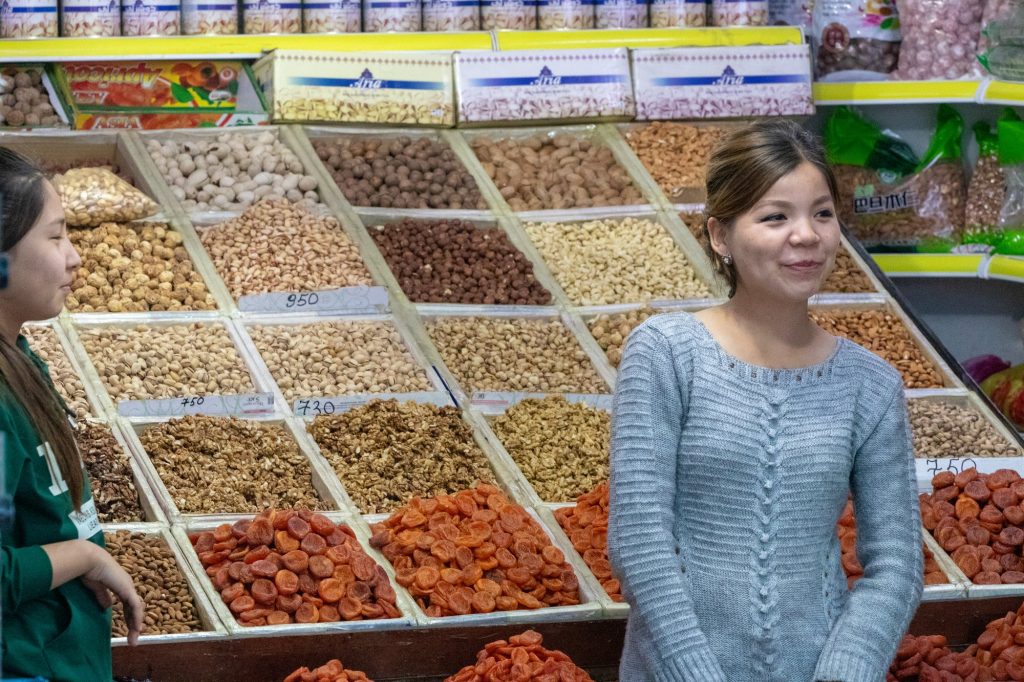 Other sights of Bishkek or nearby Bishkek