Turkmenistan is definitely worth visiting as traveling here you will discover such an alluring life: skullcaps and pilaf, Akhal-Teke horses, colorful folk weddings, green tea, the famous carpets of dazzling beauty, the lightest silk and honey melon. However, the main reason for not visiting has been the difficult visa process. 
Tightly controlled Turkmenistan has been considered the hermit nation of the 'Stans and part of the fascination of the country is the peculiar Ashgabat and the ruling system.
The territory of Turkmenistan is rich in monuments which in antiquity were the most considerable stops on the Silk Road especially the cities such as Nisa and Marv. They are the magnificent, sometimes unique architectural masterpieces of the past. 

The Karakum (Black Sand), which together with the Kyzylkum (Red Sand) in Uzbekistan forms the fourth biggest desert in the world covering about 350,000 square kilometers.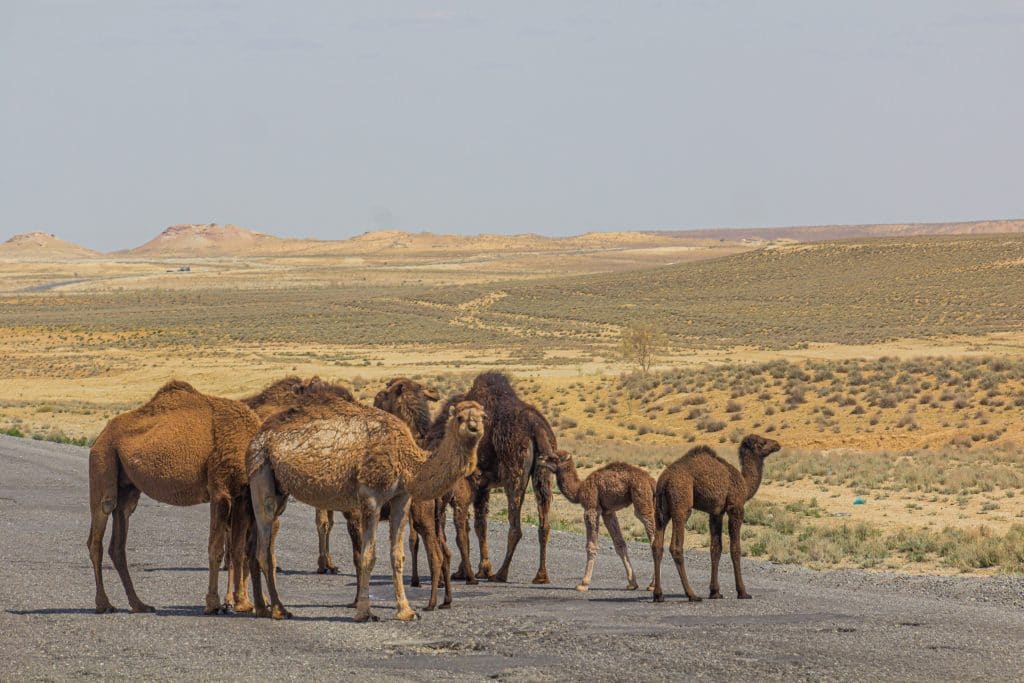 80% of the country is covered by the uninhabited Karakum desert with a barren flat-to-rolling landscape and dunes. 
Turkmenistan possesses the world's fourth-largest reserves of natural gas and substantial oil resources.
Turkmenistan is sparsely populated. Ethnic groups are Turkmen (85%) Uzbek (5%) and Russian (4%).
Turkmen manat is Turkmenistan's national currency. The First Turkmen manat was issued in 1993. On January 1, 2009, the government carried out a denomination: 5,000 old manats (ISO 4217 code – TMM) were replaced by 1 new manat (TMT). 
Spoken languages are Turkmen (official) and Russian (as an inter-ethnic language)​
Drinking tap water is not safe in Turkmenistan. You can get bottled water anywhere throughout the country.
Generally, Turkmenistan is a safe country to travel to. However, you should also expect to be stopped by policemen and law enforcement and asked for documents or questions about your trip.
Like the rest of Central Asia, the best time to visit is Spring and Autumn. Turkmenistan's climate is a severely continental cold desert climate, identified by long, hot, and dry summers, and humid, mild, and dry winters that can turn occasionally cold and damp in the north.
As one of the isolated countries, there is just a couple of banking services. Banks have specified opening hours and are closed on Sundays. There are no other legal currency exchange options.
Turkmenistan is the most expensive country in Central Asia for travelers due to its government regulations. 
If you want to stay for more than 5 days, certainly you have to book a tour which won't be cheap. For the transit visa, you should have a ticket to the third country. And budget travelers on a transit visa, the choice is limited as well.
ATMs are non-existent anywhere in the country and credit cards are rarely accepted, so keep a stash of both US dollars and local manat with you at all times.
It is possible to acquire a loca sim card in Turkmenistan from two operators called MTS and TM Cell. They provide packages with limited data and are a bit on the expensive side. On the other hand, roaming could also be very expensive, depending on your operator.
WIFI exists in Turkmenistan, however, it's very expensive. Internet in Turkmenistan is filtered. You are being watched and unwanted websites are blocked. VPNs are illegal in Turkmenistan and are usually blocked as soon as the authorities pick them up.
Turkmenistan is predominantly Muslim. Religion is practiced but completely controlled by the state to avoid any kind of extremism.
Turkmenistan Must Visit Destinations