What to buy in Uzbekistan
A significant part of your trip can be buying some kind of memory for yourself or for your close ones from your unforgettable voyage. Uzbekistan is an excellent place to buy souvenirs with a wide variety of local made souvenirs available. Uzbek artisans have again started to pass on the secrets of craftsmanship from generation to generation and their works are of high quality and of extraordinary taste. 
Metalworkers, potters, weavers, carvers, and many other skillful hands create works of art from silk, clay, wood, and metal. Many Uzbek products are known and popular throughout the world thanks to their smooth lines, geometrically perfect patterns as well as the composition of the design that appeals to the eye.
Traveling through the different cities of Uzbekistan, you'll find that each place has its style of ceramics as is also with Uzbek food. The schools in each region differ from those in others. The differences are shown in the colors, designs, shapes, and ceramics techniques. Rishton, in the Fergana Valley, is particularly famous for its ceramics. The artisans there use a special blue glazing, called "ishkor". Ishkor is made from natural minerals and plants and gives the ceramics from this school a special blue tint that is not found anywhere else.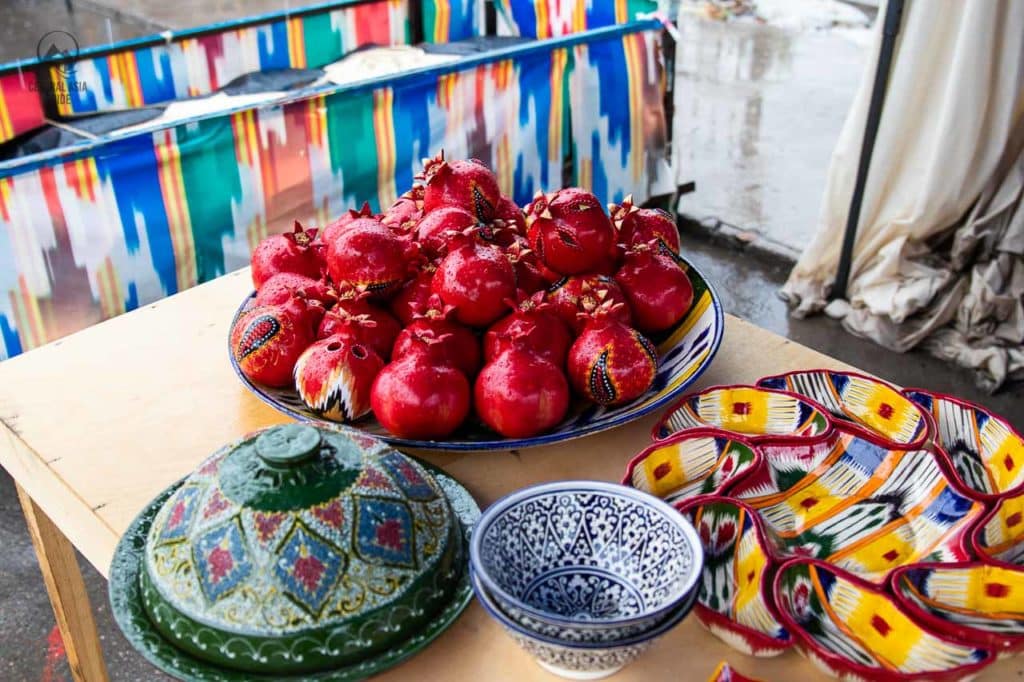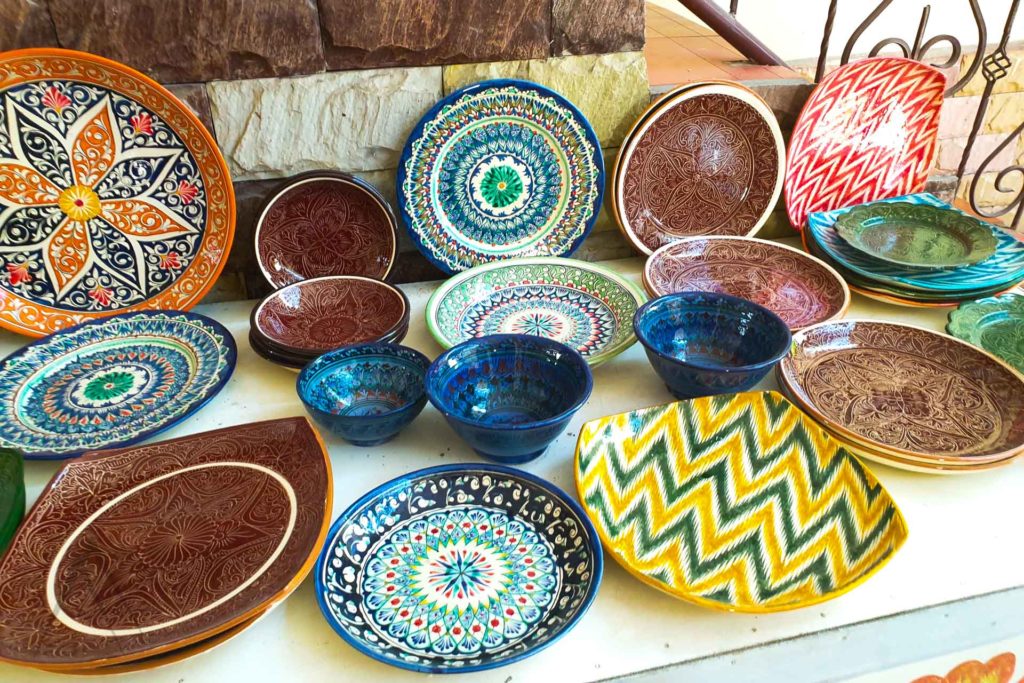 A traditional Uzbek knife from Chust is one of the best souvenirs one can buy from Uzbekistan. Chust knives have unique features with their straight and wide blade with excellent blade quality and a handle made by hand and they are made with special inspiration. The knives bought for tourism purposes have a golden marking on them, that will guarantee there are no any issues with the customs when exiting the country. A proper knife merchant should always also provide you with documentation telling about the producer of the knife.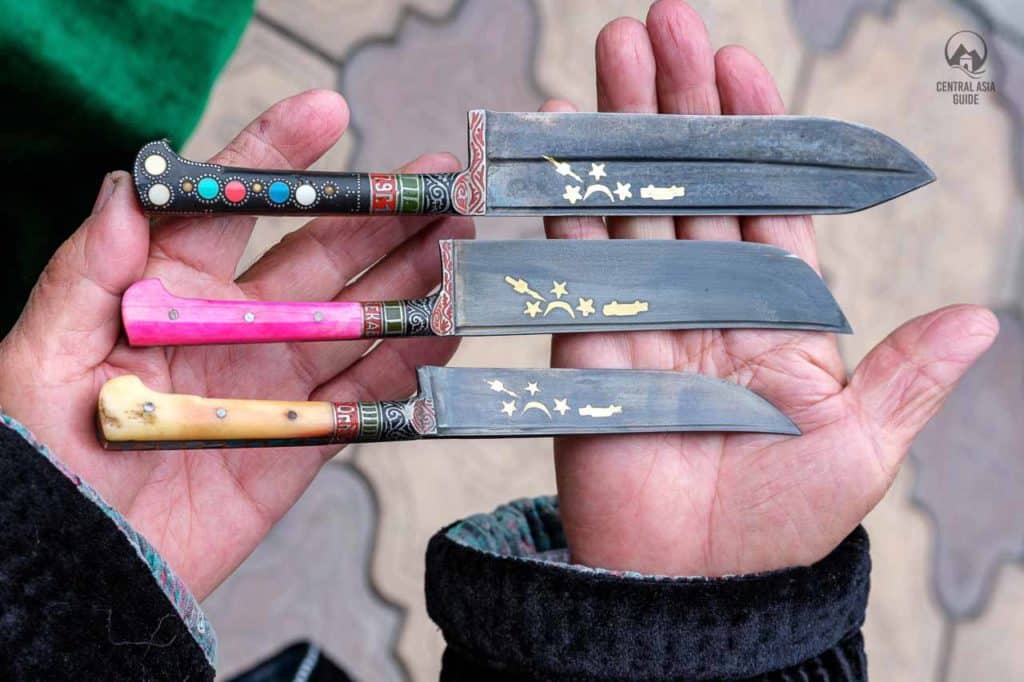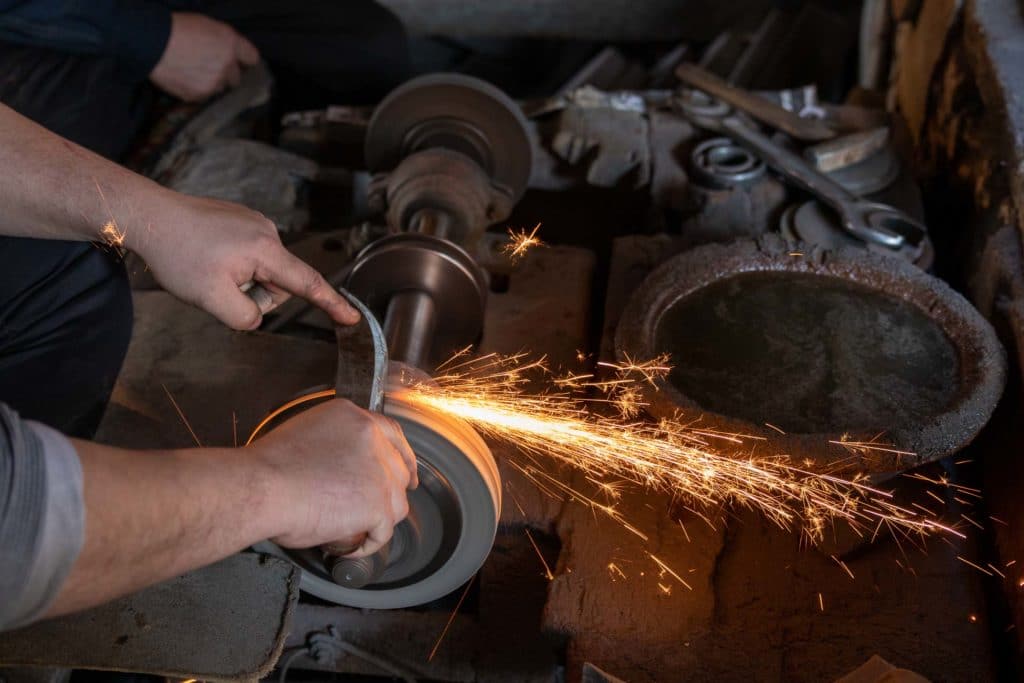 Uzbek hats come in many colors and forms. There are different doppi hats for men and women, ages, status and so on but what is best for a tourist that you do not really need to mind the rules but can get instead the hat that looks the best for you.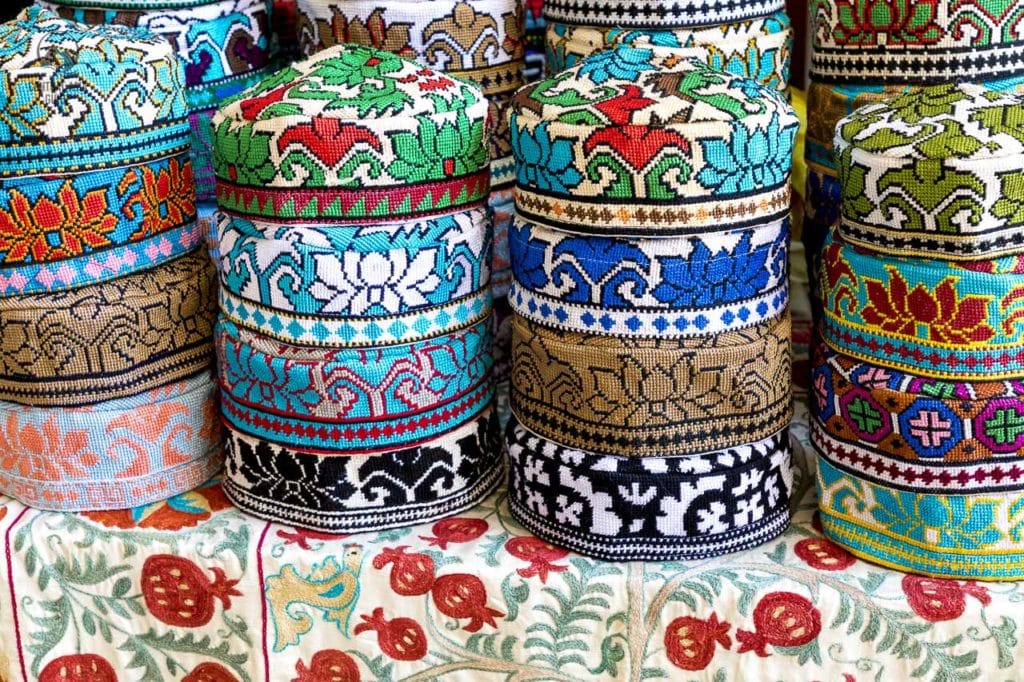 Uzbek silk is of the highest quality in Central Asia. There is almost an endless amount of colors and patterns made with different techinques to choose from. One of the best places to buy Uzbek silk is in Margilan, which a center of silk production in Uzbek Fergana valley.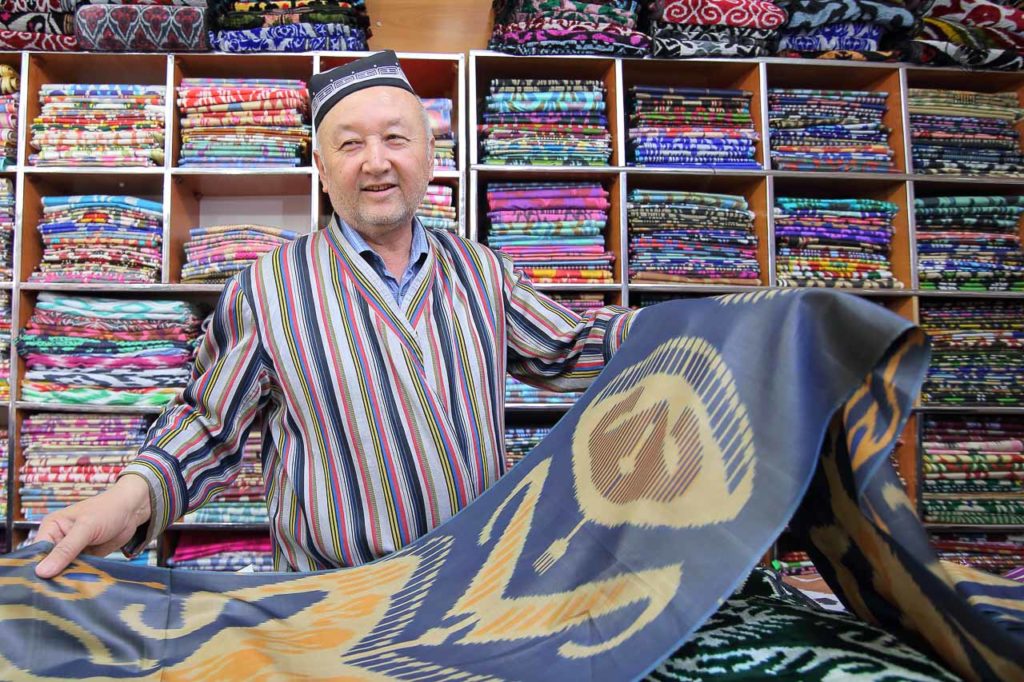 Uzbek Musical instruments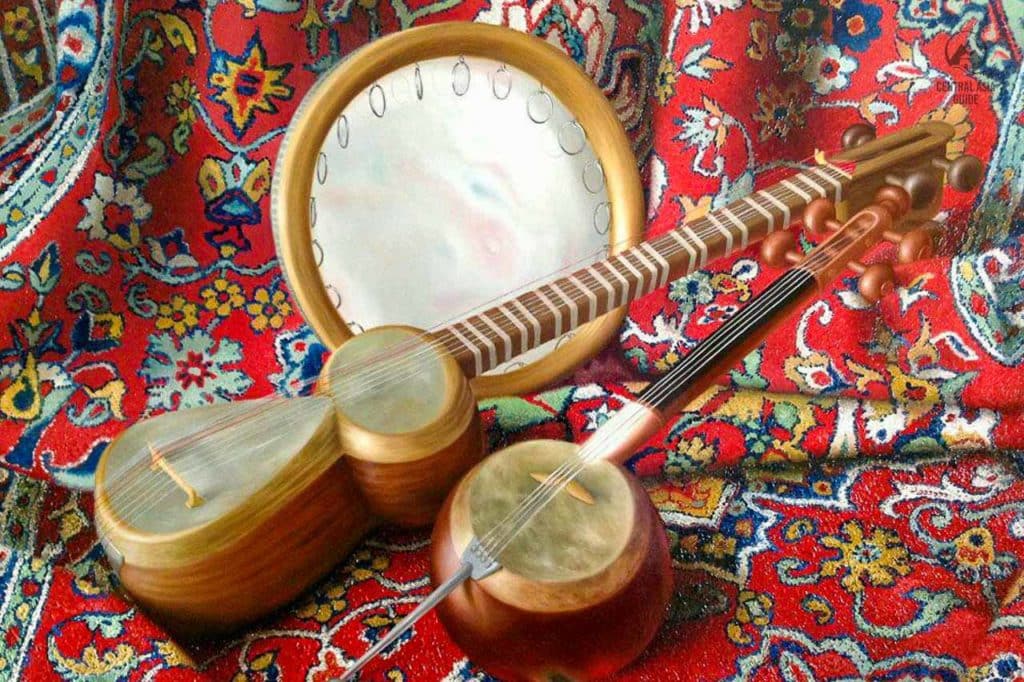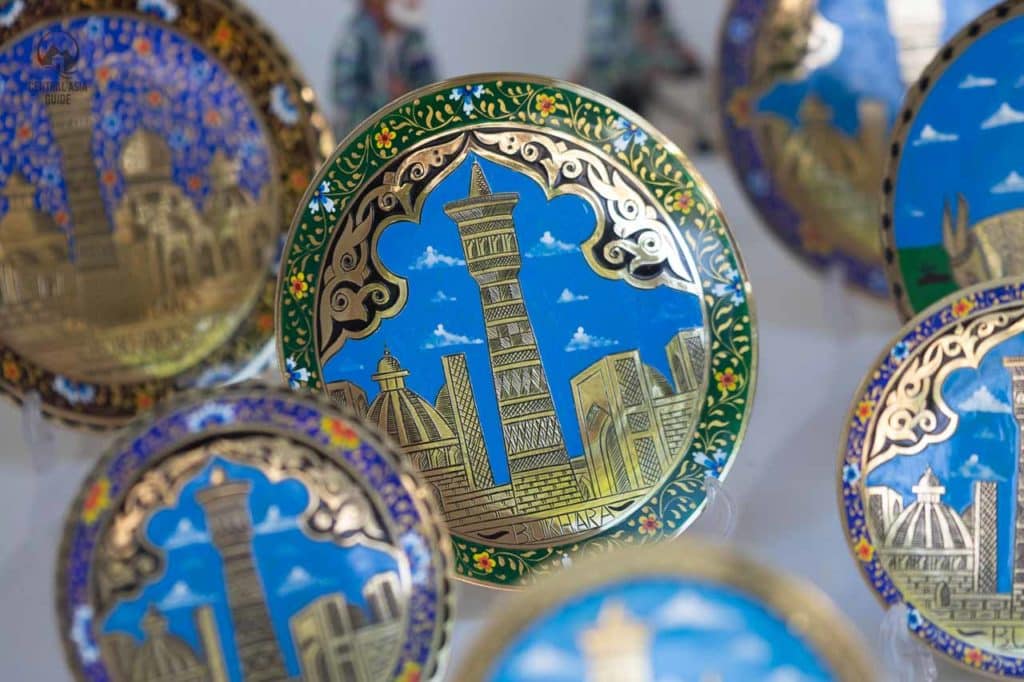 Dried fruits, nuts, and local sweets
Dried fruits are sold in every bazar in Uzbekistan and Central Asia. Make sure that you have a taste before buying. It is completely ok to ask for a bite of every product you are considering to purchase. Nuts are also very good in Uzbekistan, especially during the harvest time.
Wine production in Samarkand region has long traditions but the wines  here are mostly inclined towards the sweet side. If you have the time, it is also possible to take part in a wine tasting to check before making the decision to buy.
Uzbek bread stamps are a good small sized souvenir from Uzbekistan. They are traditionally used to create the beautiful patterns of the local, usually tandyr made breads that are offered on most of the meals.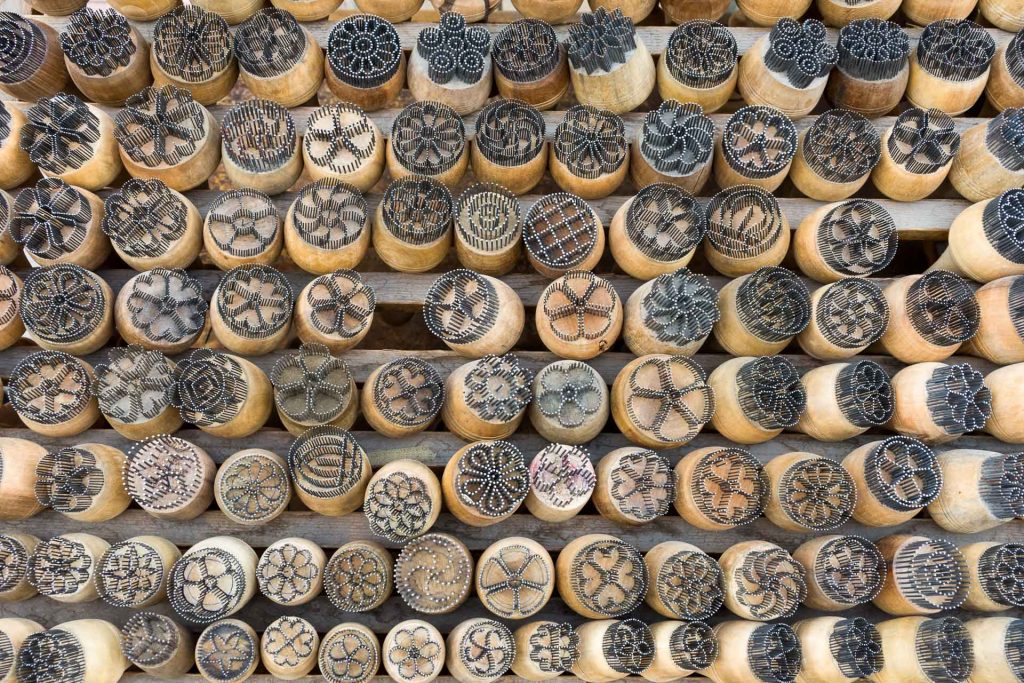 Soviet memorabilia are still available in abundance in Uzbekistan like in most of the post Soviet countries. Different medals and other signs of recognition are the most well known and easy to carry with you.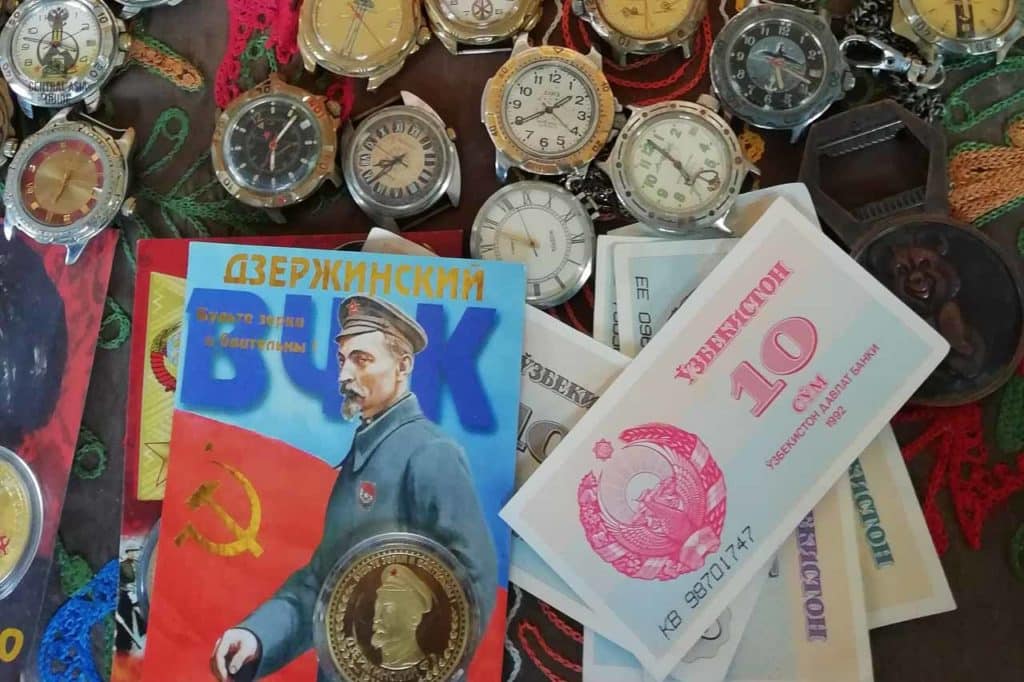 Uzbek halva, also known as "qurutob halva" or "qurut halva," is a traditional sweet  made from a mixture of flour, oil, sugar, and halva, which is a sweet confection made from sesame seeds.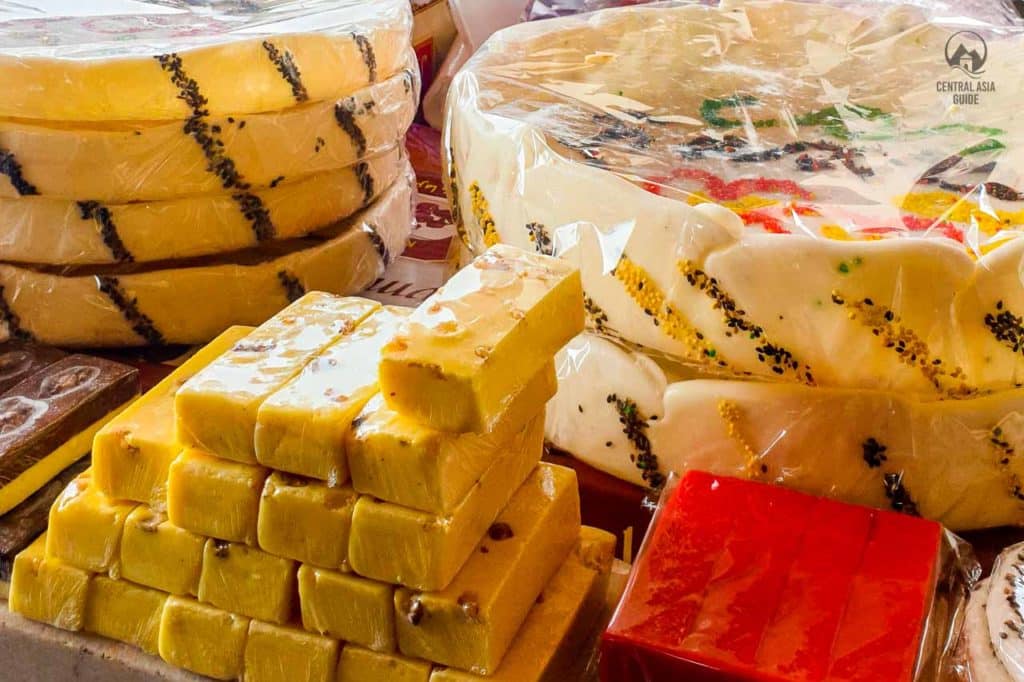 Uzbek Traditional Women's Dress
The traditional dress for women in Uzbekistan is called "Atlas." It is a long, loose-fitting garment made of silk or cotton. It has usually bright, bold colors and intricate patterns like flowers or other plants.
Souvenirs from Other Central Asian countries