Uzbek culture & traditions
Uzbekistan is home to many cultures: the majority group is the Uzbek, making seventy-one percent of the population, followed by Russians, Tajiks, Kazakhs, and other minority groups. Uzbekistan culture is unique and vivid that has developed over long and vibrant history. Uzbek culture evolved blending various customs and traditions of the nations who inhabited the territory of today's Uzbekistan.
The main contribution to the development of Uzbek culture was the ancient Iranians, nomad Turkic tribes, Arabs, Chinese, and eventually Russians. Traditions of multinational Uzbekistan are reflected in the music, dances, fine art, applied arts, language, cuisine, clothing, other handicrafts, and rituals. The Great Silk Road also played a significant role in the evolution of Uzbekistan culture as it served to exchange not only goods but also inventions, languages, ideas, religions, and customs.

After gaining Independence, Uzbekistan has seen a rapid development of handicrafts and traditional applied arts, the rebirth of Uzbek traditions and customs, and it could be said that the country has reinvented Uzbekistan's traditional culture. Today Uzbekistan's culture is one of the brightest and original cultures of the East.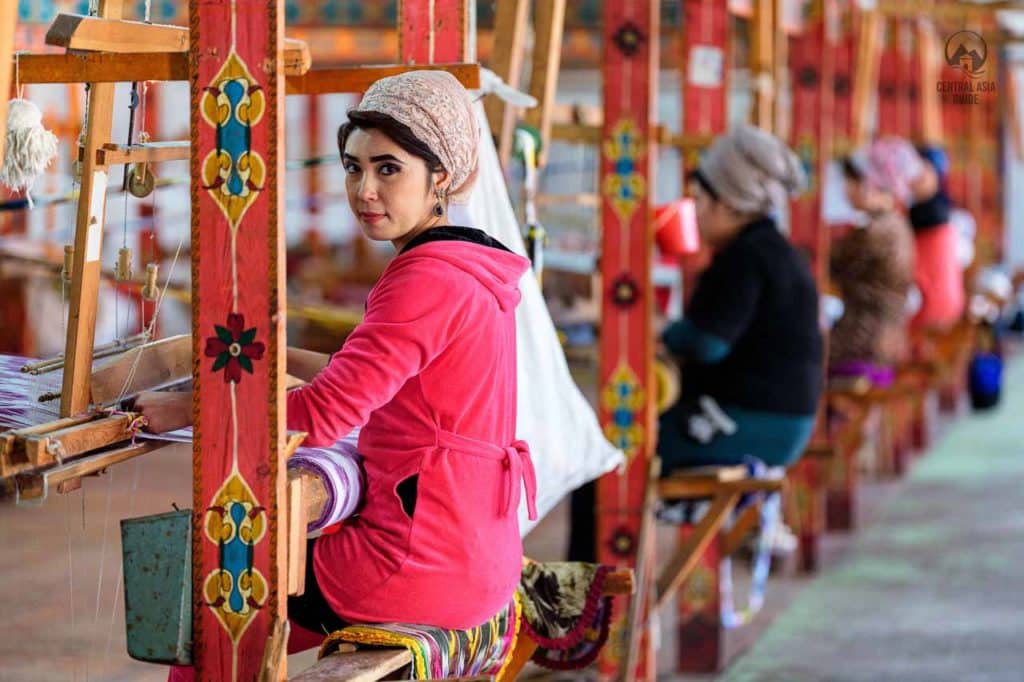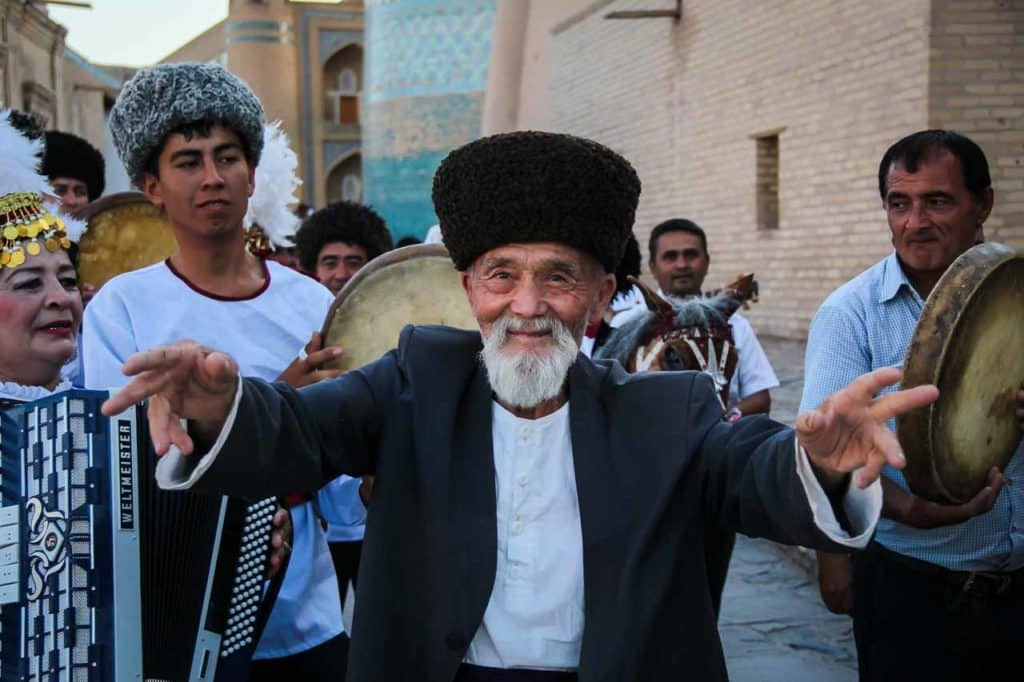 Uzbek cuisine is one of the most colorful of Oriental cuisines. Thanks to the Silk Road, Uzbekistan's culinary tradition is made of a mix of East and West, offering roasted meats and tandoor-baked bread from Central and Eastern European countries like Turkey, Iran, and Morocco and steamed dumplings and noodles found in the likes of China, and other Eastern Asian countries.
Uzbek Music and National Musical Instruments
Music and musical instruments traveled along with vagrant musicians following caravans moved from country to country.
The Uzbeks dances distinguish with softness, smoothness and expressiveness of movements, easy sliding steps, original movements on a place and on a circle.
Traditional Uzbek Clothes
The traditional costume of Uzbeks remains an important component of the cultural, ethnic, and religious identity. The most striking piece of male attire is the long, striped, wrap-around cloak chapan, doppe. While the women's attire consists of the plain khan-atlas tunic-dress and wide trousers as well as skull-cap, kerchief and turban.
For ages Uzbekistan has been known for its beautiful handmade products. Including glazed tiles to the fines silks, finely worked jewelry set with precious stone, to handwoven and knotted carpets.
Uzbek Silk Production in Margilan
In the early days, silk was considered a luxury and Margilan was the silk capital of todays Uzbekistan. Silk was the most valuable material, that was practiced for the generation of money, as a tribute, and as a means of payment. 
Within the remarkable traditions of Uzbek art, a special place takes an artistic design of fabrics suzani. Uzbekistan is famed for its suzani: decorative silk embroideries, striking imagination with bright colors, and a variety of exquisite patterns.
Every house in Uzbekistan is furnished with carpets. Although these days they are often factory-made synthetic rugs from China, however traditionally they would have been handwoven locally.
Puppet theatre in the region was a rich tradition going back to the 5th century BCE under the reign of the Achaemenid Empire, possibly reaching its high point of popularity under Timur, who was a patron of the art form, and the Timurid dynasty during the 1400s.
Republic of Karakalpakstan
The traditional culture of Karakalpaks is one of nomadic agriculture, largely resembles neighboring Kazakh culture rather than Uzbek culture.
Weddings in Uzbekistan follow a lot of customs and traditions from centuries ago. Traditionally, the Uzbek people celebrate their wedding in a very cheerful and richly splendor with a lot of guests. Neighbors, immediate and remote relatives, workmates, and friends are all invited to the wedding.
Uzbek childbirth traditions
The birth of a child is a joyful and significant event in Uzbekistan. In the Uzbek family, the arrival of the baby is followed by several traditional events following the growth of the newcomer.
Uzbek Mahalla (The Neighborhood)
Notable people of Uzbekistan ​