Uzbek holidays and festivaals
Uzbekistan National Holidays
Uzbekistan is rich in various national holidays, events and festivals and Uzbek people love and enjoy celebrating the occasions. Along with the family festivities such as weddings and anniversaries, the national holidays are also feasted very well. For the holidays, Uzbeks prepare plenty of delicious national dishes, sacrifice the sheep and host dinners to each other. 
Each Uzbekistan holiday has its individual story and special significance for the Uzbek people. For instance, such holidays and festivals of Uzbekistan as Navruz, Ramazan Hayit and Kurban Hayit have their roots in the antiquity and the Persian influence but these have been mixed with the traditions of Zoroastrianism and Islam. New Year and Women's day are legacy from the Soviet time as with all the former Soviet countries and some have only a brief history since the independence of Uzbekistan.
| | |
| --- | --- |
| Date | Holiday |
| January 1 | New Year |
| March 8 | Women's Day |
| March 21 | Navruz |
| August 31 | Day of Remembrance for Victims of Repression |
| September 1 | Independence Day |
| Ramadan Hayit | Date changes annually |
| Kurban Hayit | Date changes annually |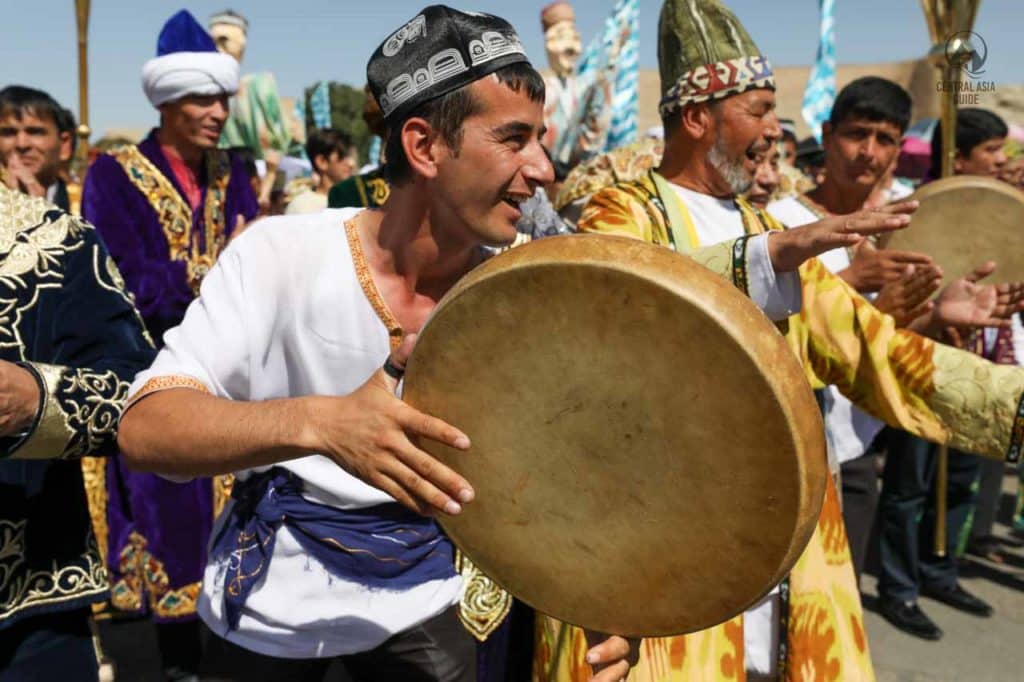 New Year celebrated on January 1, is still the most celebrated and beloved national holiday in Uzbekistan. New Year became celebrated in Soviet times with the presence of all the essential attributes of the holiday. There is rarely snow in Uzbekistan during New Year but in order to get some New Year atmosphere, shops and restaurants are often decorated with Christmas trees and Christmas lights. During the night time, the authorities organize fireworks in the main square of Tashkent and other major cities. There are also large festivities with jokes, dances of different nations and people wear masks and give gifts to each others like during the Western World Christmas.
Uzbekistan has its own Santa Claus – Korbobo (Snow grandfather, kor means snow, bobo – grandfather) and its Maiden is Korkiz ( snowgirl) and instead of a reindeer he has a donkey as a companion. The main event is celebrated 31st of December when the clock turns 00.00. Relatives and friends gathered in houses with plenty of food and all night is dedicated to feasting. During new year, the table is decorated according to the soviet style with "Olivie" salat, a variety of fruits, sweets and a big main dish.
Nooruz is the holiday of spring equinox, it is widely celebrated in Uzbekistan. Marked across Central Asa "Navruz" means "new day" a symbol of nature's awakening. In different countries it is called differently in Uzbekistan it is "Navruz" while in Kazakhstan is "Nauryz" and in Kyrgyzstan is "Nooruz".
Navruz originated in Persia, and according to historians, the holiday is more than 3000 years old. Navruz was included in the UNESCO list of intangible cultural heritage. In Uzbekistan, Navruz is celebrated on the 21st of March. For the holiday authorities organize parade often starts with the president's speech then a big festive concert begins with an entertaining programe.
Navruz unites the people by the common task of preparing food the holiday. Locals get ready for Navruz in advance. In every "mahalla" (neighboring community) gather to make sumalayk. The process of cooking sumlyak is an interesting ritual in Uzbkistan and it aims not only to prepare a tasty meal, but also to encourage mutual support and unity. Sumalyak is also the highlight of and must be on every festive table. Women, replacing each other, slowly stir the sprouted grains of wheat in a huge cauldron, which, thanks to their efforts, gradually turn into a thick, viscous brown mass. During the cooking process, women sing folk songs about spring and Navruz. They also make sacred wishes! When sumalak is ready, Uzbeks love to distribute it to neighbors, friends, colleagues, relativess.
During Navruz, families set festive tables in each "mahalla". There is such a sign – the richer the table will be, the richer the whole coming year will be. Apart from sumalyak, the festive dishes are pilaf, shurpa, and samsa with the first spring herbs as well as a variety of snacks, sweets, and fruits.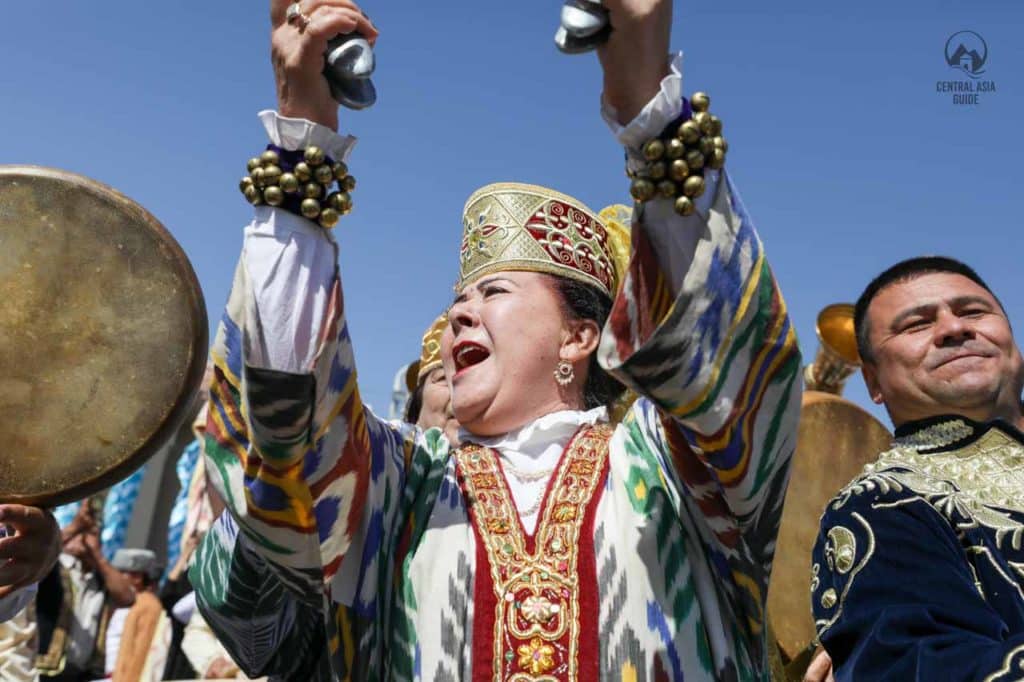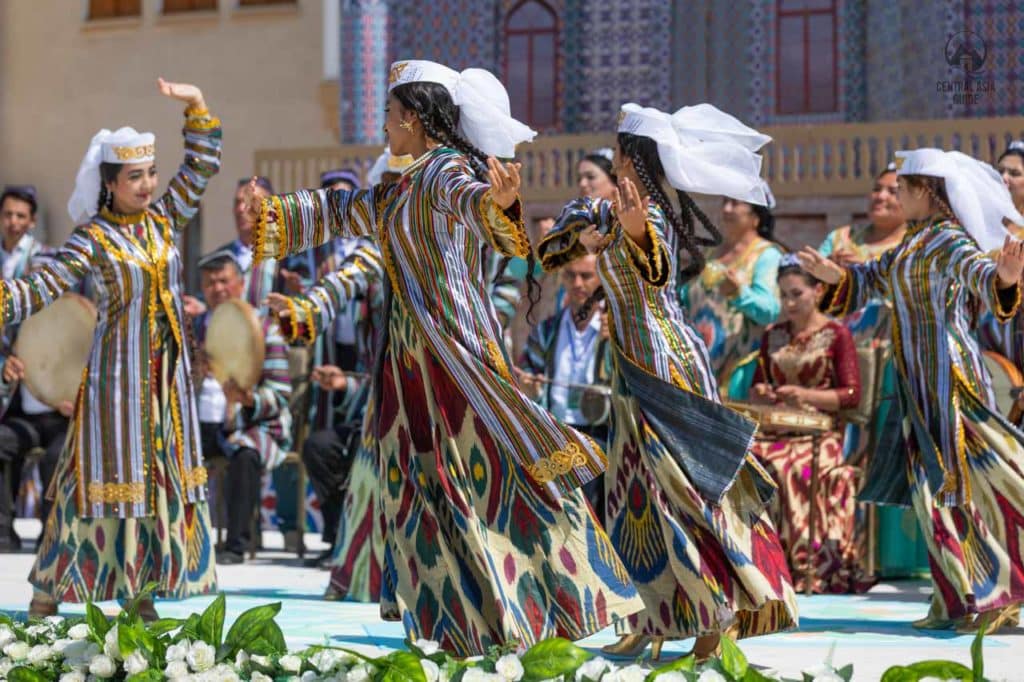 Uzbekistan Independence Day "Mustaqillik kuni"
Independence Day is the most important public national holiday in Uzbekistan. It is celebrated 1st of September, an annual official day off. On August 31, 1991, Uzbekistan officially announced its independence from the USSR. This declaration was the first step in the formation of a newly independent country.
Uzbekistan Independence Day is celebrated with a festive program with the performances of original folklore groups and sports battles, as well as variety shows, and noisy fairs of folk craftsmen. And, certainly, the essential part is food with rich dastarkhan (table), followed by family, colleagues, neighbors and friends.
Day of Remembrance for Victims of Repression
August 31 Uzbekistan marks the "Day of Memory of Victims of Repression". In 2001 Ex – president Islam Karimov initiated the 31st of August as a day to honor and remember the victims of repression. The same year Karimov opened the first museum in the CIS countries for the memory of victims of repression in the memorial complex "Shohidlar hotirasi" ("In memory of victims of repression") in Tashkent. 
The museum of Victims of Political Repression is dedicated to the memory of the people, who fought for the independence of Uzbekistan and were killed by the ruling government. The collection comprises photographs, documents, and personal belongings of those killed. It shows the dark pages of Uzbekistan's history from the colonization time of Central Asia by tsarist Russia to the political repressions of the 1930s.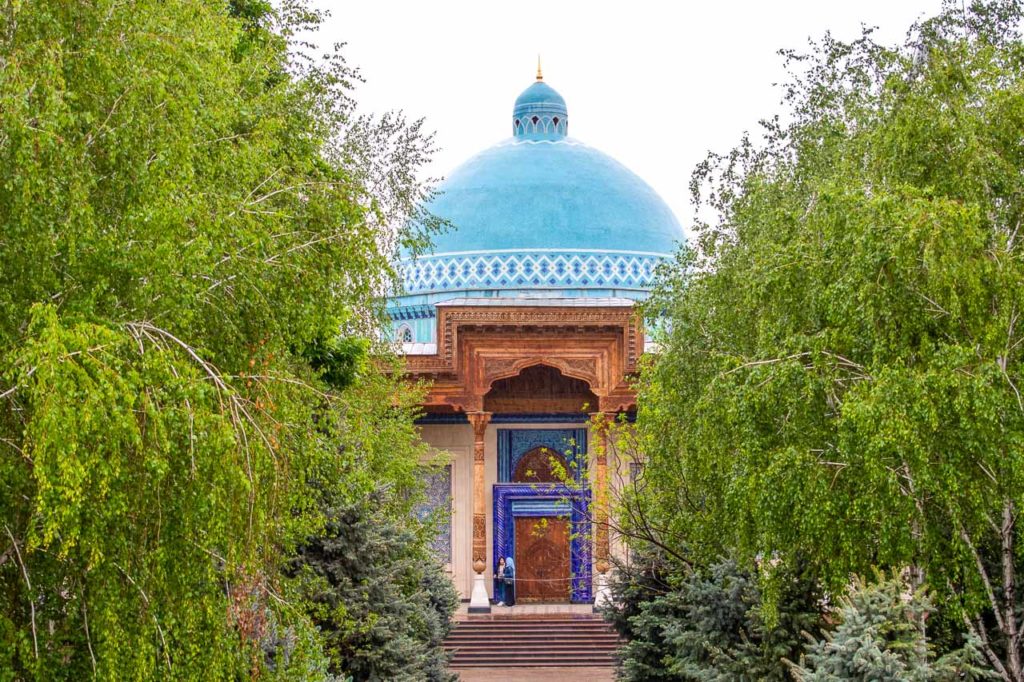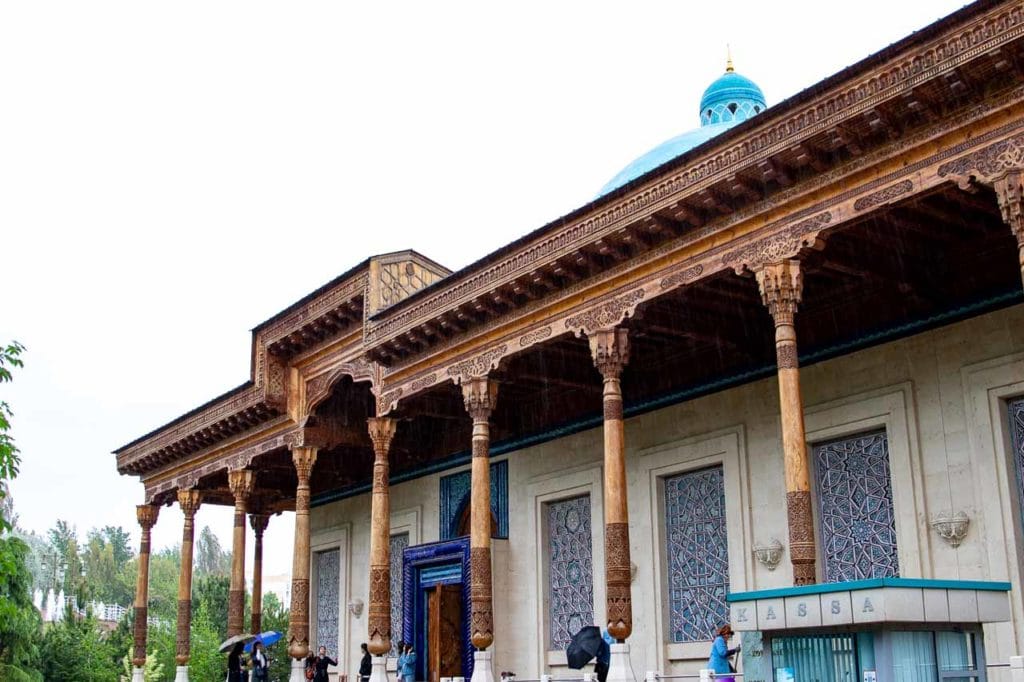 Ramadan Hayit and Kurban Hayit
Ramadan Hayit and Kurban Hayit are the Eid holidays one of the essential Muslim celebrations in the last years. Since the Independence, Ramadan and Kurban Eid have been declared a public holidays in Uzbekistan, so the first days are officially off days.  The holidays have no exact date, therefore every year it is celebrated at different times. Ramadan and Kurban Eid in Uzbekistan, like in any Muslim country as well as in other Central Asian countries begins with morning prayers in the main square where only men are allowed.
Ramadan Eid is a celebration of spiritual and moral purification. Ramadan marks the completion of the Islamic month of fasting Ramadan, which lasts 30 days. In the month of Ramadan, while fasting, Muslims are forbidden to consume food and drink liquids at a certain time of the day. Moreover, muslims should avoid bad thoughts, treat others in a respectful manner, and do good things such as helping poor people. Ramadan is celebrated by visiting each other's houses and feasting. The table must be full of traditional sweets and flour products such as "chak-chak", "baursak" etc. In the evening people cook pilaf and generously treat their neighbors.
Kurban Eid or Kurban Bayram is vital in the Muslim world and is considered a sacrifice holiday. According to custom, a ram is sacrificed to treat the poor and invite friends and relatives. Kurban Bayram is celebrated for three days when the locals walk from house to house, feasting all day. The formation of the holiday of Kurban Hait is related to the prophet Ibrahim who wanted to sacrifice to "Allah" his son, to that having in order to prove his belief. However he was stopped from this act by kind spirits who suggested he sacrifice animals: rams, camels, etc., and now all Muslims sacrifice animals.
Uzbek holiday Celebration places
National holidays in Kyrgyzstan & Kazakhstan