Skiing resorts in Kyrgyzstan
There are at least 17 ski resorts in Kyrgyzstan but we only cover the best maintained and suited for travelers. There are multiple good small to standard size ski resorts just at the outskirts of Bishkek. However, the largest and best equipped Karakol ski resort is located further away in the Issyk-Kul region. Most ski resorts provide equipment rentals, experienced instructors, accommodation, and transportation services. 
Kyrgyzstan is still fairly unknown skiing destination for winter tourists but having a day or two of skiing among seeing the sights is a good combination for your tour. Free riders will also find their powder locations here for even longer periods. The skiing season in Kyrgyzstan can be somewhat erratic as the snow amounts vary from year to year but Karakol has a stable season and snow cannons to support it, which not all the Kyrgyz ski resorts have. 
The Karakol Ski base (Baza Karakul) is just an 11 km drive southeast from Karakol and about 400 km from Bishkek. The Ski base is the highest in Central Asia with the highest starting point for skiing higher than 3400 meters. In Soviet times, it was used to conduct training for the country's Olympic team. In 2004, the base was completely modernized. Karakol is an ideal place not only for training athletes but also for outdoor activities.
Karakol Ski base has several slopes in the area that are good from beginners to more advanced skiers. Over 20 km slopes can satisfy both an experienced skier and a person conquering the mountain slopes for the first time. There is space for both free ride lovers and those who prefer to ride on well-groomed tracks. The ski season starts in November and lasts until April. The elevators only go to until little more than 3000 m which is quite impressive anyway and offers already spectacular views to Issyk Kul.
The ski area is wide and has spacious slopes on the virgin soil and on specially prepared slopes. Most tracks run through the coniferous forest. You can ride at any height. The difference in elevation is 740 m, the minimum slope is 7% and the maximum slope is 53%. The panoramic top also offers views to the nearby Tien Shan peaks reaching 5000 meters.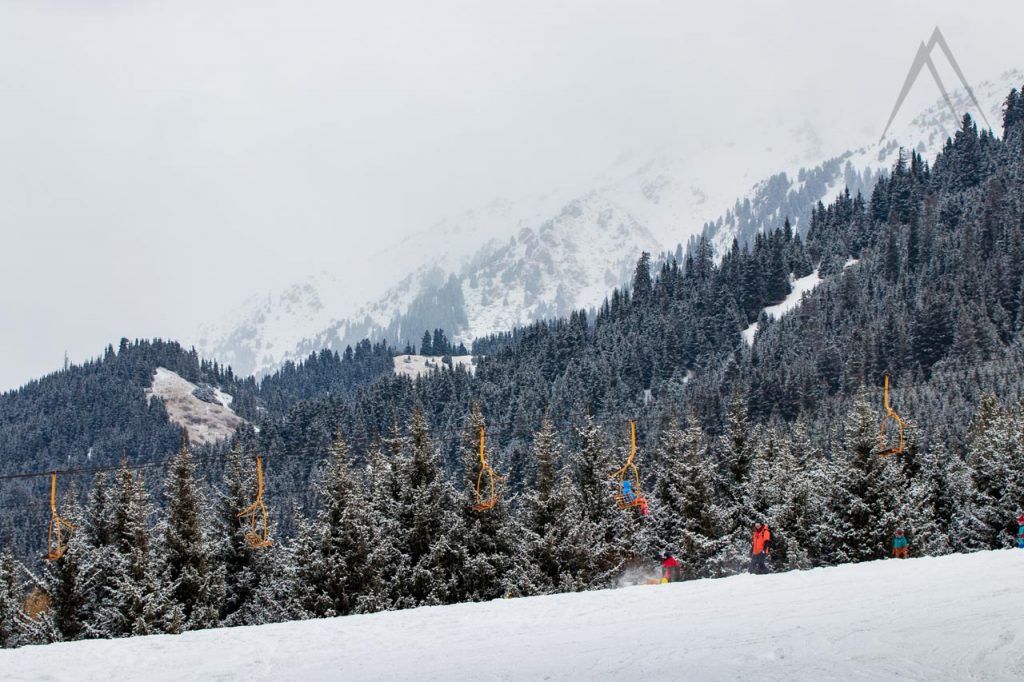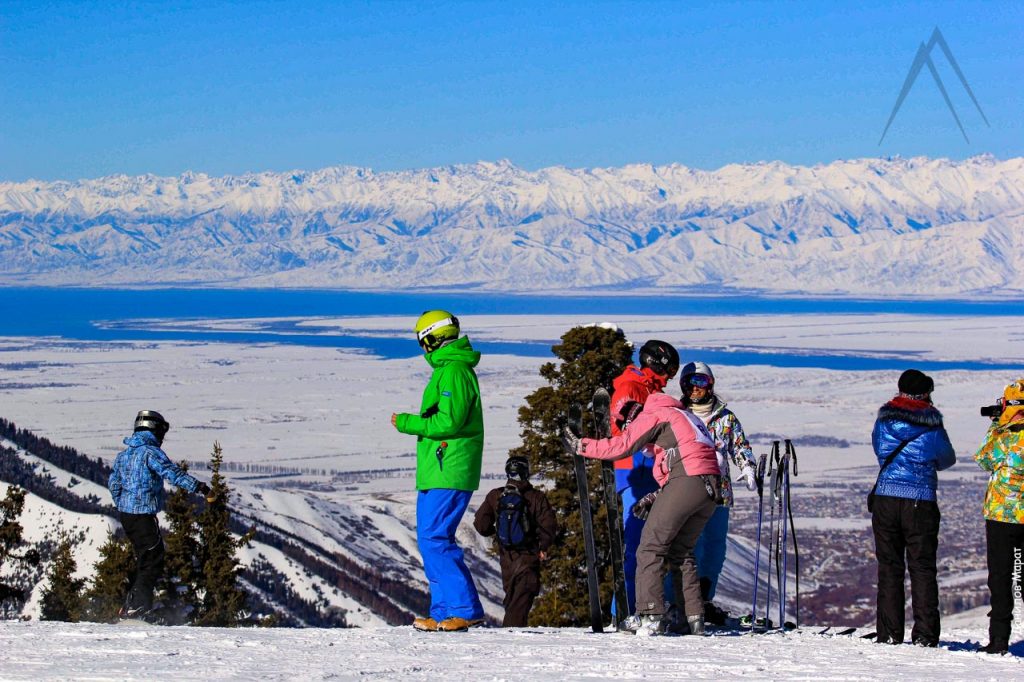 Chunkurchak Skiing resort
Chunkurchak skiing resort has five modern chair lifts: double, triple, and three four seaters with a total length of more than 4,5 km. The maximum length of the trails is more than 10 km and the height difference is about 370 meters. For the visitor's convenience all lifts have their name, and range in color. The base has a spot to rent sports equipment, a first-aid post, free parking, a bistro cafe, a children's corner, and warm bathrooms (still a rarity outside Bishkek in Kyrgyzstan). The base has different levels of trails starting from beginner level to quite steep ones.
Rental of skiing equipment is from 600 to 1200 som for an adult, a lift pass for the entire day during the weekdays is 800 som and during weekends 1200 som. The road to Chunkurchak is better in wintertime after it has frozen and is under snow than in the summer times as it has a lot of holes and every springtime there are many places where the water from melting snow washes away some gravel of the road.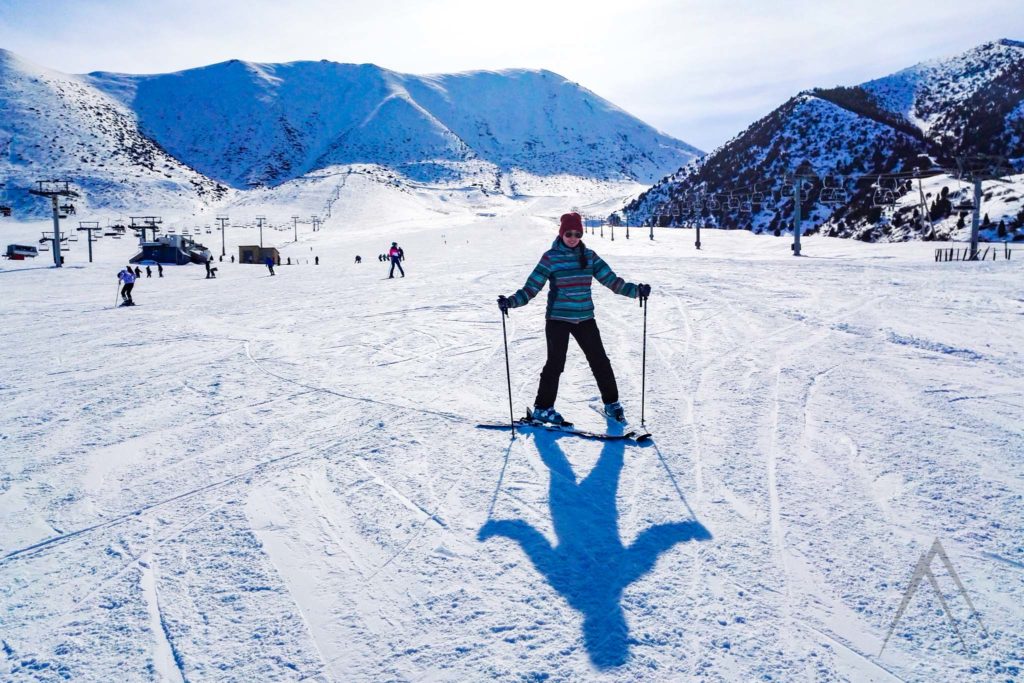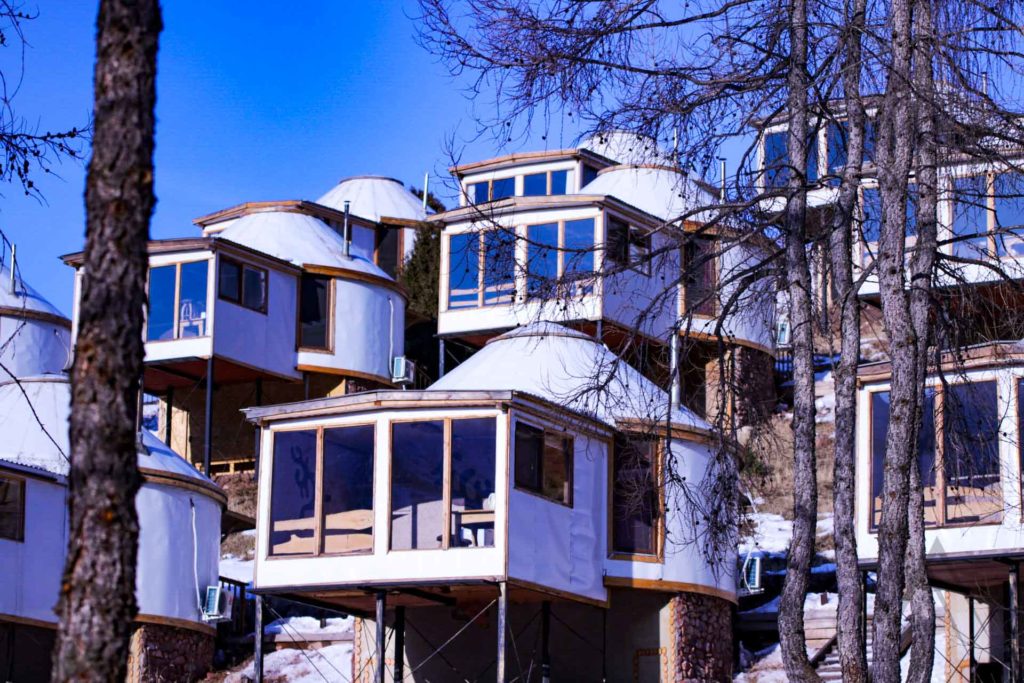 Ski base ZIL is located 35 km southeast of Bishkek, on the slopes between the Chunkurchak and Issyk-Ata valleys. Zil is one of the most popular ski resorts near Bishkek and has been ranked first out of 17 ski resorts in Kyrgyzstan for three years in a row. The reason is the proximity to Bishkek as well as its picturesque surroundings and fairly good services.
Zil has a well-maintained road and perfectly equipped parking facilities for at least 700 cars. At the south side of the base, at the level of 3 500 meters above sea level lies the Kentor glacier. It can be easily reached by a four-wheel-drive car as well as by walking. Ski season in Zil usually is open usually from December till March. In the summertime, the base offers various outdoor activities such as riding down the mountain on a mattress, ziplining and Kyrgyz kymyz treatment service.
As a curiosity, next to the entrance of the base, a monument of Russian president Vladimir Putin will welcome you to Zil. Walking further you will also find another monument of Lenin and the last statue is dedicated to the Kyrgyz author Chyngyz Aitmatov.
Orlovka ski resort is located about 100 km from Bishkek along the highway to Issyk Kul. Orlovka ski base was created by a group of skiing enthusiasts already in 1984. Today it is all year round entertainment center and first of all a modern ski base with 50 hectares area at an altitude of 1 500 meters above sea level. During the wintertime, you can enjoy skiing here and in the summertime go for a Rodelbane ride (a kind of snowless sledge ride).
The Orlovka ski base is one of the Kyrgyz ski bases equipped with snow cannons, therefore, in the minus temperature, there is always snow and the season is more stable. Orlovka ski center is equipped with 9 slopes of various difficulty levels and various lengths. The length of the slopes is from 150 to 2890 meters with a vertical drop of 30 to 560 meters. Well-groomed slopes, clean mountain air and beautiful mountain landscapes will allow you to enjoy skiing, for professionals, beginners and all skiing lovers.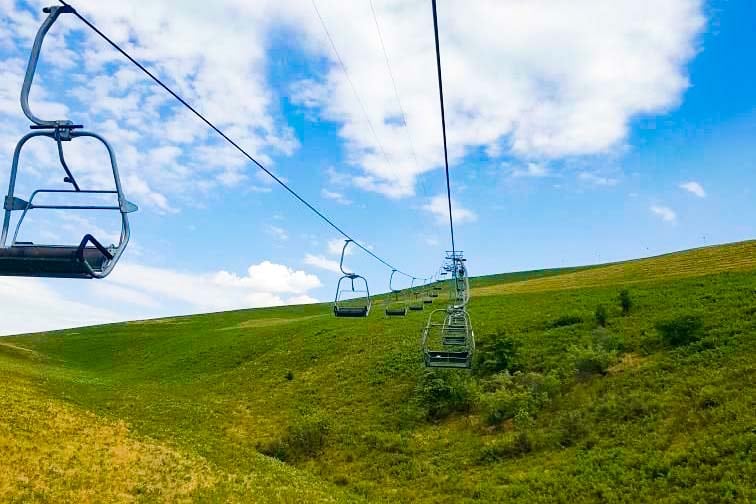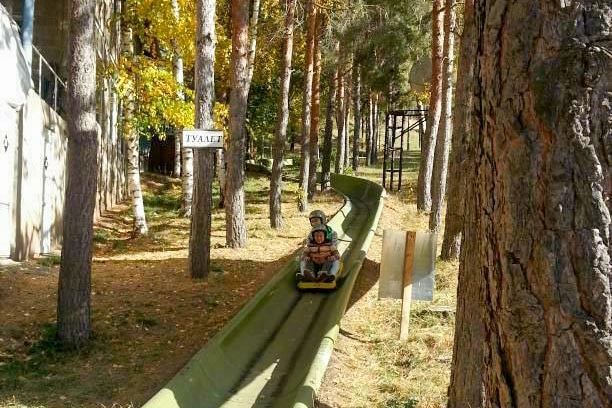 The Kashka Suu tourist center has a complex of facilities for year-round living, mountaineering and active recreation in the mountains at an altitude of more than 2000 meters above sea level.  
There is a ski lift with a length of 1,5 km, 6 slopes of different levels of complexity and 1 rope tow. The length of the elevation of the ski lifts varies from 1165 to 1365 m with a height differences from 110 to 380 m. The length of the elevation of the rope tow varies from 200 to 860 m with a height difference from 60 to 260 m.
Ak-Tyz ski resort has an Austrian type two-seats fixed chairlift of 1700 meters and a surface lift of 1000 meters not far from the border of Kazakhstan. The altitude difference is 500 meters, the maximum degree of slope is 45.0% and the average slope is 26.6%. The ski resort has the same name as the nearest village Ak-Tyz which translates as "white salt" because the snowfall is abundant here.
Too-Ashuu ski resort is one of the youngest ones of Kyrgyzstan resorts. It was built on the top of slopes at an altitude of 3000 meters and is located about 100 km southwest from Bishkek, on the way to Suusamyr valley. The season in Too Ashuu begins at the end of October and lasts till April. The snow-cover in Too Ashuu resort is one of the longest and deepest in Kyrgyzstan and can reach 2 meters during a good winter and therefore creating the perfect condition for skiers and snowboarders. The resort offers accommodation with a sauna and wooden cottages.
Too Ashuu ski resorts is located along the main road from Bishkek to Osh. After passing the Too Ashuu tunnel towards south from Bishkek side, there will be a crossing leading straight to the Too Ashuu Ski Resort towards southwest after a couple of swings downwards in the serpentine road. 
Winter tourism sights & Destinations in Kyrgyzstan