Orlovka ski resort is located just 100 km from Bishkek along the highway to Issyk Kul. Orlovka ski base was created by a group of enthusiasts in 1984. Today it is all year round entertainment center, a modern ski base with 50 hectares area at an altitude of 1,500 meters above sea level.  During the wintertime, you can enjoy skiing here and in the summertime go for a Rodelbane ride.
During the summertime, Orlovka offers a fascinating descent on special sleds with wheels that will entertain not only adults but also children. Special sled brakes allow you to adjust the speed, which, by the way, can be developed up to 70 km per hour. You can choose what speed to go down. The toboggan run includes breathtaking bends, and the opportunity to view during the descent of the magnificent landscape of the surroundings of Orlovka. Take a ride slowly, enjoying nature, or fly with the breeze along the highway.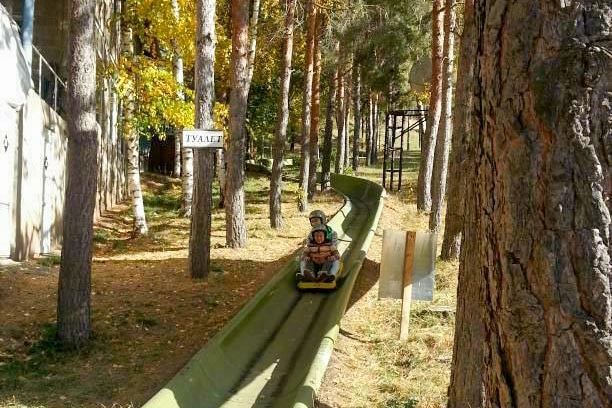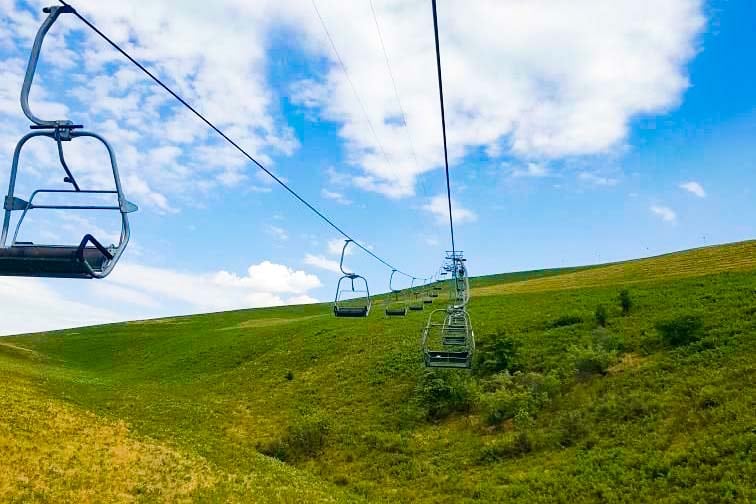 The Orlovka ski base is the only base equipped with snow cannons, therefore, in the minus temperature, there is always snow. The ski center is equipped with 9 slopes of various difficulty levels and various lengths. The length of the slopes is from 150 to 2890 meters with a vertical drop of 30 to 560 meters. Well-groomed slopes, clean mountain air, beautiful mountain landscapes will allow you to enjoy skiing, both for professionals and lovers of skiing.
There are two cable cars and two towing. The length of the cableway lift is from 500 to 900 m with differences from 110 to 350 m. The average speed of the cableway is about 3 m/s. The length of the lift trail for towing ropeways is from 150 to 600 m, with differences from 30 to 120 m, the towing lift moves on average at a speed of 2 m/s. At the bottom and at the top of the cable cars there are always instructors who will always help you. In the operates equipment rental service. In addition to skiing, the entire infrastructure of the base is well developed and modern. There are hotel rooms, a restaurant and a sauna.
HOW TO GET TO Orlovka Ski Base
You can reach to Orlovka ski base by taxi from Bishkek. If you purchase a ski pass, Orlovka ski base provides free round trip transport. Without pass, you can pay 300 som for ground transportation. It departs at 8.15 in the morning and back by Bishkek 17.00 You can make payment upon arrival at the ski base. Unfortunately, public transport does not go there.