Sayram (or Sairam) was once a significant Silk Road stop at the banks of the river Arys and it is one of the oldest settlements in Kazakhstan dating back from about 3000 years ago, even before Shymkent existed. Sayram was mentioned in the holy book of Zoroastrianism called the Avesta and is dated to the very old era according to this source. The residents of Sayram were converted to Islam in the 8th century by a preacher named Iskak-bab, whose supporters defeated the existing Christian Nestorian community in combat. Historians believe that a mosque that was built in Sayram by the victorious Iskak-bab was probably the first one constructed in the territory of modern-day Kazakhstan. Unfortunately the original mosque has not survived to see the present day.
Sayram is a popular place of pilgrimage due to its associations with the Sufi mystic Khodja Ahmed Yassaui, who was born here around 1103 at a time when the town was named Ispijab. The mausoleum of Yassauis mother and father are located here and they are visited by pilgrims as part of a route that also takes the pilgrims to the Mausoleum of Arystan Bab and culminates in a visit to Yassaui's mausoleum in Turkestan. 
As the centuries have passed, Sayram changed according to the different rulers like Mongols, Timurids, Uzbeks of Abulkhair Khan and the Khanates of Kokand and Bukhara and finally under the Russian and Soviet times. Today Sairam is a small agricultural town of about 40 000 people with low-slung buildings and the population of the town is mainly dominated by ethnic Uzbeks. Sayram is even known locally as 'Little Uzbekistan' which you can observe by walking in the streets by hearing more Uzbek rather than the Kazakh language. Sayram is located about 15 km east from Shymkent and is basically a suburb of Shymkent.
There is a very old small minaret in Sayram that reminds of those in Bukhara in Uzbekistan and Burana and Uzgen minarets in Kyrgyzstan. The minaret is called the Hyzyr minaret or the Kydyra minaret and it is the only part that has survived from a larger mosque complex that was built here between the 9th and 12th centuries. 
The minaret is named according to the prophet Hyzyr Paygambar who is mentioned in koran as the companion of Moses (Musa). The minaret is only 15 m high and it is possible for a small person to climb to the top as the stairwell is rather narrow. Some muslim pilgrims visit the site while visiting the more known pilgrim sights of Southern Kazakhstan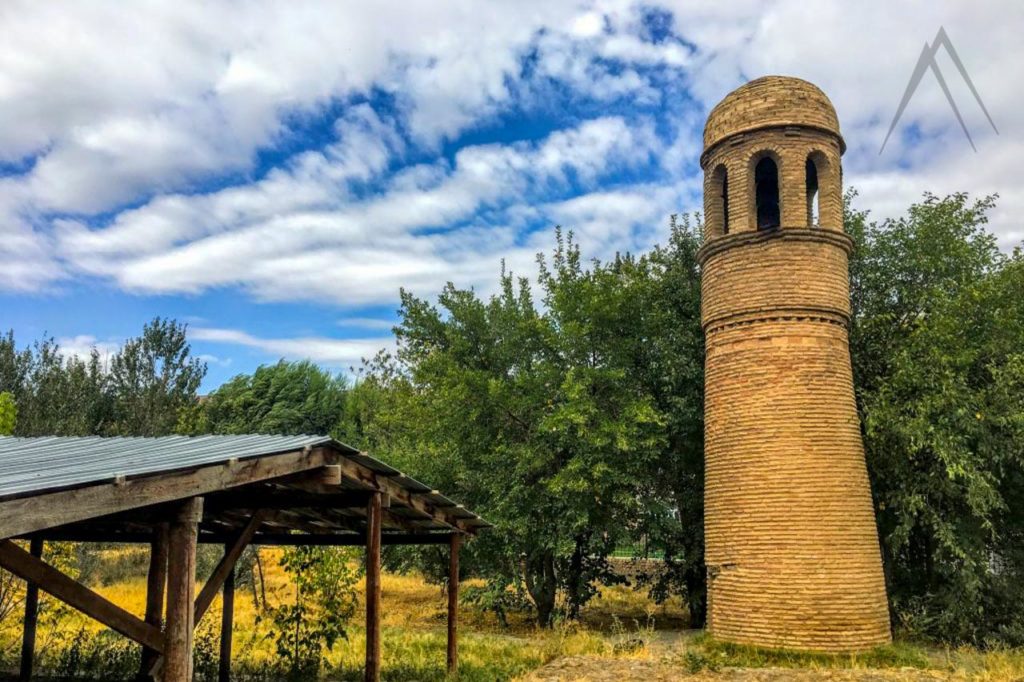 Other sights & destinations near Sayram