Abdulaziz Khan Madrasah was finished in 1658, almost 200 years later than the famous neighboring Ulugbek's madrasah that is located just across the street in the Bukhara old town. Although, these two buildings form a single architectural group, a closer look reveals that they have been built in completely different styles. The unique skill of the architects of their time is reflected in all its splendor in the external and internal appearance of this religious educational institution and Abdulaziz Khan Madrasah and it is a tangible proof of the Central Asian cultural development. In contrast to the Ulugbek Madrasah, Abdulaziz Khan madrasah is much bigger and more impressive. The entrance of the madrasah is decorated with rich patterns where yellow colors were also used in addition to the more traditional blue lapiz lazuli based color, accompanied with various new structural techniques. 
The Abdul Aziz Khan madrasah was built by Abdulaziz Khan of the Ashtarkhanid Dynasty who intended his madrasah to surpass all previously designed structures in pomp and grandeur. Whether he achieved this goal or not is questionable but it is a fact that his madrasah is included today among the key attractions in Bukhara. His key architects and designers included Muhammad Salih, Mawlana Muhammad Amin and Min Hakan Bini Khoja. While these masters relied on traditional construction techniques, the layout of the building was nonetheless intricate and even today impresses with its splendor. 
The entrance of the madrasah is distinguished by its height and detailed decoration, while the hall has a multi-dimensional shape and is enhanced with hanging stalactites and ornamentation which astounds with its brightness. The mosaics of the main façade are a tangle of geometric patterns, plant depictions and fairytale creatures painted among flowers. Such complexities are a reflection of the mystical philosophy of the Sufi poets, who saw such patterns as a metaphorical image of the universe. The madrasah has two mosques, one for winter and one for summer, both of which boast with richly decorated walls and ceilings.
Tourists are unfortunately not allowed to enter the mosques (mostly) behind the souvenir shops of the first part after the entrance.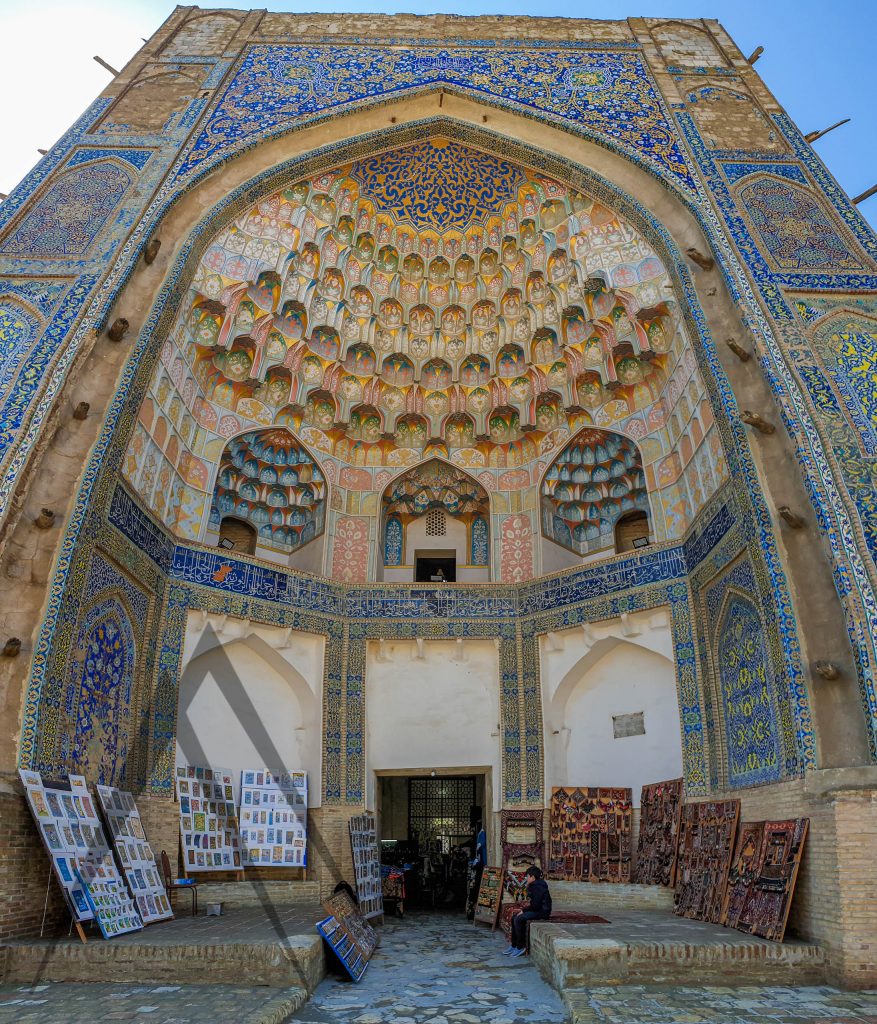 Other sights in Bukhara near Abdul Aziz Khan madrasa