Ata Beyit is translated from Kyrgyz as "The Grave of our Fathers". Ata Beyit It is a memorial to the 137 people who were murdered during the Stalinist repressions of 1937-1940. As well as the prominent figures of the Kyrgyz Soviet Republic as Yusup Abdrakhmanov, Bayaly Isakeev, Kasym Tynystanov, and Torokul Aitmatov, the father of the world-famous writer Chingiz Aitmatov and others that were unjustly convicted and shot, are buried here. Moreover, on the territory of the complex, a museum is dedicated to the victims of the country's history in 1920-1930.
Ata Beyit is also the location of the mausoleum of Chingiz Aitmatov, the most famous author of Kyrgyzstan that has written several internationally well-known books and was also a politically active person. There is a nice view down to the lowlands with a book-shaped statue.
You can get to Ata Beyit by a good asphalt road and it is conveniently almost on the way to Ala Archa national park. Unfortunately, public transport does not go there. However, you can take minibus 265 from Bishkek to the village of Tash-Dobo (Vorontsovka) and get out when it turns to Voronsovka side and make the rest of the way around 3-4 kilometers on foot (remember it is uphill). 
It is also easy to get to Ata-Beyit by bike – this is one of the most popular cycling routes in Bishkek. However, note that its located towards the mountainside so you would be just cycling up and only up all the way.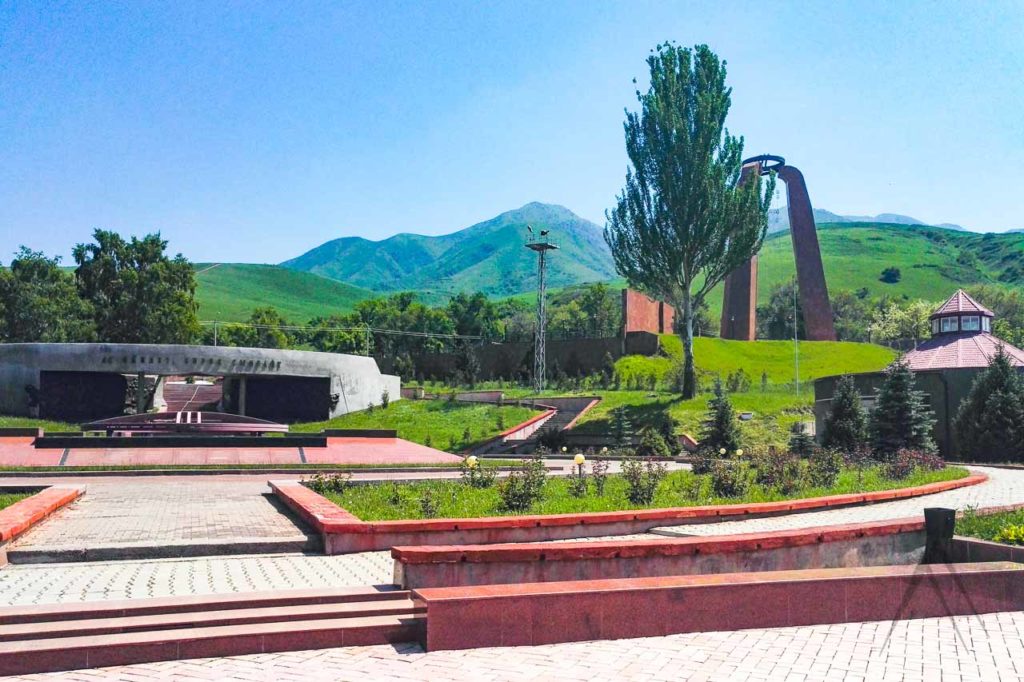 Sights near Ata Beyit Memorial