Majestic Shamsi (or Shamshy) gorge is known for its mysteries and beautiful forests and meadows. Shamsi can be found only a 120 km drive east from Bishkek, driving straight south from Tokmok town until the village of Kalinovka. One of the mysteries of Shamsi is the legend of a golden mask of a female face that was allegedly found there. Old men tell that it is a mask of Queen or Princess Shamsi, who gave her name to the gorge.
The gorge has extremely steep mountain slopes and the valley is very narrow from place to place with rocky ledges and it is popular for its large number of forests and trees and even wild strawberries grow there. In the upper reaches of the Shamsi river, at an altitude of 2725 meters, one can find the pearl of the gorge in the form of the the mountain lake Tuyuk-Keltor, which is the most beautiful mountain lake of the Shamsi gorge from where the Shamsi river originates from. Shamsi river is very stony and runs rapidly. 
At the very end of the valley, at the altitude of over 3500 m, lies Shamsi Pass that connects Chui and Kochkor valleys. There are many great spots for picnics and relaxation in the gorge. Moreover, in Shamsi gorge there is an old house named "Shah's house", that was built in 1968 for an Iranian Shah. 
Shamsi is well-known for its forests such as powerful firs and tall pines, mushrooms and various berries. Many herbs such as oregano, thyme, sage, Ivan tea and yarrow can also be found here and they together with many others make the honey originating from this valley to have an unique composition. In the summer time you can buy honey straight from the beekeepers. Additionally, there is a big number of wild animals, such as hogs, stone martens, Turkestan lynxes, hares, ermines and many others. There is also a beautiful cascade of waterfalls is located on the west bank of Shamsi River but you need to hike quite far in order to reach it.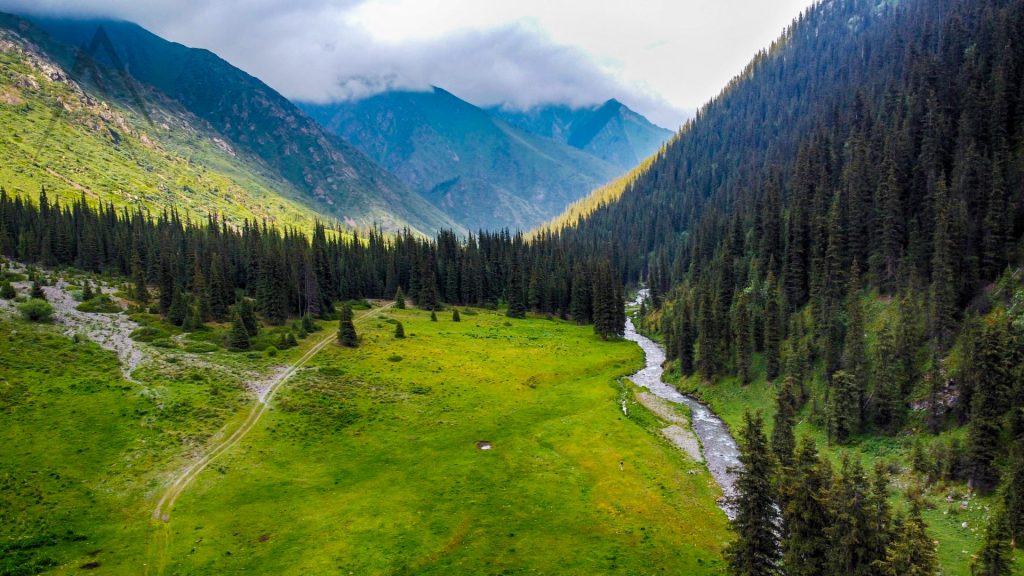 Shamsi gorge is not that far from Burana tower, next to Kalinovka village. You can take a marshrutka 350 from the western bus stop to Tokmok for 100 som or a shared taxi that will cost about 200 som. There is also daily train Bishkek – Tokmok for only 26 soms. From Tokmok a taxi further to Kalinovka village should be about 200 som. There is no public transport going to Shamsi gorge. The best way is to join organized day tours from Bishkek. 
The entrance to the Shamsi gorge is free. Take with you comfortable boots, water and your lunch and start your hike to conquer the heights of the gorge. Stay on the east side of the gorge to reach the Shamsi national park and the best sights. Be also prepared for rain as weather in the mountain gorges can change quite rapidly. Finally, the gorge is connected to the next gorge called Kegety but it requires hiking to more than 4000 meters pass from the sea level to reach it from Shamsi.