Altyn Arashan Valley & hot springs
Altyn Arashan translates as the golden pool from the Kyrgyz language. It is a valley nearby Karakol and Issyk Kul. At the mouth of the valley there is the village of Teplokluzenka which translates from Russian to "warm springs". Inside the valley there is the botanical research area called Arashan State Nature Reserve which is also a home for snow leopards and other mountain animals. Just little bit west from the Ararashan valley road and river there is a dendrarium calle Ak-Suu Dendrarium. If you are interested to see the different trees growing in the Issyk Kul area this is a nice spot to visit while in the Karakol area. There are also some hot spring resorts along the Ak-Suu river that flows from the valley.
At the upper part of the valley at the height of 3000 meters from sea level there are several hot springs where the water is collected into either outside pools or inside wooden cabins. The hot springs can be reached by hiking along the Arashan river along the Western side of the valley or by a rugged 4 wheel drive jeep. Mostly the locals use the old 1960s models of Soviet vehicles that can handle the extremely poor road conditions. The hot springs will for sure have a nice effect on you if you have chosen to hike all the 12 kilometers way up. One of the favorite spots for Instagram is the hot spring pool by the side of river which is also shown in the below pic.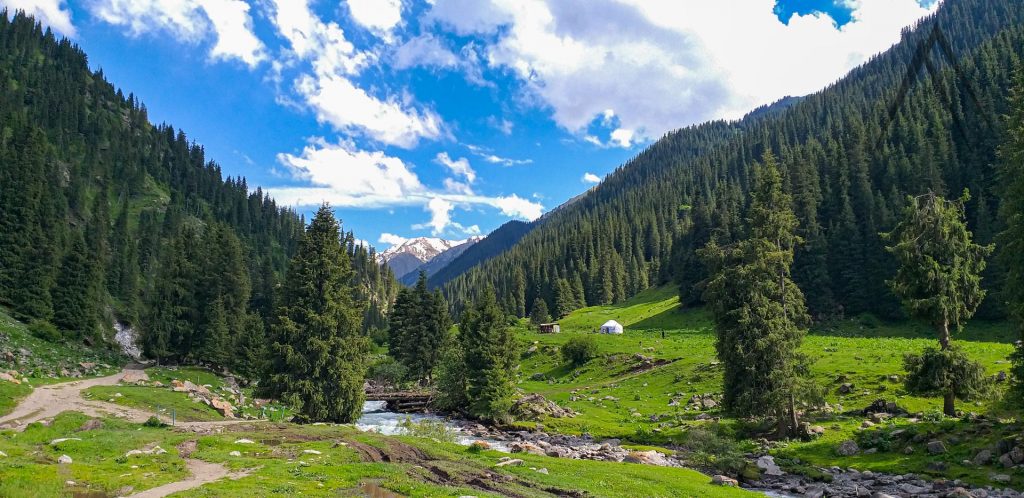 Horseback tours are also organised by several local tour organizers. If you choose to go east from the crossing of Aksy and Arashan rivers, you will reach the Aksu Sanatorium. If you are looking for extreme experiences you can reach also the glacier which is circling the Palatka peak at 5020 meters. 
There are also other places in the Karakol area like the Juuku valley and at the north side of Issyk Kul near the village of Chon Oruktu that have hot springs among others.
From Altyn Arashan valley you can also reach the Ala-Kul lake which is in between this valley and the Karakol valley. Hiking lovers can also choose a ring hike starting from Altyn Arashan and returning back to Issyk Kul area from the Karakol valley combining them by the pass at the height of 3900 m located between these two valleys next to the Ala Kul lake. Unless you are a pro hiker we suggest to get in contact with a tour guide to be on the safe side if you decide to go for this one.
Destinations & Sights nearby Altyn Arashan