Shirkent National Park was founded in 1991 to preserve areas of special scientific interest after the discovery of rare three sites of dinosaur footprints from various eras containing more than 400 trails. Shirkent is also only a less than 2 hour car drive away from the Tajik capital, making it a great day trip from Dushanbe. First dinosaur footprints are located on one of the right banks of the Shirkent River, slightly above the village with the same name. 
Two lines of pterodactyl footprints are seen here on the surface of Erinaceous limestone. The length of the footprints is 0,5 m on average, the width up to 30 cm, and the step length about 75 cm. Since there are no footprints known elsewhere like those in Shirkent, the animal that left them was deducted being a new species of dinosaurs which are a suborder of Theropoda, and was given the name Macropodosaurs Gravis. 
The second group of dinosaurs trails is about 5 km from the entrance of the Shirkent river, near the watershed on its left side. The third group of footprints is near Pashmi Kuna village and contains the footprints of only Tridactylus, however, it was a real giant. The length of its feet exceed 70 cm, the width 60 cm, and the depth of ground depression under its footprints is up to 10 cm.
The wildlife of the Shirkent area is diverse as well. It is home to snow leopards (ounces), bears, marten cats, stoats, and Siberian wild goats. Some birds and insects, inhabitants of this area, are registered in the Red Book of Tajikistan as rare and vanishing species (snowcock, griffon, Turkestan saker falcon, barbary falcon, swallowtail, rare butterflies).
Contact us if you want to organize a tour to Shirkent national park from Dushanbe.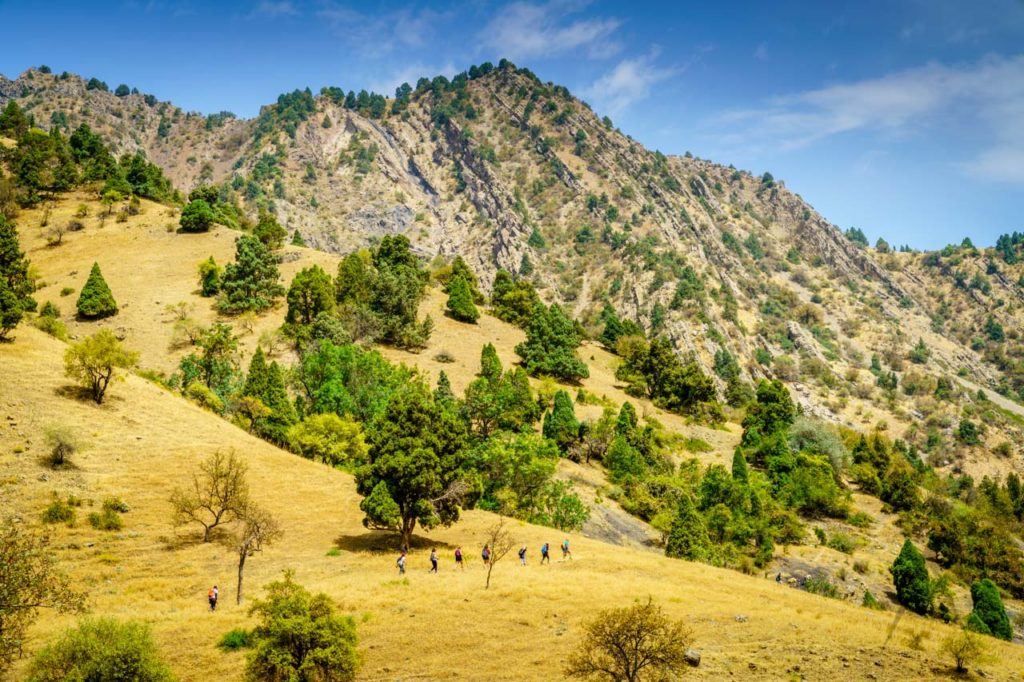 Sights & Destinations near Shirkent National Park