BAHARDEN CAVE &
kow ata underground lake
Baharden (or Bakharden) cave and the underground swimming lake inside are famous for the healing properties of the water inside. The attraction rests just over an hour's drive away from Ashgabat, at the distance of about 120 km and is therefore greatly popular among the locals. Hence, don't be surprised of meeting a large number of local families with kids enjoying the water inside. 
The entrance to the Baharden cave is a true showcase of a soviet made sight with the white concrete objects next to the stairs leading to the hill and the entrance of the cave. Inside the cave the air is moist and it is fairly dark and as the only light comes from orange color lights installed there. There has been a large colony of bats inside the cave that was thought being the largest bat colony of Central Asia, but lately their amount has been decreasing rapidly. Some suspect it is due to the large quantities of people visiting the place. 
Baharden cave is also listed as a dark tourism location due to the decline of the amount of bats and perhaps because of the Soviet style monuments and the destruction the visitors have caused to the location. Even more dark is that foreigners are charged a fee of 20 $ without pre booked tickets via tour operator. 
At a depth of 55 m and 276 steps down from the cave entrance, the lake Kow Ata is actually more like a pond with the length of 70 meters and depth of about 10 meters. The water in the lake is naturally hot, staying steadily at 36°C and has a high mineral content making it a popular swimming location also during the winter time. 
It is advised not to stay too long in the water due to the chemical composition of the water. The sulfurous smell from the lake coupled with the half-sensed presence of bats overhead, gives the place something of an underworld spirit. 
(Some suspect that the smell is from urine, some say it is the sulfur and some think it could be from the bats and their excrement.) If you are willing to swim, there are some old changing rooms in the depths of the cave.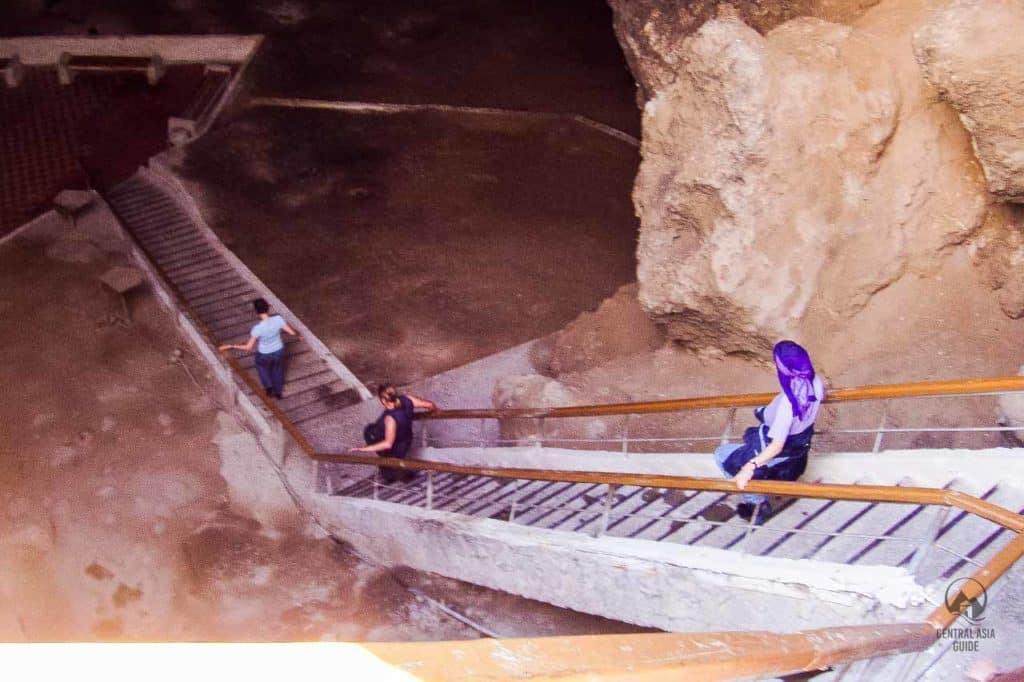 Sights & destinations near Kow-Ata underground Lake