Urgut is a well-known town or large village among the tourist as it's a cradle of traditions and national Uzbek crafts and a great day trip destination from the city heat of Samarkand. Urgut town is situated 40 km southeast of Samarkand at the foothills of the Zeravshan Range, at an altitude of 1000 m above the sea level, close to the border with Kashkadarya province.
In Urgut town, a large portion of the residents is ethnic Urgutlik that are spread throughout Central Asia and speak a mix of Uzbek and Tajik languages. They identify their ancestry to this place especially. Urgut is also not far from Tajikistan and can be easily visited when traveling between Penjikent and Samarkand.
From medieval times Urgut has been a major center of traditional crafts and its main bazaar is the largest oriental bazaar of Samarkand area that therefore also attracts the most tourists. On Sundays, people all over the nearest municipalities come to buy various goods, including national clothes, shoes, fabrics, household items and much more. The best thin is that a lot of the items sold here are produced by local craftsmen of traditional crafts. Stands are filled up with antiquities, or rather old jewelry, dressing gowns and chapans (traditional coat). Shoes made of genuine leather, decor and household items, richly decorated chests and other elements of the culture and life of Uzbekistan are also sold here, making it the perfect place for souvenir shopping.
In Urgut, craftmanship skills are passed down from generation to generation. For instance, the Oblakulovs' surname is a whole pottery dynasty that has been producing ceramics of amazing beauty for 17 generations. At the neighboring "maize bazaar", you can get local dried fruits, raisins, prunes, dried apricots and others. The famous "Urgut kishmish" (a sweet raisin) is a popular local product here. Here you can see meet diverse and mixed locals typical of Central Asia – women and grandmothers dressed in traditional clothes and grandfathers in turbans with luxurious beards. You can also try here some local delicacies as the national Uzbek cuisine is prepared here and you can taste real oriental plov or the hearty manti.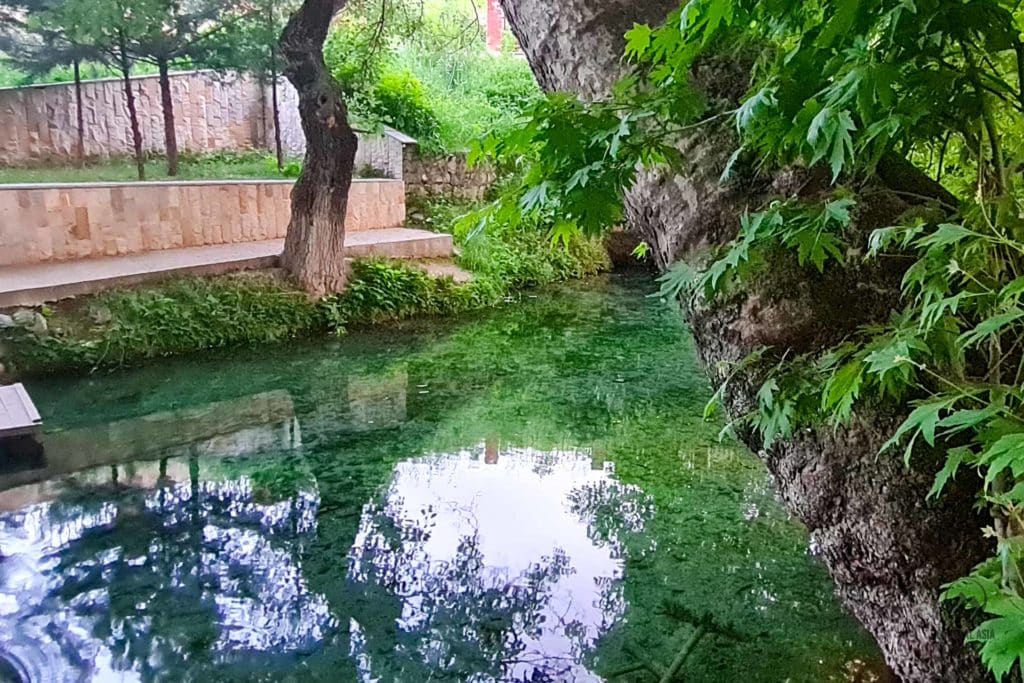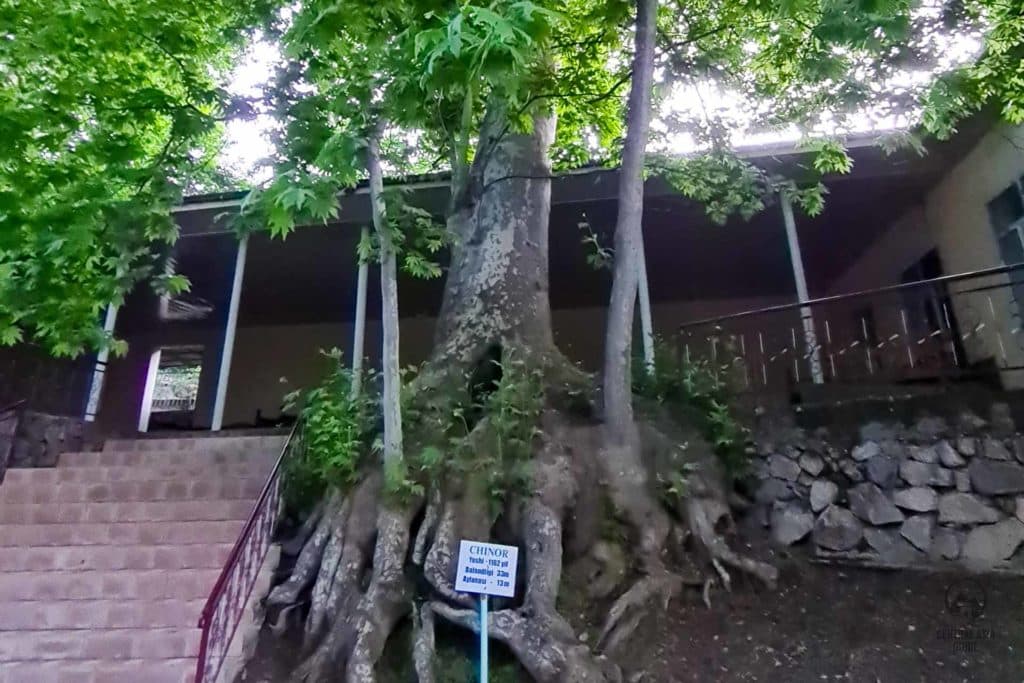 Chor-Chinor garden is believed to be over 1000 years old and has a rich cultural and historical significance for its region. The name "Chor-Chinor" translates as "four plane trees" from the Uzbek language and actually the garden is named after the four ancient plane trees that grow within its boundaries. These trees are believed to be at least 600 years old and are considered sacred by the local population.
The garden covers an area of about 7 hectares and is surrounded by a mud-brick wall. Inside the garden, there are several old buildings and structures, including a mosque, a madrasa, a small palace and a water reservoir in the form of a very clear watered holy spring. The Chor-Chinor Garden has long been a popular destination for visitors and pilgrims and many important events and festivals are held there throughout the year. 
In recent years, the Uzbek government has made efforts to preserve and restore the Chor-Chinor Garden, recognizing its importance as a cultural and historical landmark. The garden has also become a popular tourist attraction, drawing visitors from all over the world who come to admire its beautiful scenery and learn about its rich history.
Chor Chinor Garden holds an old hollow tree and inside of it there a Sufi school called "Chor Chinor Sufi Madrasa". The school is said to have been founded in the 16th century by the Sufi teacher Sheikh Shokhiyokh, who established the school inside the hollow trunk of the plane tree because it was a quiet and secluded space conducive to spiritual contemplation and meditation. The school was initially built as an open-air classroom, but a small wooden structure was later added to provide some protection from the elements.
The tree has been carefully preserved over the centuries and visitors can still see and visit the interior of the tree trunk, which has been hollowed out to create a small, peaceful room. The walls and ceiling of the room are adorned with intricate carvings and paintings, and there is a small opening at the top of the tree to allow light to filter in. The Chor-Chinor Sufi Madrasa is considered an important spiritual and cultural site in Uzbekistan and is visited by many pilgrims and tourists each year. The tree is also still very much alive with the school room inside it.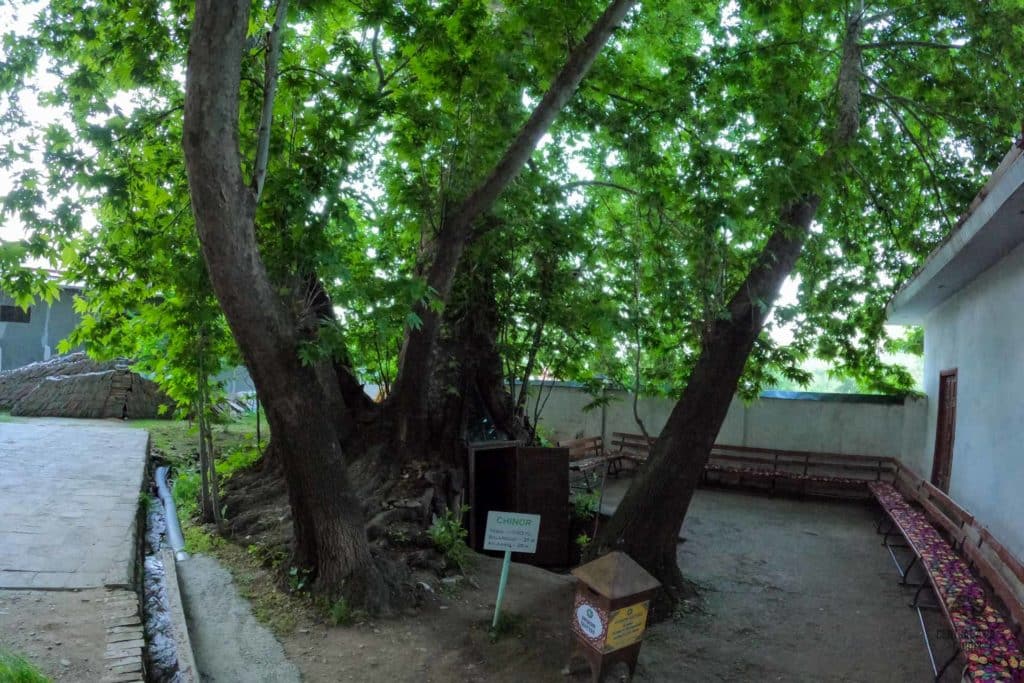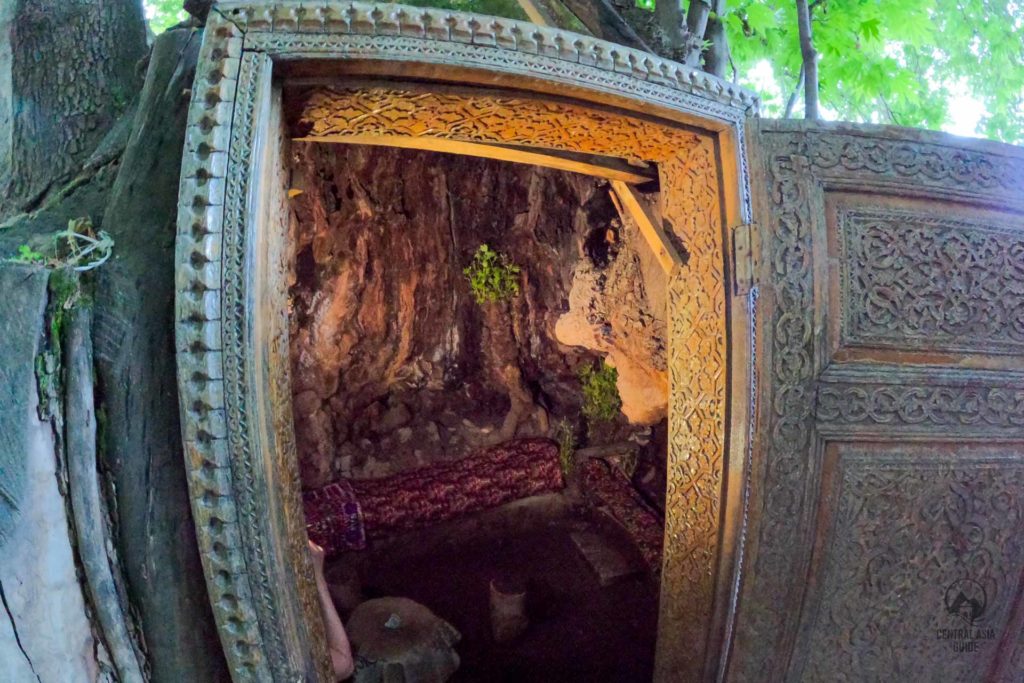 Nestorian monastery ruins
Ruins of a Christian monastery were found near Urgut by chance in 1997. It had been known though already for a long time from the literature that one should exist somewhere in the area. In order to find the ruins that are merely blocks of old bricks and signs of archeological digs, one needs to venture about two kilometers towards Chon Chinor from Urgut and turn towards Chor Chinor along the Urgutsay (small mountainous river) and the place will be located about two kilometers from Chor-Chinor. 
At one of the mahallas, you will need to take a turn and go on foot on the rough terrain – along the path between the hilly vegetable gardens. In one of these plots, in the midst of vegetable gardens, vacant lots and rare houses are the so-called Suleimantepe hill. More tangible traces of the past can be seen at the site of Jar Tepe northeast of Urgut in the form of an early medieval Zoroastrian temple, where a number of murals were found during archeological excavations.  Somewhere nearby there should be also a Buddhist temple in the Urgut district, mentioned in the literature.
Devil's helmet (Shaytan Jiga)
Devil's helmet is a plateau in the mountains near Urgut having reportedly strange rock formations that resemble heads of different animals and even giant human figures. Reports tell that the plateau is located between the springs of Mirankul and the village of Karatepe, but we have not been able to confirm this information. 
Govsul Azam Mosque & Mausoleum
Another site of pilgrimage in the area is the Govsul Azam mosque & mausoleum in the village of Gus which is just east from Urgut. Gus is a smaller village where one can see Uzbek rural area lifestyle. The mausoleum and mosque themselves are fairly new but are located in a nice area with greenery around. The location is at the southeast corner of Gus at a hillside little bit higher than rest of the village. The main road in the valley does not come to Gus and not many tourists wander here either so it is a considerably more quiet place off the beaten path to visit after Urgut.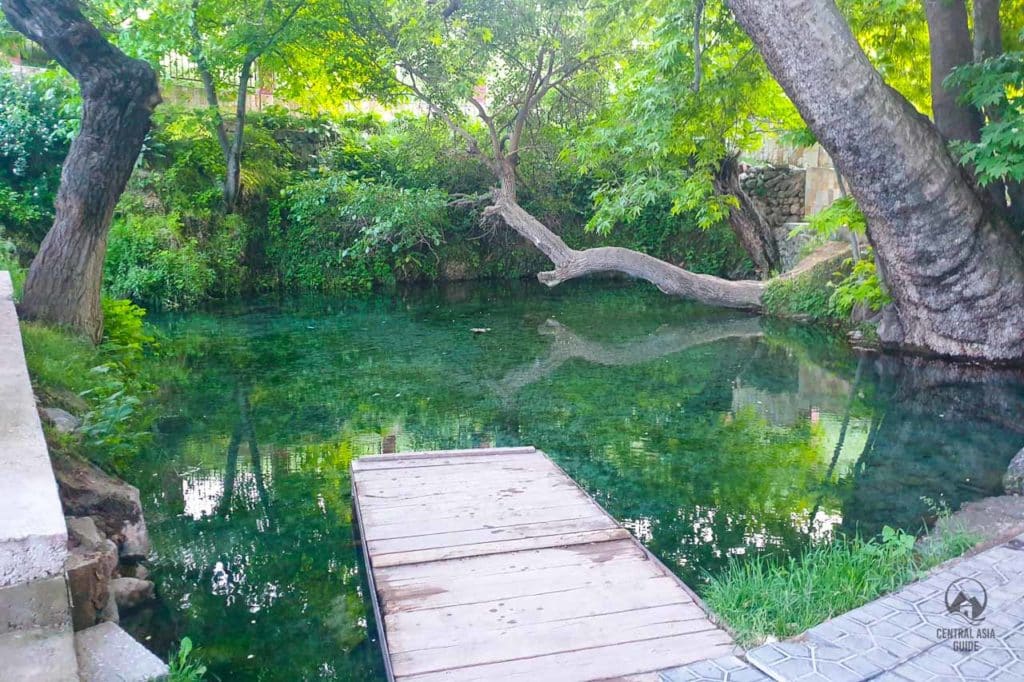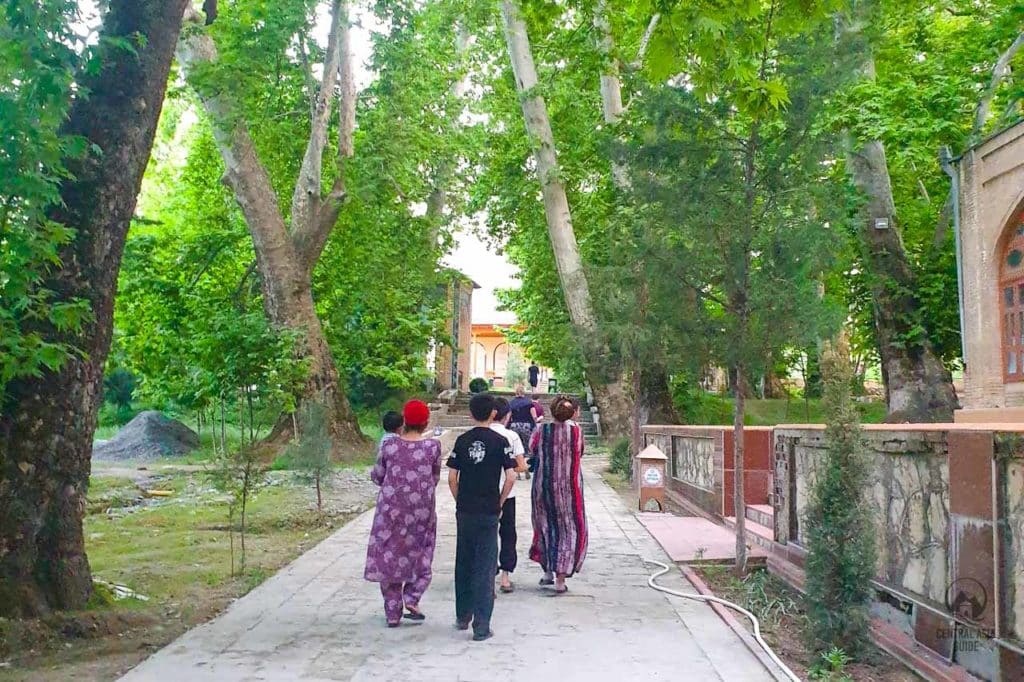 Other sights and destinations near Urgut