On the way to Issyk-Kul, after the Boom gorge pass, if you watch south from the highway, beyond the Chu River, you can notice unusual reddish rock formations against the starting mountain slopes. What you see is are the scenic and unique Kok Moinok canyons. 
These colorful, 2,5 km long and narrow canyons are named after the same named village just little bit further along the road. It is believed that long time ago the Issyk Kul lake was also reaching here when the water level of the lake was higher as there is a large concentration of salt on the cliffs here. These canyons have been formed most likely after the ice age when the glaciers on the mountains behind were melting and were eroding the cliffs here and thus forming these picturesque patterns of rock.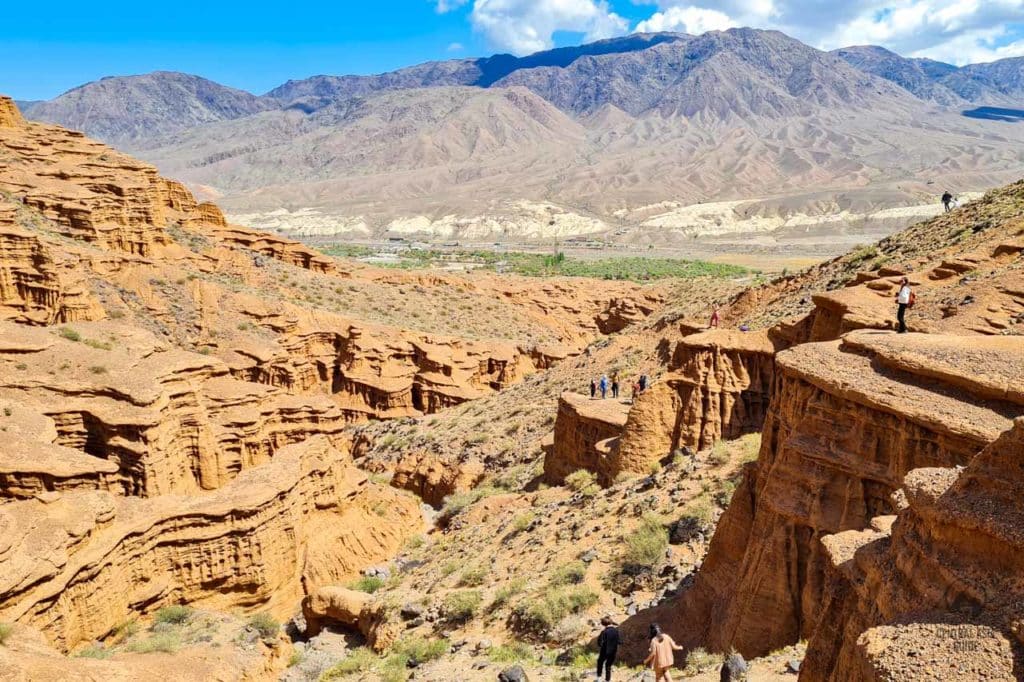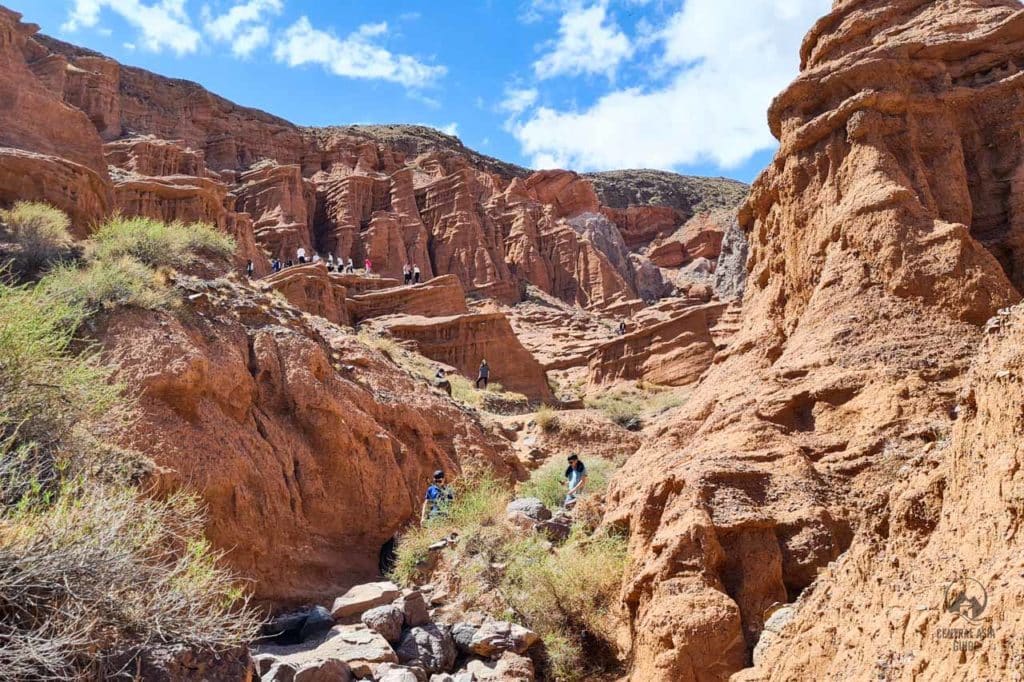 There are two ways to see the canyons. The easier way is just to walk inside of the canyons but the second one requiring some hiking upwards gives a great panoramic view to the canyons. It can be hard to get down towards the canyons from the top but one can always circle back down hill if the steep hill with loose rocks seems too hard.
Inside the canyons there are several old river beds and paths to explore. Be careful not to disturb the scorpions though as they are known to live in this very dry location. There are also some small lizards living among the desert like vegetation. Kok Moinok canyons receive extremely little water and the landscape is therefore mostly filled with the colors of orange and red from the iron concentrated soil and rock.
The canyons are located about 150 km southeast of Bishkek and 11 km west of Balykchy. The route to Kok Moinok canyons goes along the Bishkek – Issyk Kul road but you must turn south towards Naryn and Orto Tokoi reservoir about 20 kilometers before you reach Issyk Kul or Balykchi and then immediately to the right after the bridge crossing the Chu river.
Bring with yourself to Kok Moinok
Destinations near Kok Moynok Canyons