Kyrgyz handicrafts are comprised mostly of wool and leather made products. Most common ones are different carpets and crafts hanged on the walls, which clearly originate from the tradition of decorating the walls and the floor of the Kyrgyz yurt. More modern Kyrgyz handicrafts are wool made animals and other decorative, but mostly items meant for use, like handbags and other apparels. Kyrgyz leather made products include leather bags, beautiful flagons and of course horse saddles. 
One of the most popular and commonly used carpets in Kyrgyzstan is Shyrdak. It is very simple, thick, geometric, made mainly in the form of a mosaic and is considered the national carpet of Kyrgyzstan. The color palette of a national carpet usually consists of red with green, brown, and white.
There are many different techniques for making a national carpet. Starting from embroidery and ending with the application of a colored cord on a felt pattern. While utilizing the mosaic manufacturing method, the felt is cut into pieces of different shades and then stitched together, forming the overall picture, which is placed on a dark wool base and quilted with colored threads along the contours for better strength of the product.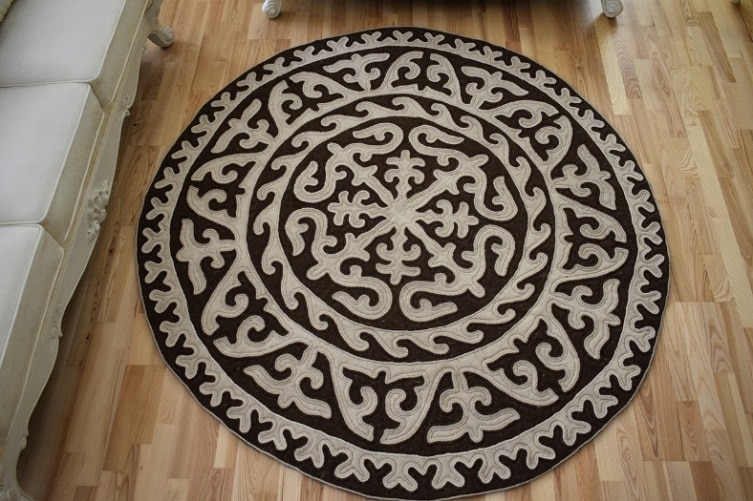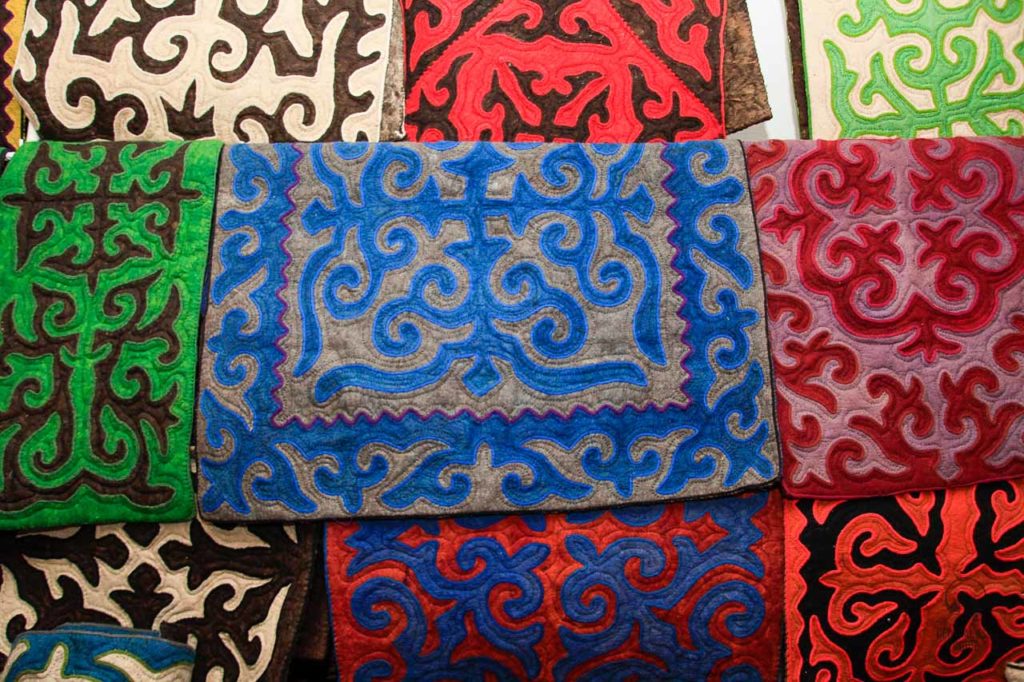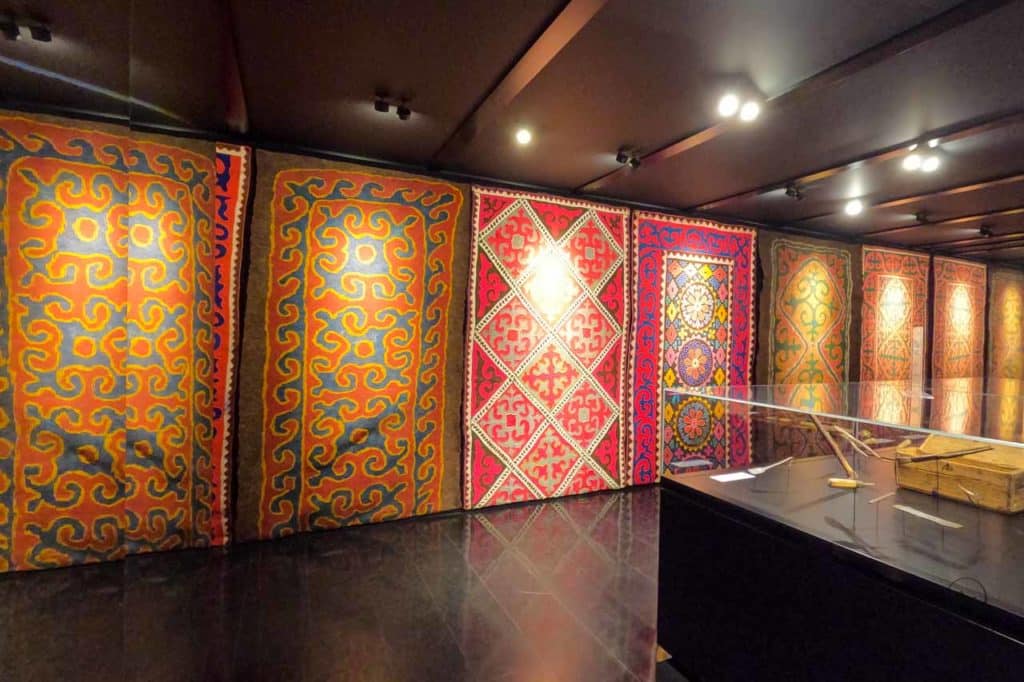 Shyrdak is most commonly rectangular in shape, with the exact aspect ratio and a mirrored finish. The edges of the shyrdak are complemented by various intricate patterns, while the central pattern is large and simple.
Shyrdak is used for different purposes from the floor to the wall hanging as well as to sit on and as a table cover or even for the car seat covers. Each Kyrgyz woman living in the rural areas considers it her duty to leave at least one shyrdak for each of her sons. For daughters, the shirdak is an important item in their dowry, which is received after marriage.

Most of the Kyrgyz Shyrdaks follow the traditional patterns and colors but some more modern ones are being produced as well. If you are interested in bringing back a custom made Shyrdak from your travel in Kyrgyzstan please don't hesitate to contact us beforehand. It will take few weeks by our local craftsmen to make a Shyrdak according to your wishes so please make sure to contact us on time.
Tush kiyiz are made from the patterned cloth in which chain stitching is used to create a montage of stylized natural shapes and they are used as tapestry on the walls of Kyrgyz homes. 
Tush kiyiz is usually very colorful and artistic according to the artistic talents of its maker and is made using the embroidery technique. Craftswomen have traditionally created the patterns on leather, cloth, woolen fabric and silk or velvet. The decoration is made usually on a black background and the most commonly used colors for patterns are red, yellow, blue and white threads that create contrast.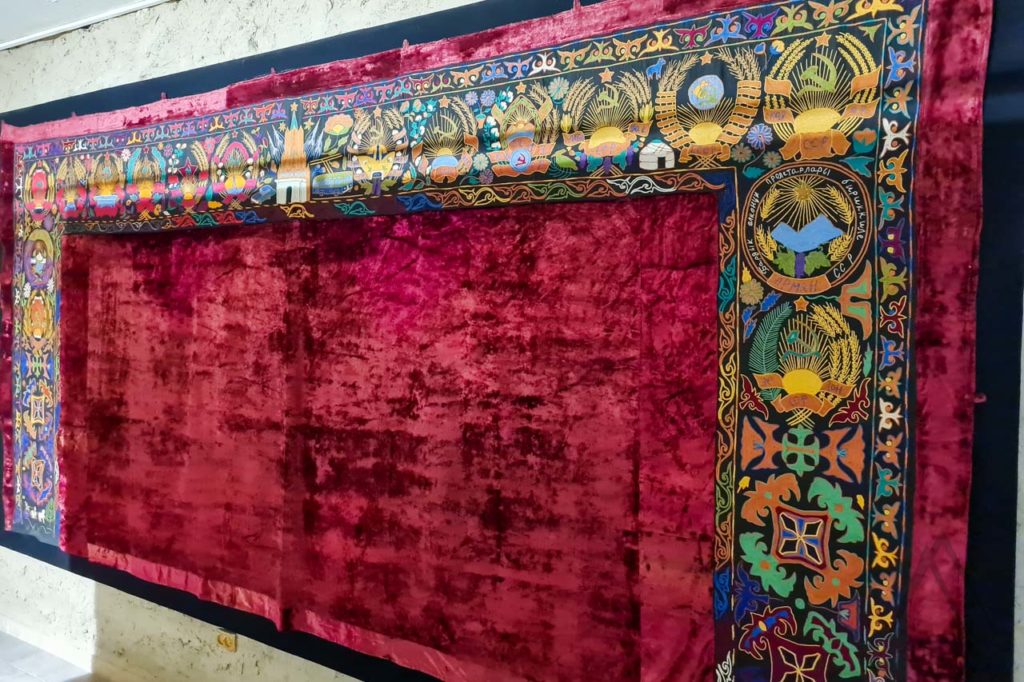 The shape of Tush Kiyiz is a rectangle with a wide patterned strip at the edges. Often colored threads with lace are sewn to the parts of the frame. Originally, the Kyrgyz hung the carcass of kiyiz on the wall of the yurt for insulation. 
The creation of such a carpet is a very time-consuming process, requiring the patience and skill of craftswomen. The ornament of the carcasses of kiyiz differs in large sizes, laconicism and decorative color combinations. 
Traditionally tush kiyiz is sewed by grandmothers for young married couples and they often have the names of the couple sewn into the design. Today, unfortunately, tush kiyiz are becoming more rare.
Ala-kiyiz from Kyrgyz means colorful felt, this type of rug is made using the roll-in pattern. In contrast to Shyrdak, ala kiyiz is made without stitches, cuts, and in a short period of time. Ala-kiyiz is used in households primarily for wall and floor covering as well as for decoration.
Ala kiyiz is made by the method of tipping a colored pattern into a one-color black background. It provides to ala-kiyiz erratic, indistinct shapes of ornament, watercolor softness, complex and integral color harmony. 
Refined dry black wool spread on the mat; colored dry wool laid on it in the form of patterns and ornaments. Then the whole surface is poured with hot soapy water to bond the fibers. The mat wrapped and kicked off for about half an hour. After the felt cloth is rolled out by hand, washing the rug and let it dry. Ala-kiyiz can be reused for new back covers of shyrdak and yurt covers.
Today, Ala-kiyiz has almost disappeared therefore along with Shyrdak since 2012 they are inscribed on the List of Intangible Cultural Heritage in Need of Urgent Safeguarding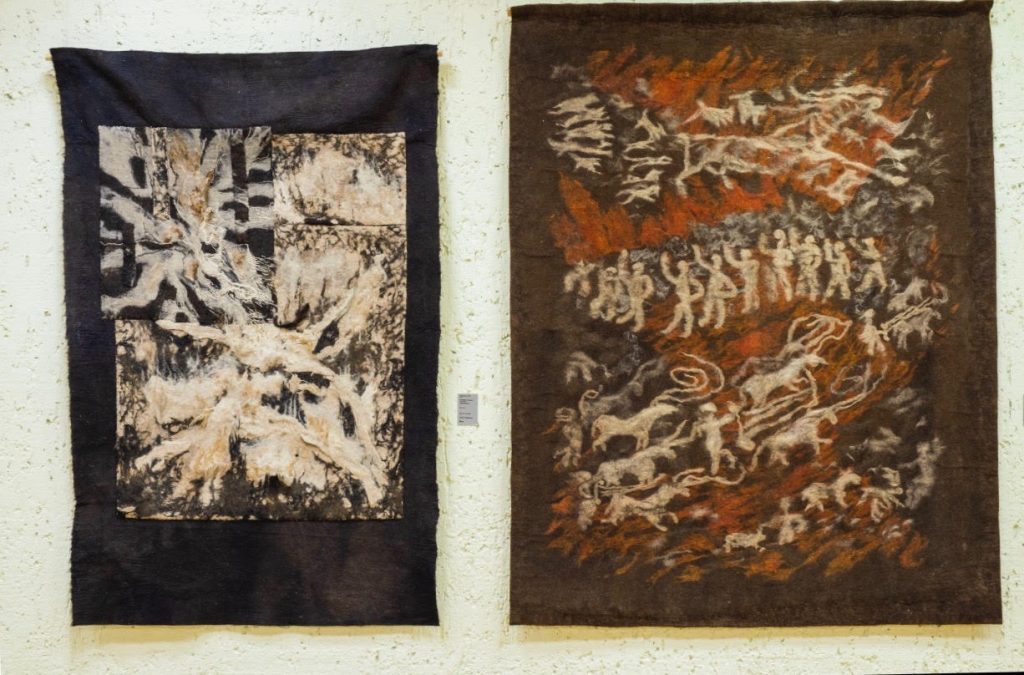 Kurak is an ancient technique of patchwork and embroidered handcraft. Kurak is a flap sewn together, it is a way not to waste pieces of fabric, leather, felt, and even carpets.
Kurak is a creative way of producing items by combining all those leftover pieces. It makes it possible to give another life into an old thing.
The earliest preserved kurak clothes date as far back as 2500 years. Kurak is also combined with patterning, which perfectly complements the design of the carpet. Craftswomen created different masterpieces from flaps, using patterns from the evil eye, protection and love.
The fabric from which kurak is created is of particular importance. According to an ancient tradition, when a child turned 40 days old, he was put on a shirt created from 40 rags of relatives. Such a shirt was supposed to protect the child from evil eye and bad exposure.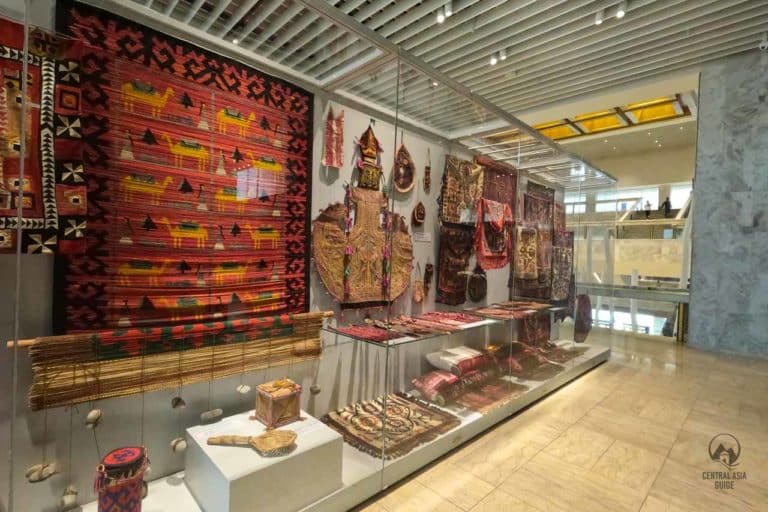 Chiy rugs are normally used in the yurts as a layer of insulation that keeps dust away and lets the cool air come in. 
Chiy mats are a reed strong rug that is used slightly differently than other carpets. Another similar chiy mat is used as a separating wall, for instance, it can divide the yurt to a female part and the rest one.
A more modern Kyrgyz handicraft is the wool-made toys and decorations like felt-made animals. They are skillfully made especially in the Issyk Kul area, Karakol being the center of production.
The balbal standing next to the animals in the photo is a souvenir depicting the ancient death stones that are found in many places in Kyrgyzstan like for example in Burana tower not far from Bishkek and in Cholpon Ata near Issyk Kul.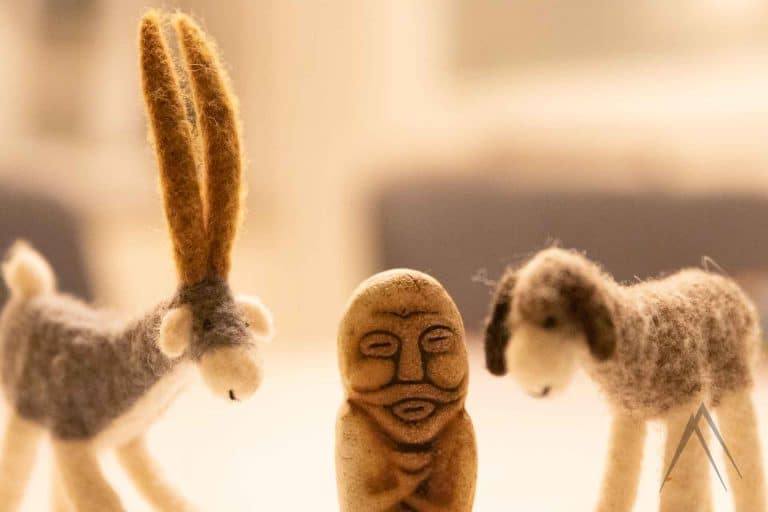 Leatherwork was developed craft in the early days and excellent examples, for instance, maybe seen in some of Kyrgyzstan's museums. The use of the leather came either from the skins of nomads' livestock – cattle, goats, sheep, horses – or from animals that had been caught on hunting expeditions, like ibex and gazelle. Therefore of the Kyrgyz nomadic lifestyle, most of the objects produced would have a practical use, like harnesses, whips, footwear and clothing. 
In addition, everyday objects such as kumys containers, with their distinctive anchor form that has two upturned compartments at the base, would also be produced from leather. Unlike the majority of craft activities, leatherworking was carried out by men and women alike.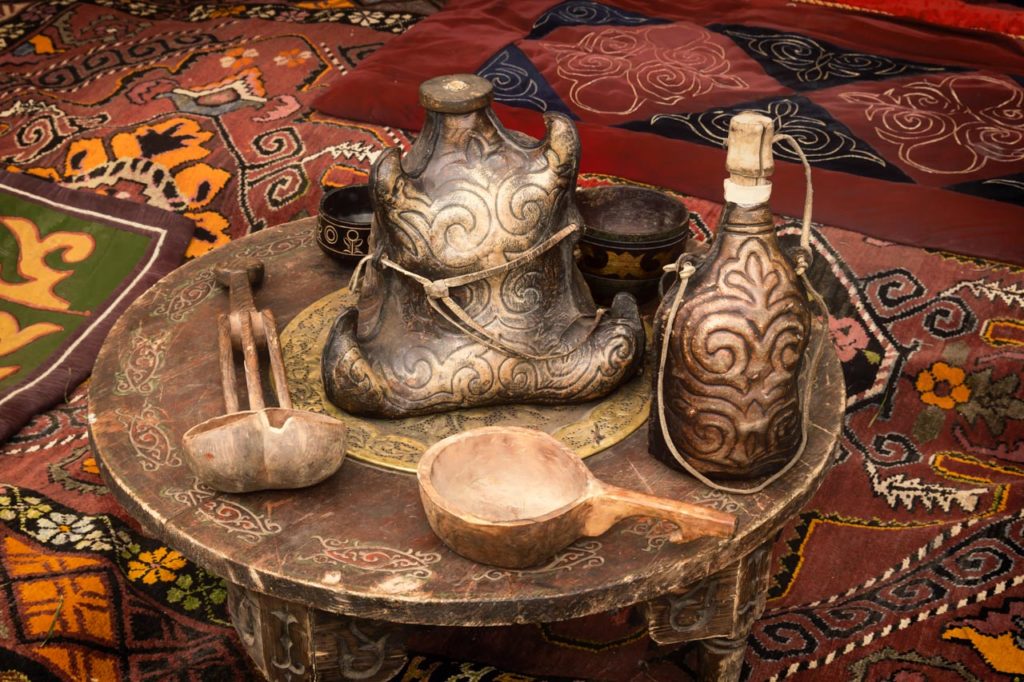 Best places to buy Kyrgyz handicrafts