Isfara is located in northern Tajikistan in the Sughd region next to the border with Kyrgyzstan. It belongs to the territorial dispute are between Tajikistan and Kyrgyzstan along the Isfana Valley. The town lies between big cities like Khujand in Tajikistan and Batken in Kyrgyzstan. It is the perfect place if you just heading to Tajikistan from Kyrgyzstan or vise versa if the border control is open. The majority of travelers people arrive in Isfara on their way to or from Kyrgyzstan, as the road from Isfara continues east to Batken and thence to Osh. 
The history of the town possibly dates back further than the 10th-century while it first appeared in the history books. Isfara, once known as Asbara, is one of Central Asia's oldest towns. Today's modern city was only established in the 16th-century onwards when it was recognized as a major trading route and a vital stop along the Great Silk Road. Today Isfara is still a significant trading route although on a much smaller scale than it once was. 
You can get to Isfata from Khujand by minibus or shared taxi 107km just in two hours. They depart from Khujand's Isfara bus stand at the southern end of Lenin. From Osh and Batken (Kyrgyzstan) you can easily to Isfara as well by shared taxis and minibusses if border control is open.
Set in the middle of the remarkably fertile Fergana Valley a diverse range of trade industries abound in Isfara from construction to agriculture. However, Isfara is especially known for its legendary apricots. The fact that's highlighted by the giant fiberglass Apricot Monument that rises proudly over a traffic circle in the center of town.
It's worth to start exploring the city from the History Museum. It presents exhibits on the region's natural history and includes a collection of old Soviet-era artifacts. You can get a picture of the region and the various invaders and settlers who have shaped the city, from its medieval mosques to the golden statue of Lenin.
Isfara bazaar stands just next to the big roundabout where stands a giant apricot statue. Bazaar offers straight from far apricots and various vegetables and fruits from the region. 
It is surprising to see a fascinating apricot monument in the region where mainly Sononi, Rudaki, or Lenin's monuments are installed. Although it is fair since the region is famous for its delicious apricots farms.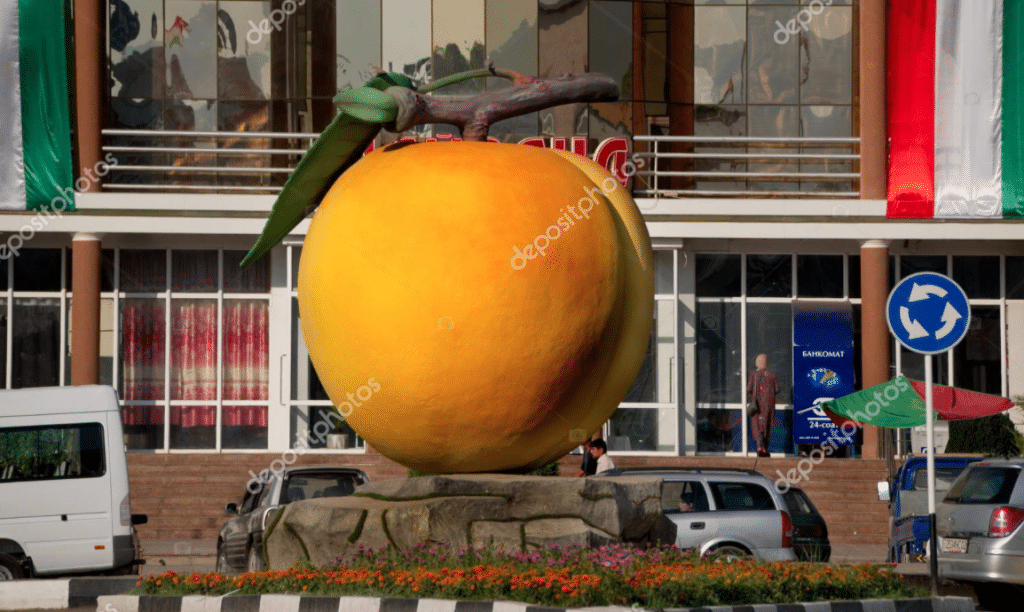 Page last updated 11.10.2020