Varzob valley is the valley that you will be driving through along the main road if you are travelling between Khujand (or Panjakent) and Dushanbe between the Northern and Southern parts of Tajikistan and also on your way to Iskander Kul in the Fann mountains. The river that flows through Dushanbe also originates mostly from this valley and the other valleys joining with it. Having said this there are several nice places for hiking originating from the Varzob valley.
The Varzob village is located about 22 km north from Dushanbe along the main road, on both sides of the Varzob river with a couple of bridges crossing the river. The Varzob riverside is a popular destination for the Dushanbe residents to escape the heat of summer and to spend time literally on top of the river. Many of the restaurants have built scaffolds and terraces on top of the river to get the guests seated straight over the cooling and moist river air.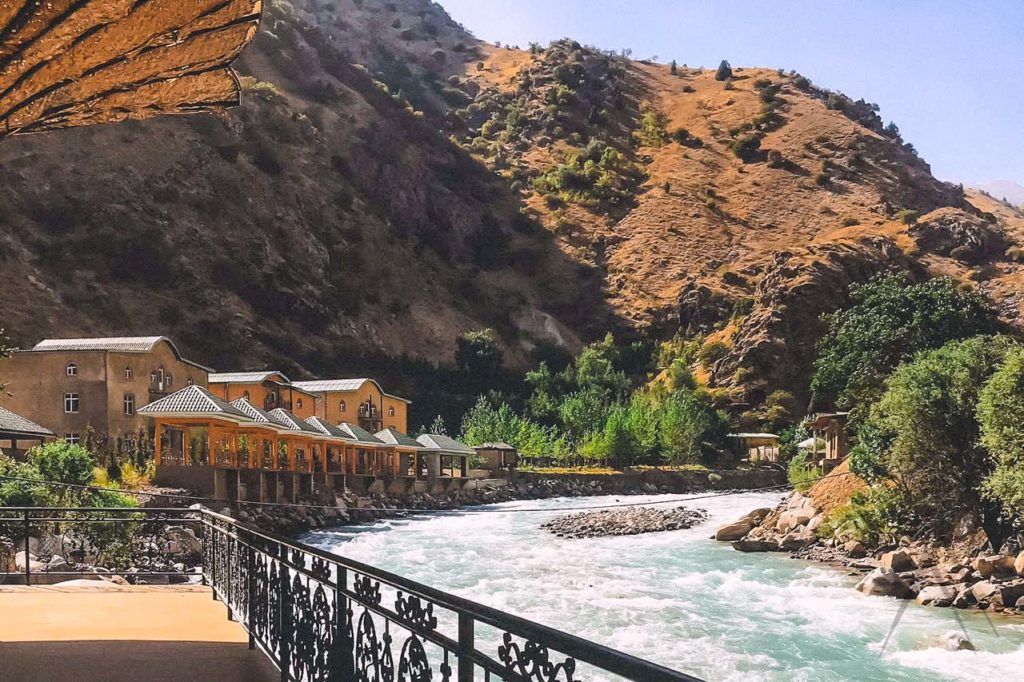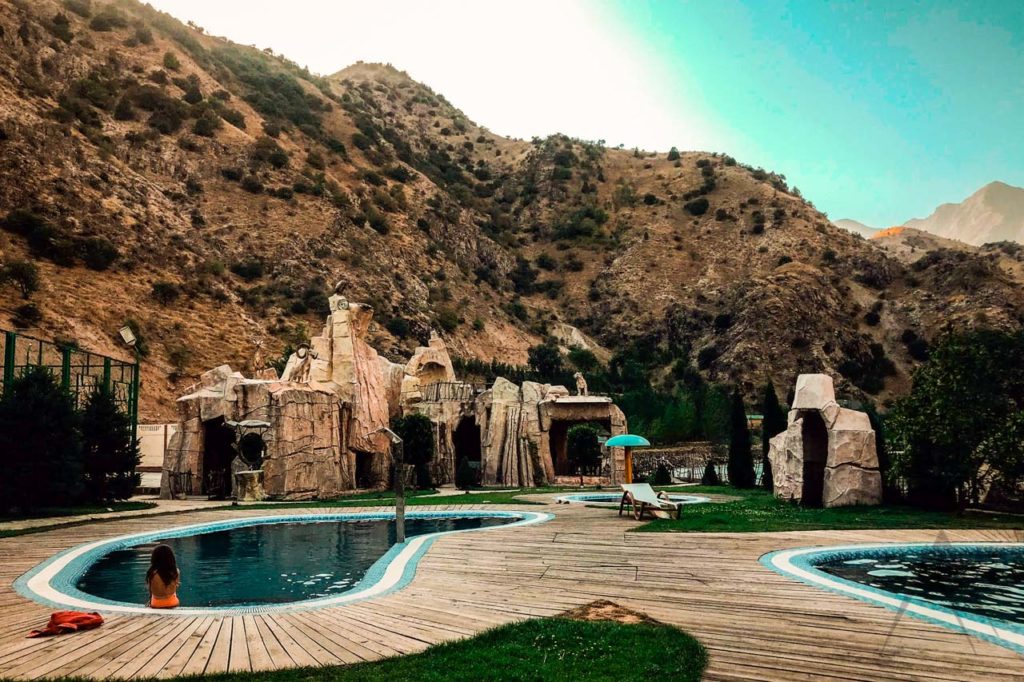 Guzgarf waterfall is located in a small tributary of the Odjuk river which joins the Varzob river in the Varzob village. The Odjuk river runs in the East – West direction towards West. There is a trail called the seven bridges going far up East to the mountains along the river Odjuk but the Guzgarf waterfall is only a 3 km hike away from the Varzob village and is fairly easily reached. The ones who are more adventurous and want to venture higher can freely walk further to see the nature in the higher areas.
Sioma Valley is a valley that joins with the Varzob valley and is located further North away from Dushanbe. The place is about 30 km drive further North from the Varzob village and about 50 km drive from Dushanbe. Many consider it the best hiking please nearby Dushanbe. The valley is very green and has an old meteorological station inhabited by an reportedly unfriendly Russian hermit. The meteostation can be reached by hiking the left side of the river. From the right side one can reach the source of the river or hike further along the tributaries of the Sioma river. 
It is also worth to mention that Varzob (or actually Takob Valley) has a fairly recently renovated and well functioning skiing resort called Safed Dara. Earlier it used to be called Takob ski resort and it is located east from the village of Takob. This modern, multi-faceted resort has skiing, ice skating, snowmobile rides, snow inner tubing, a couple of restaurants and a very comfortable renovated hotel which makes it a perfect detour on the road from Dushanbe to Khujand or Penjikent. The two lifts operating both offer a 1000 meter length. 
Varzob valley starts straight from the northern outskirts of Dushanbe, after the cement factory. You can drive forward towards your destiny along the M34 road or use one of the many marshrutkas and shared cars waiting in Dushanbe.
Sights and destinations near Varzob