Gijduvon, also written G'jjduvon, is a small town in the Bukhara region but once it was a cultural, mercantile and religious center of the region. Today it is a commercial center for not only its own district but also for neighboring areas. Gijduvon is mostly interesting for a tourist due to one of the three Ulugh Bek madrassahs residing there. The two others are in Samarkand and Bukhara.
A tomb and a monument of a famous Central Asian philosopher Abduholik Gijduvoni are also located in G'ijduvon. All the major historical sights of Gijduvon are located in the very center of the city and are easily seen by walking. This town is conveniently located on the way between Navoi and Bukhara, making it a nice stop over to stretch ones legs along the road between the cities.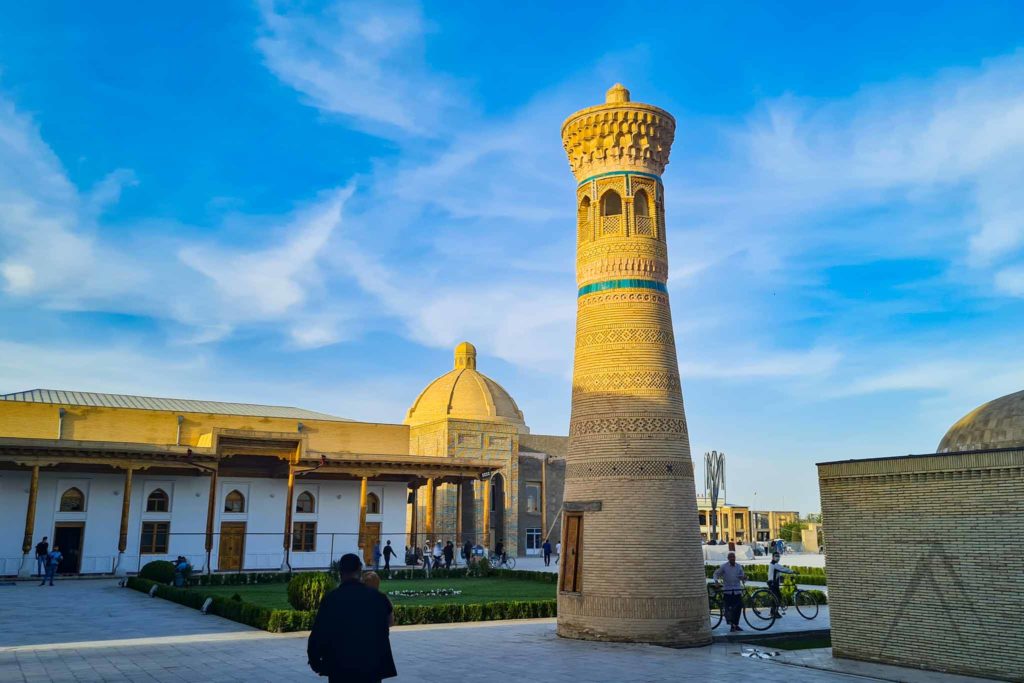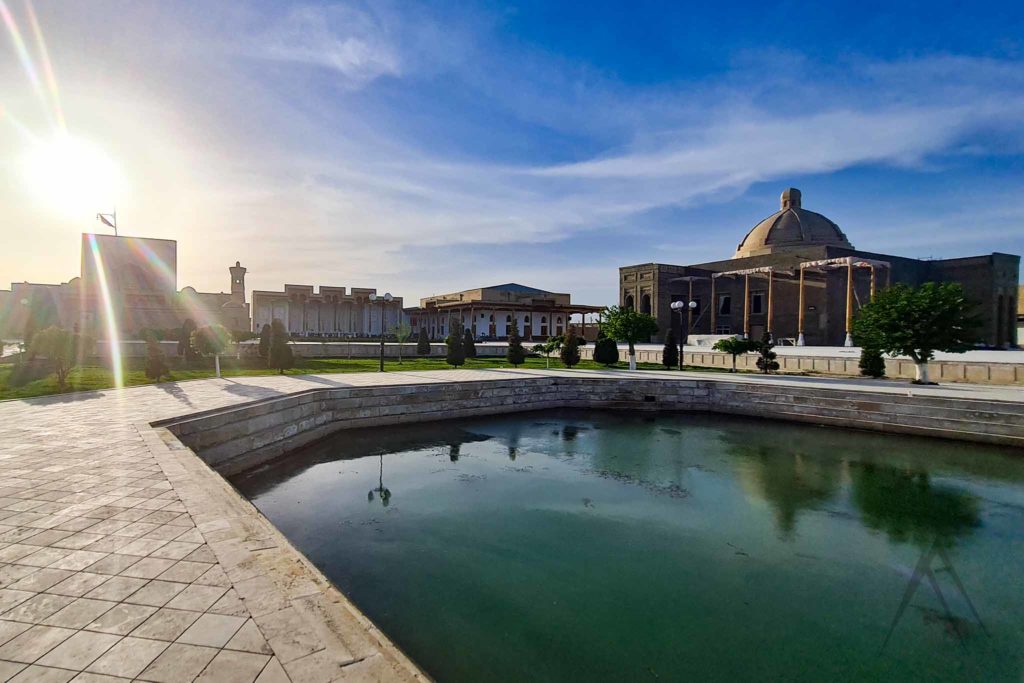 Ulugbek Madrasa in Gijduvon
The third madrasa of Ulugbek at Gijduvan is simpler in plan and more modest in size compared to the earlier built ones in Samarkand and Bukhara. A double door decorated with carvings leads into a small, vaulted passage hall and through this – directly into the courtyard of the madrasa.
The entrance is flanked by two traditional buildings – the mosque on the right and the Darskhona on the left. The almost square courtyard of the madrasa is surrounded by a one-storey arcade, under which are the entrances to ten hujjras. The hujras of the madrasa are small rooms covered by domes in four cases and simple lancet vaults in the others. The madrasa in Gijduvan is very similar to the madrasa in Bukhara in its external decoration, both in the technical methods of execution and in the ornamentation. This similarity is reinforced by the fact that both madrasas were thoroughly renovated at the end of the XVI century.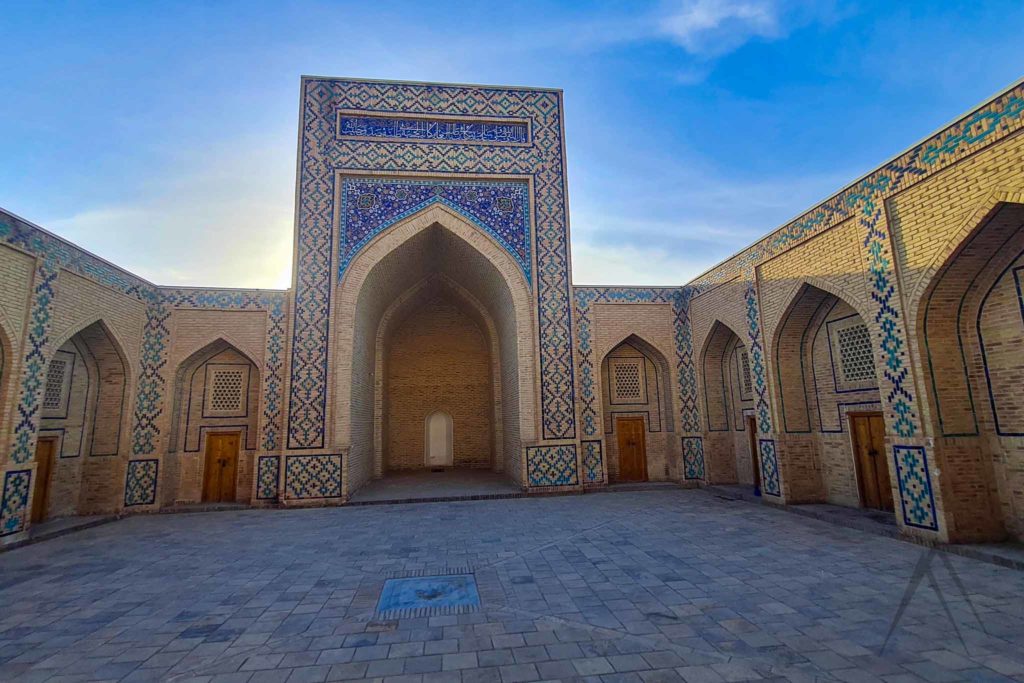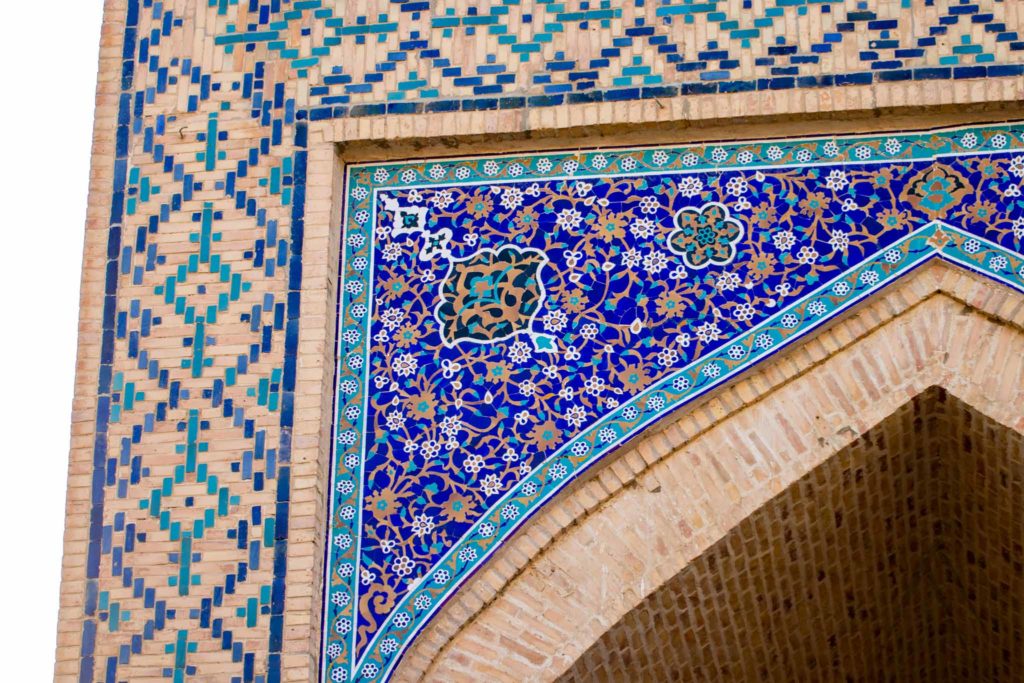 Directly opposite the entrance to the madrasa is the Hodja Abdul-Halik-Mazar, located in a small courtyard enclosed by a brick fence on the north, east and south sides. The courtyard is enclosed on the north and east sides by a brick fence supported on five wooden posts. Adjacent to the courtyard to the west is a mosque consisting of a shed on two wooden pillars. An interesting feature of the mosque is a wooden mihrab with a stalactite niche, which has three rows of stalactites and a small half-dome.
Sights & Destinations near GIjduvon