Mir Ali Sher Navai, also spelled Nevai or Navoy has many names as in Uzbek language Alisher Navoiy also known as Nizamidin Alsher Nawai. He was a Central Asian Turkic politician, mystic, linguist, painter and poet, of which he is mostly remembered of. He was the greatest representative of the Chagatai language, which is the language old Uzbek literature. Navoy greatly contributed to the development of the Uzbek language and is widely considered being the founder of Uzbek literature. Due to his distinguished Chagatai language poetry, he is considered by many throughout the Turkic-speaking world to be the founder of also the whole early Turkic literature.
Many places and institutions in Uzbekistan and other Turkic countries are named after Alisher Navoi. Navoy Province, the city of Navoy, the National Library of Uzbekistan named after Alisher Navoiy, the Alisher Navoi Opera and Ballet Theatre and Navoiy Airport to mentioned few, are all named after him. There are also countless parks all around Central Asia named after this great poet. Many of Navai's ghazals have become part of Uyghur 12 Muqam and popular Uzbek folk songs, especially by Sherali Jorayev, and his works have been staged as plays by Uzbek playwrights.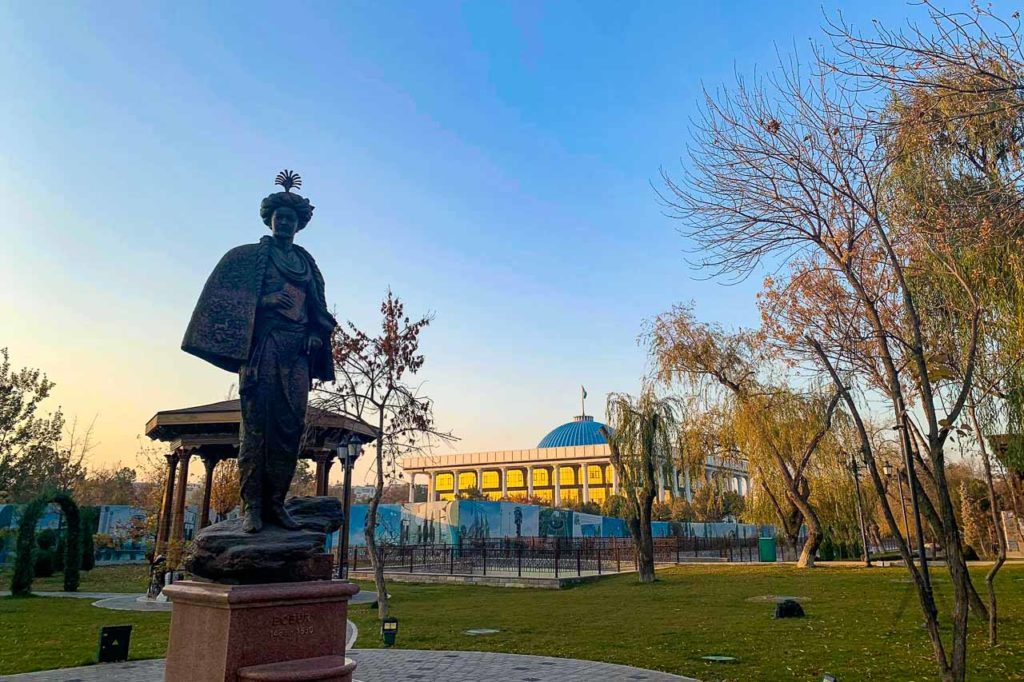 Alisher Navoi, full name is Mir Ali Sher Navai, was born in 1441 in Herat, which is currently in northwestern Afghanistan. During Alisher's lifetime, Herat was the capital of the Timurid Empire and became one of the leading cultural and intellectual centers in the Muslim world. Alisher was a part of the Chagatai amir (or Mir in Persian) class of the Timurid elite as Alisher's mother served as a princess governess in the palace. His father served as governor of Sabzawar at one time but died while Mir Alisher was young and the ruler of Khorasan, Babur Ibn-Baysunkur, adopted guardianship of the young man.
Mir Alisher was a schoolmate of Husayn Bayqarah, who would later become the Sultan of Khorasan. Alisher's family was forced to flee Herat in 1447, after the death of Shahrukh created an unstable political situation. His family returned to Khurasan after the order was restored in the 1450s. In 1456 Alisher and Bayqarah went to Mashhad with Ibn-Baysunkur. The following year Ibn-Baysunkur died and Alisher Bayqarah parted ways. While Bayqarah tried to establish political power, Alisher pursued his studies in Mashhad, Herat, and Samarkand. After the death of Abu Said in 1468, Husayn Bayqarah seized power in Herat. As a result, Alisher left Samarkand to join his service. Bayqarah ruled Khurasan almost uninterruptedly for forty years. Ali Sher remained in the service of Bayqarah until his death on 3 January 1501 and was was buried in Herat. During his life, Alisher Navai led an ascetic lifestyle, never marrying or having mistresses or children.
Alisher Navoy's Literary Work
Under the pen name Navai, Alisher was among the key writers who revolutionized the literary use of the Turkic languages. Navoi himself wrote primarily in the Chagatai language and produced 30 works over 30 years, during which Chagatai became accepted as a prestigious and well-respected literary language. Navai also wrote in Persian (under the pen name Fani), and to a much lesser degree in Arabic and Hindi.
Navai's best-known poems are found in his four divans, or poetry collections, which total roughly 50 000 verses. Each part of the work corresponds to a different period of a person's life:
   Ghara'ib al-Sighar ("Wonders of Childhood")

   Navadir al-Shabab ("Rarities or Witticisms of Youth")

   Bada'i' al-Wasat ("Marvels of Middle Age")

   Fawa'id al-Kibar ("Advantages of Old Age")
To help other Turkic poets, he wrote technical works such as Mizan al-Awzan ("The Measure of Meters"), and a detailed treatise on poetical meters. He also crafted the monumental Majalis al-Nafais ("Assemblies of Distinguished Men"), a collection of over 450 biographical sketches of mostly contemporary poets that is a gold mine of information for modern historians of Timurid culture.
Navai's other important works include the Khamsa (quintuple), which is composed of five epic poems and an imitation of Nizami Ganjavi's Khamsa:
   Hayrat-ol-abrar (Wonders of Good People)

   Farhad va Shirin (Farhad and Shirin)

   Layli va Majnun ( Layli and Majnun)

   Sab'ai Sayyar ("Seven travelers (planets)")

   Sadd-i-Iskandari ("Alexander's Dam", an epic poem about Alexander the Great)
He also wrote Lison ut-Tayr ("Language of Birds", following Attar's Manteq-ol-tayr or Speeches of Birds), in which he expressed his philosophical views and Sufi ideas. He translated Jami's Nafahat-ol-ons to Chagatai Turkic and called it Nasayim-ul-muhabbat. Hi Besh Hayrat (Five Wonders) also gives an in-depth look at his views on religion and Sufism. His book of Persian poetry contains 6000 lines (beit).
Navoi's last work, Muhakamat al-Lughatayn ("The Trial of the Two Languages") is a comparison of Turkic and Persian and was completed in December 1499. He believed that the Turkic language was superior to Persian for literary purposes and defended this belief in his work. Navoi repeatedly emphasized his belief in the richness, precision and malleability of Turkic vocabulary as opposed to Persian. Muhakamat also acted as the author's final testament.