Tash-Rabat is the most extraordinary stone monument in all Central Asia and along the Silk Road. This caravanserai is a stone walled, 15th-century roadside inn that served as a Silk Road station at a pass between Chatyr Kul and the ancient settlement of Koshoy Korgon in the Tian Shan mountains. Caravansaray Tashrabat is located about 114 km northwest from Naryn, 434 km from Bishkek, and 92 km from the current Chinese border. Some of the caravans, ambassadors, travelers and other wanderers traveling to and from Kashgar (China) from all the way to Europe used to travel this way as a part of the Northern Silk Road and used Tash rabat as a resting place and for stocking on food, water and supplies. Most likely it has also provided protection for bandits and other dangers. From Tash Rabat westwards the road had two branches: One leading to Issyk Kul and the other towards Ferghana valley. 
The road to China continues through the Torugart pass at the altitude of about 3500 m above sea level, south from the salty lake Chatyr Kul. Tash-Rabat is also well-known for its size, building materials and its special layout, based on perfect symmetry. 
The caravansarai has an almost square shape and the length of is sides are 33,7 and 35,7 meters, meaning it is BIG. Once inside, a corridor leads to the central hall where small holes have been cut in the ceiling letting the daylight in. Tash Rabat has 31 dome-shaped rooms made of crushed stones with clay mortar and with gypsum mortar for sealing the joints. 
All other rooms except the main hall are quite dark with only small holes providing light inside. The facade of the building is traditionally directed to the east and it has a portal with a classical arch and corner towers that are designed for the sentinel guard. The roof of Tash-Rabat is crowned with twenty small and one large dome and the apertures for the light are easily visible. 
Tash Rabat Legend and History
It has been said that Tash Rabat was built by father and a son. When they were building the cupola on the roof, the son heard a caravan coming from afar. The father asked him to stay so that they could finish the work, but the son went to greet the caravan and fell in love with a traveling girl. He left his father, who got sad that he didn't finish the cupola and left few holes in it that are still there even now. 
Tash-Rabat translates as a stone yard in Kyrgyz. Some historians argue that Tash Rabat may have been used as a monastery by the Nestorian Christians or even Buddhists that lived in the region before 13-century Mongol attack took place and before Islam spread out to the region. There are several versions and legends about the origin of the architectural complex, but it is most likely that it was built in the 15th century and served as an inn for merchants traveling along a nearby trade route.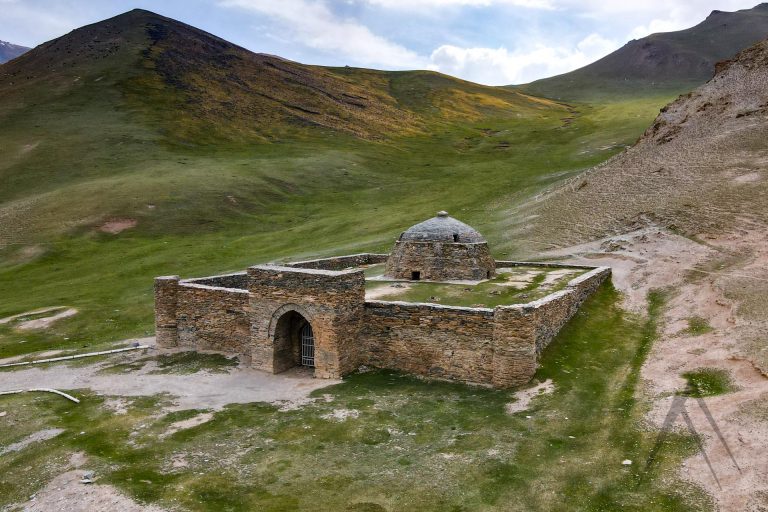 The easiest way to reach Tash-Rabat is to get yourself first to Naryn. From Naryn or At-Bashi the options are by your own wheels, taxi or with the help of a tour operator. The cost for taxi from At-Bashi to Tash rabat and back will be about 2500 som and from Naryn 3000 som. 
If you are on your way to Chatyr Kul, Tash Rabat is a good place to rest for an hour or two and perhaps enjoy an authentic Kyrgyz nomad meal in a yurt. If you wish to overnight in Tash-Rabat in the summer there are a lot of choices to stay in yurt camps. Locals from nearby villages will come and set up yurts and offer meals as well if requested. With the basic facilities a night will cost only around 500 som (It might be cold in the night time so request for heating when necessary). 
There are many trekking and horseback routes around Tash Rabat organized by the tour operators and you can visit for example the Tash Rabat Pass and lake Chatyr Kul. There are several tour operators organizing trips to Tash Rabat straight from Bishkek as well.
Other destinations and sights near Tash Rabat