Kochkor is situated 1 800 m above sea level in the northern part of the Naryn region. The village is the administrative center of Kochkor District with a population of about 15 000 inhabitants. Kochkor is located on the main road leading from Balykchy to Naryn and has been a stopover point for nomads and travelers for ages and continues being so now too. Сenturies ago Kochkor used to be a transshipment base to China through the Torugart pass and one main stop of the Northern Silk Road.
Kochkor stands in a flat open plain, inside a cup-shaped valley. Its broad avenues are lined with tall white poplars and beautiful silver birches. Today the town is a quiet place with children playing on the dusty pavements or gathering around street stalls selling chewing gum, tea and pens. Many locals and vehicles gather around the roadside of the main bazaar. One side of the road has colorful vegetable stalls and the other side has a clothes market. Mountains overlook Kochkor in the distance from most directions and a reddish light plays with their snow-capped peaks at dusk.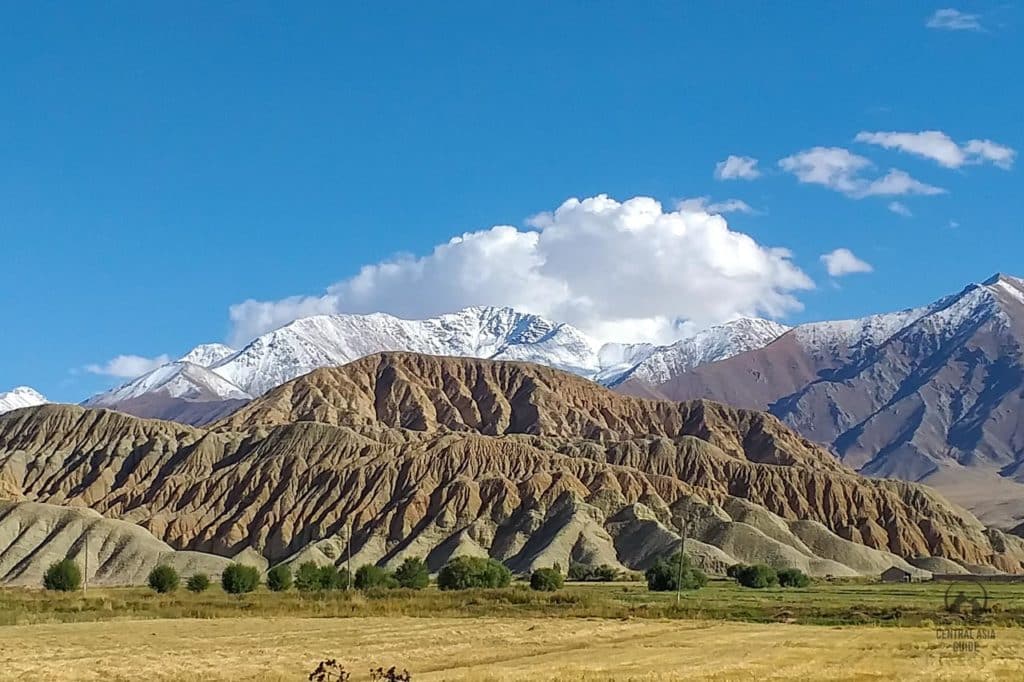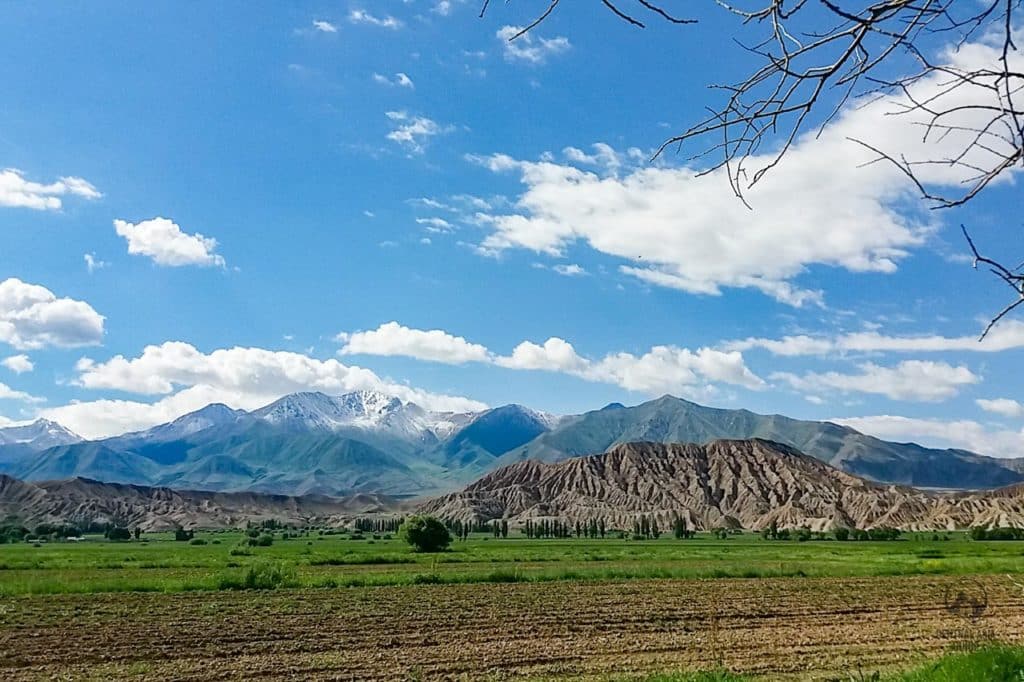 According to the legends, Kochkor was chosen by the khans as a wintering spot already in the ancien times. Due to the unique geographical location, snow does not fall here.  To be more precise, it snows sometimes but it melts quickly. Khans spent the winter here to gain strength for further travel. 
Kochkor was originally named after the Tsarist prime minister Stolypin, who promoted the Russian colonization of Central Asia and fought the October Revolution. After the revolution, the Bolsheviks renamed the town Kochkorka (in Russian). Later it was renamed Kochkor in Kyrgyz. However, local people have another story or a legend about how the town got its name, which involves a fighting sheep.
Legend about Kochkor name

According to the legend, a couple of men were taking a herd of sheep to market in Anchjan (Uzbekistan) when a woman asked if they would also take her sheep called Kochkor and sell him, using the money to buy some good clothes. They agreed but along the way they mistreated Kochkor, beating him and not feeding him properly. By the time they arrived at the market, Kochkor was thin and scrawny, and no one wanted to buy him so instead they entered him into a contest of fighting sheep. 
Kochkor's thinness became his advantage and he nimbly dodged his aggressive opponent until the bigger sheep collapsed, exhausted. Inspired by this win, they entered poor Kochkor into another contest with the same result. In the end, not only had Kochkor won a lot of money but his fame had spread wide and a wealthy merchant bought him for a price equal to that of 90 sheep. So the woman got her good clothing and the village got its name. 
Situated just 3 hours from Bishkek, Kochkor is located just off the busy Bishkek to Naryn road making it a convenient stopping point. Kochkor offers everything that visitors may need – good accommodation and food, adequate shopping facilities, and a well-run information center. After the regional center Naryn, Kochkor village is more calm and overall less crowded. It is an ideal place to start your trip into the mountains.
Kochkor is one of the finest places to explore the modern nomadic way of life. It is a perfect starting point for a trek in the mountains. Kochkor's pastures are stretched in the center of Kyrgyzstan and filled with herds of sheep and horses. During spring, the valleys in the area transform into a colorful field with floral carpets flocked by clouds of butterflies.
If you are interested in the town's history you can visit a private museum of the local historian enthusiast. A local historian turned half of their house into a private museum. He has been curious about who lived in Kochkor from its very foundation, and what peoples have had the power on this land. He has been collecting artefacts from ancient settlements which have now been turned into cemeteries. Among that artefacts are stones with paintings, jugs, ancient tools, coins, arrows, and equipment for horsemen. In total, he has collected more than 1500 pieces of the local history.

Kochkor is also a center of Kyrgyz handicrafts. People in this village have started to revive the old ways of producing the traditional Kyrgyz handicrafts. It is famous especially for the Shyrdak production but also many other mostly wool based handicrafts are being produced in Kochkor and the surrounding smaller villages.
Legend about Kochkor cemeteries
As an ancient city, Kochkor holds many legends. One of them is about 40 warriors of Manas. According to legend, after the death of Manas, his forty warriors did not obey Manas' son Semetey and fled to Kochkor. However, the angered Semetey overtook them in the Kochkor area and killed all of them. According to one version, their bodies were buried here. So, today these mounds, located not far from Kochkor, have become known as the "Kyrk Choro" cemetery which translates as 40 companions or 40 guards.
According to other sources, the best representatives of the Kyrgyz "Sary Bagysh" and "Solto" clans are buried here in graves dating back to the 17th-19th centuries. Earlier there were about 20 cemeteries that could be seen in Kochkor, that held images of hounds inside but now there are only 5-6 graves left. No one has studied these mounds due to the lack of interest. Meanwhile, these graves disappear due to the erosion caused by precipitation. Another major reason for the grave amounts going down are the residential building areas expanding around the town as the population is growing and also requiring more arable fields at the expense of the old cemeteries.
The method of treatment and prevention with the benefit of the microclimate of a large number of salt caves has been known for many years. It has been introduced in medicine in the middle of the 19th century when the first salt clinic was opened in the Polish Wieliczka mine. Today, salt mines in different parts of our globe are actively engaged in healing measures. This method of treatment is called speleotherapy. Inhalation of saturated salt aerosol can reduce inflammation of respiratory diseases and help in elimination of manifestations of any nature or stimulate an increase in the body's resistance.
The observed healing effect of salt mines led to a rapid increase in the popularity of this method in Europe and subsequently in the former USSR. Today, natural salt caves are actively used for health-improving and therapeutic sessions of speleotherapy and Chon Tuz is such a place in Kyrgyzstan, located in the southwest part of Kochkor. Situated at an altitude of 2100 meters above sea level, speleological sanatorium has the shape of a horizontal gallery in the thickness of the Kek-Too mountain, 500 m long, 5 m wide, and only 3 m high. 
Chon Tuz is means big Salt, this is the name of both the nearest ail and the deposit. It is known that salt is capable of healing a number of diseases, including allergies, neuroses, and bronchial asthma. Since Soviet times, it has become a center for treatment and operating since 1980 with 120 seats.  The underground station occupies one of the parts of the Chon-Tuz mine.
Destinations and sights near Kochkor