The marvelous scenery of Red Bridge Canyons, known as a Konorchek canyons presents a significant sight of the unique nature of Kyrgyzstan. The canyons are formed by the red sandy rocks, eroded by rain and wind. Just about two hour drive from Bishkek, in the Boom gorge, you can enjoy the beauty of the red brick colored canyons that contain red Paleogene sand and clay rocks. To majority of tourists it resembles the mini version of the Grand Canyon and has also similarities with the more known Fairy tale Canyon which is located at the south beach of Issyk Kul. 
Entering in the canyon easy, there is only a slight difference in height when walking towards the canyon, however if you hike further it might be a bit tough to climb over the bigger rocks but they are not obstacles for most visitors. The canyons are also well-known as a Aeolian castles due to the appearance of the rock formations. Its name comes from the Greek language and means "god of the wind". 
During the spring time the canyon is more green and several plants thrive in the area. You can find for example different shrubs – pops, barberries and numerous blooming plants that belong to the semi-desert species that grow in very arid areas like this.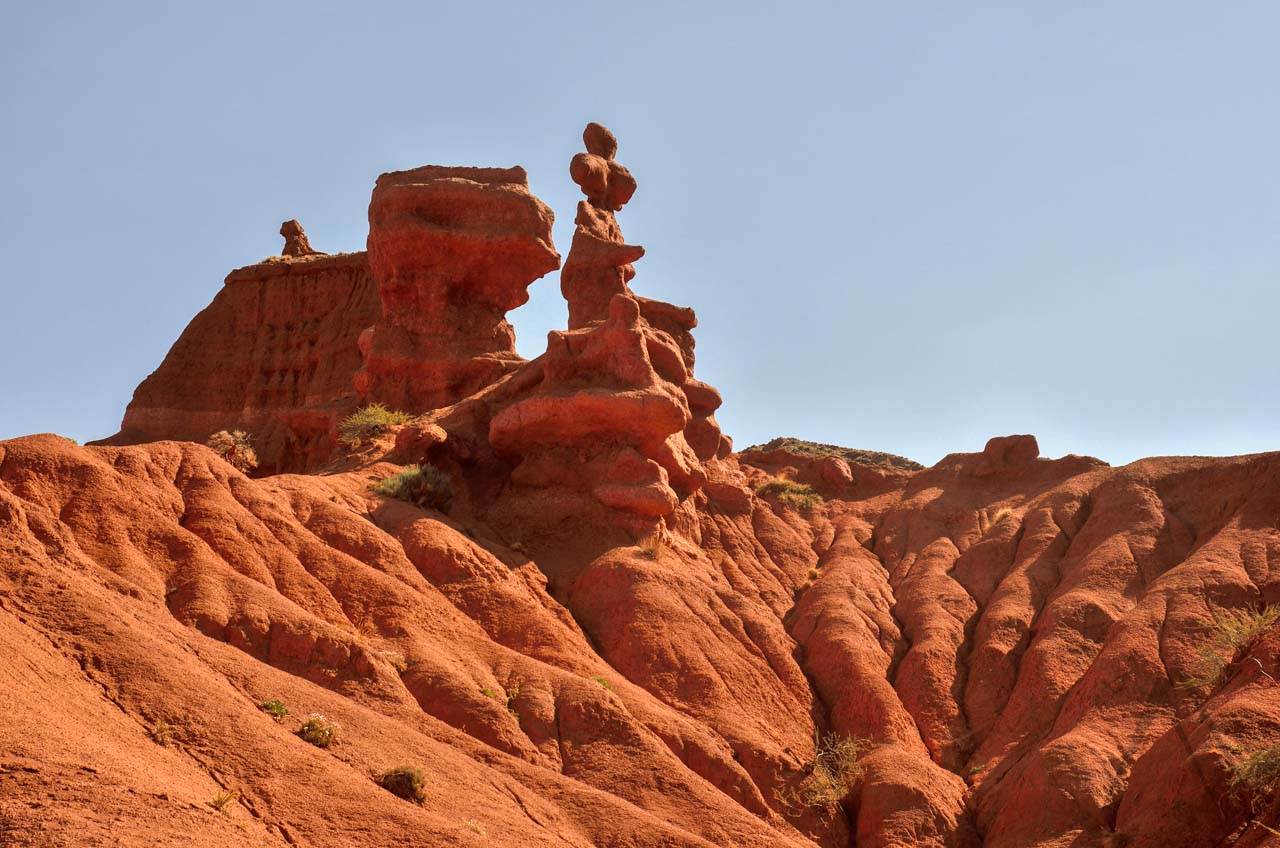 Konorchek is a good day trip from Bishkek
Konorchek is a perfect day trip from Bishkek or a place to hike for few hours while on the road between Bishkek and Issyk Kul which also suits a less experienced hiker due to the easy terrain. The paths can form kind of labyrinths though so don't go alone if you are prone to lose your bearings.
Travel to Konorchek Canyons
The canyons are located between Bishkek and Issyk Kul in the Boom gorge so you may take a bus or marshrutka to Balykchy from the west Bus Station in Bishkek and get off at the Red Bridge ("Krasnaya Rechka") bridge or travel the way by taxi in about two hours. The entrance to the canyons is located in next to red bridge that crosses the river Chui and there is a parking place with a cafe on the right (west) side of the road. 
You can start your hiking journey from the Boom Gorge and pass under a railroad bridge towards west and then walk all the way to the "Eolian Castle" formations within 2 hours. Best times to go are in spring and autumn, but one can never know if there is water in the river bed at the bottom of the canyons during the snow melt time in the spring. 
The climate in the Konorchek canyons is very arid outside the snow melt time and the summer is very hot and dry and in the winter it's cold with little or no precipitation at all so remember to bring enough water for your journey. The entrance to the territory of the canyon is free.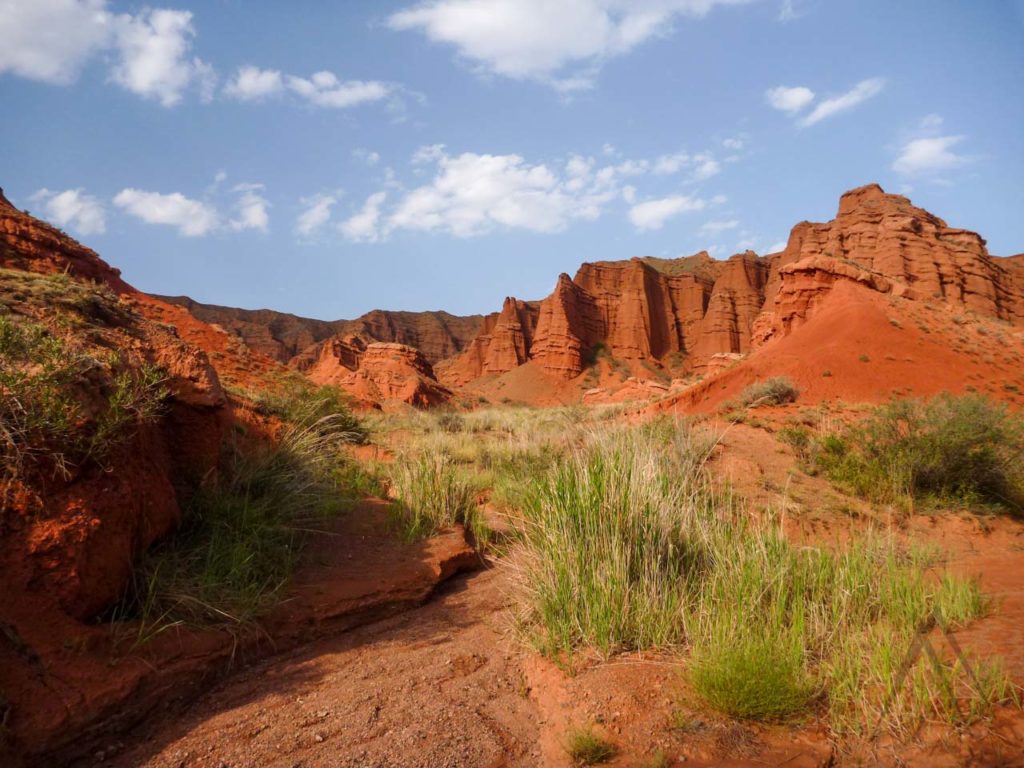 Bring with yourself to Konorchek
Destinations near Konorchek Canyons