Full Kyrgyzstan Highlights tour From Osh
Full Kyrgyzstan Highlights tour from Osh
This highligts tour to Kyrgyzstan will reveal you almost every part of the Kyrgyz land, from the south to the north. The tour program also includes the largest alpine lakes, such as Issyk-Kul, Sary-Chelek and Son-Kol. In addition, it offers beautiful canyons, pastures, high mountains, rivers and waterfalls. You will learn more about the lifestyle, traditions and culture of the locals. 
The southern part of the journey allows you to see more oriental traditions closer to Uzbek culture and values and in the north you will see a different Kyrgyz culture shaped more by the western and Russian/Soviet world. If one part of the trip shows the form of local civilization, then in the other half of the trip you can feel like a nomadic people, practicing a nomadic way of life, which is still partly inaccessible to civilization. On this long journey, you will be able to see different landscapes and all the four seasons, as the weather is different in each province and in the different altitude levels. 
This tour will introduce you with the natural beauty and nomadic traditions of Kyrgyzstan. Distinct Kyrgyz culture is rooted in proud nomadic traditions. Kyrgyzstan was also an essential part of the Great Silk Route and three branches of the route: Pamir-Alay, South, and North routes, that all pass through Kyrgyzstan.
This trip will allow you to plunge deeply into the life of nomadic Kyrgyz and to feel the harmonious beauty of Kyrgyz nature. You will experience high mountains, long and narrow valleys, cold rivers, noble lakes and herds of horses, sheep and even yak in wild pastures between the high peaks and yurts dotting the scenery.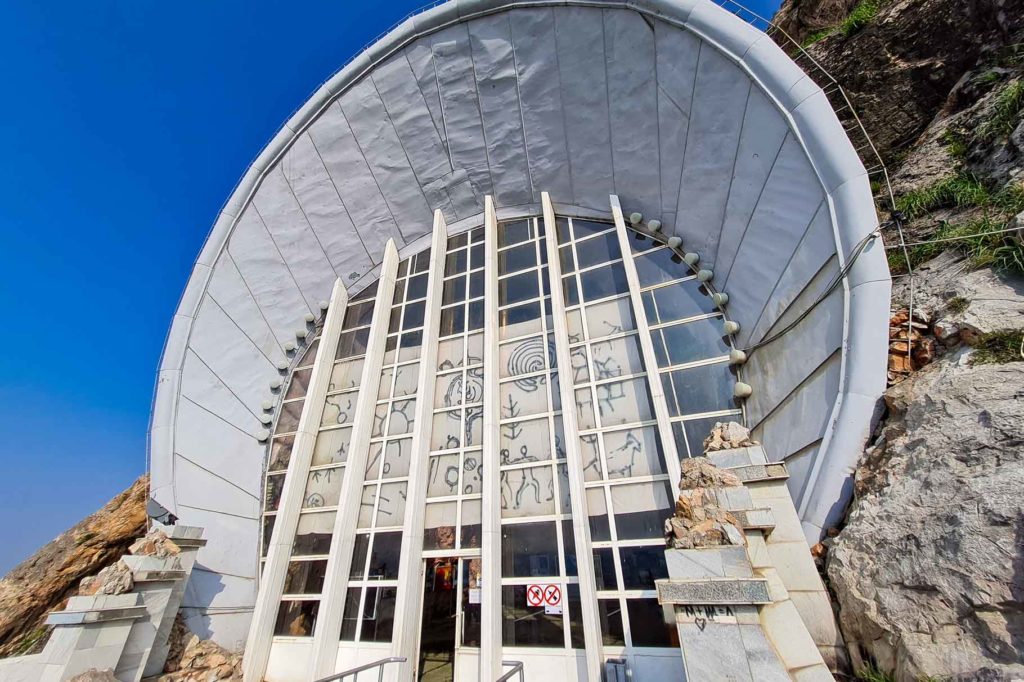 Osh city (Sulaiman-Too, Central bazar, local food)
Transport from the airport/border checks to the hotel. Osh is one of the multi-cultural cities with its 3000 years history and it is confirmed as a cultural city of Turkic language people. City tour in Osh: First destination will be the sacred Suleyman-Too mountain which is located in the city center of Osh and is considered the main cultural heritage in the region. Afterward, you will walk in the Central Bazar of Osh, which was a famous marketplace during the heyday of the Silk Road. For lunch, you will have the possibility to enjoy the symbolic food of Osh called"Samsy". For the dinner, the most popular food of Kyrgyzstan called "plov", will be offered for you on the behalf of our company.
Accommodation: Hotel in Osh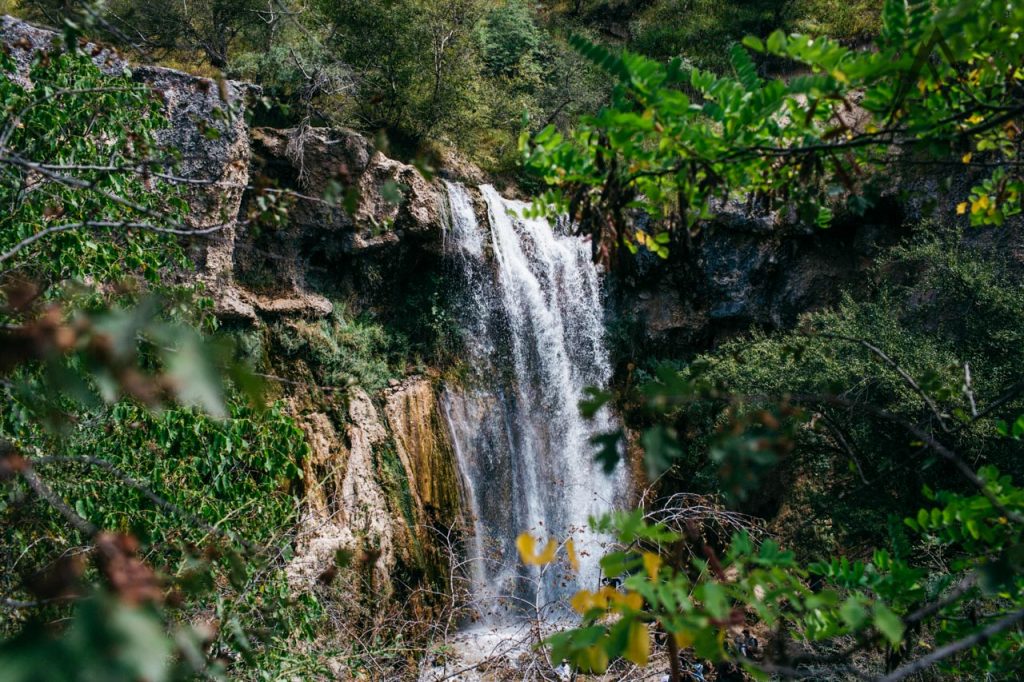 Osh – Arslanbob (Old tower, nut forest, waterfalls, extreme drive with Soviet jeeps)
After having breakfast, we will drive from Osh to Arslanbob town (3-4 hours). On the way, we will visit a historical tower in Uzgen, called "Munara" which was a strategic center during the Karkhanids (9-13th century). After the arrival to Arslanbob, we will have delicious food in a local guest house with a panoramic view of the whole Arslanbap forested mountain area. After lunch, we will have an extreme drive with old Russian jeeps to the small and big waterfall. We then drive to the largest natural nut forest in the world, covering about 700 hectares.
Dinner and accommodation in a local guesthouse
Day 3 Arslanbob – Kara Kamysh – Sary Chelek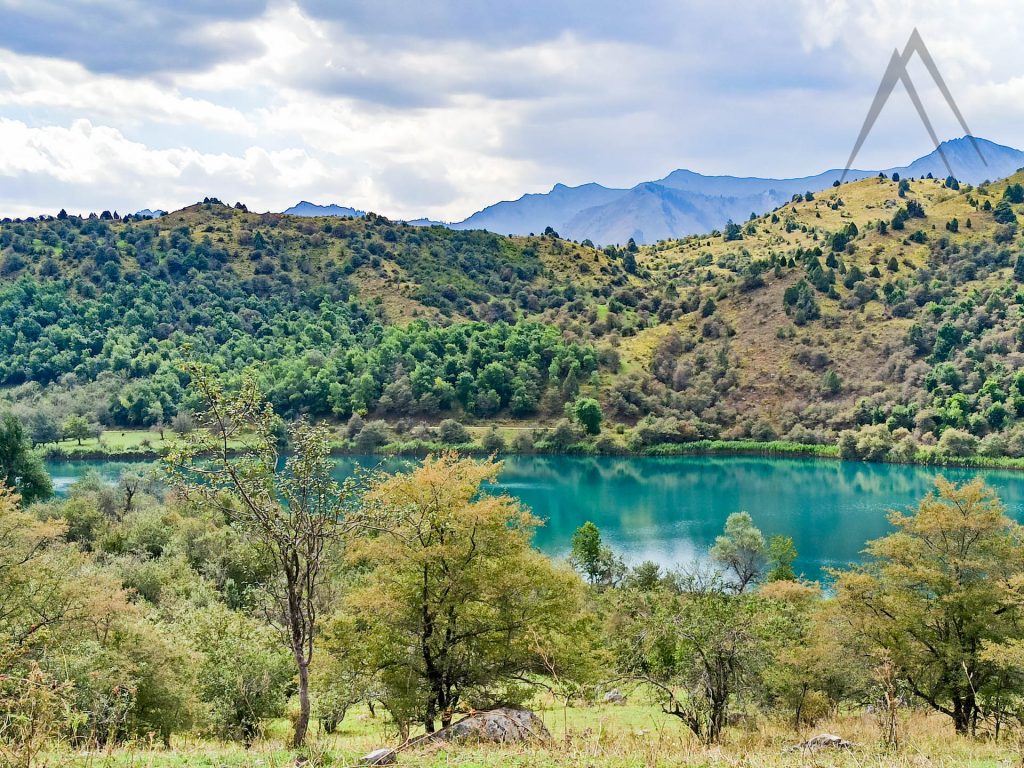 Arslanbob – Kara Kamysh – Sary Chelek (Kara Kamysh lake, Naryn river, Sary Chelek national park)
After breakfast, we start the transfer to Sary-Chelek national park. On the way, you will see the beautiful lake Kara-Kamysh and Naryn river which is the longest river in the country. We will arrive at the hotel in Sary-Chelek in the afternoon. We will have a walk in the area and some free time. The hotel is located among the mountains and a river.
Dinner and accommodation in hotel in Sary Chelek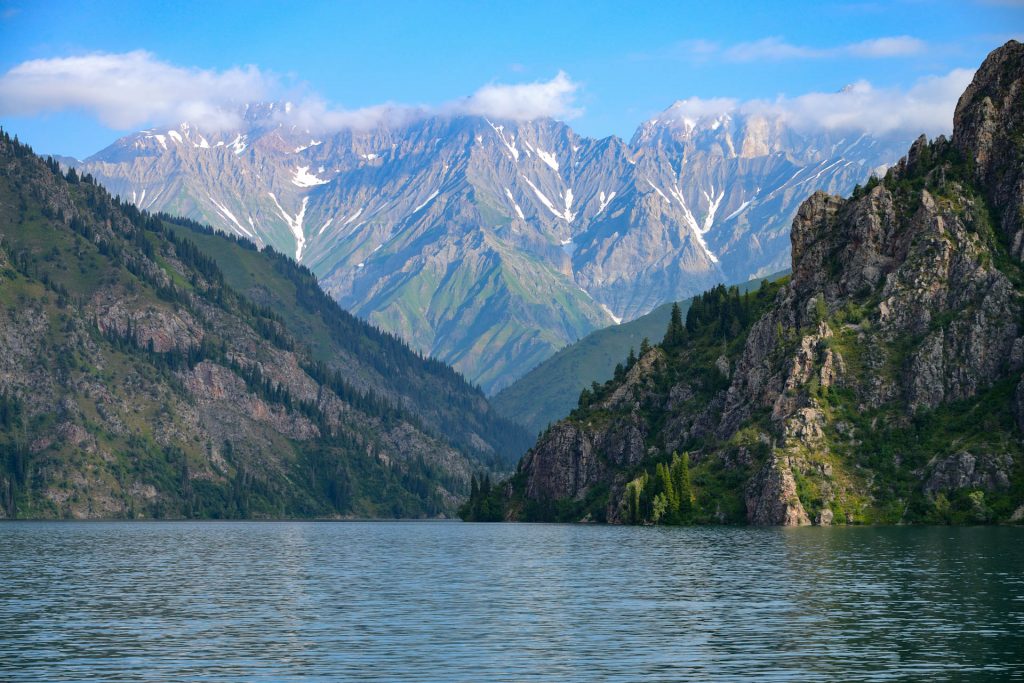 Sary-Chelek 
In the early morning after breakfast we drive to the main lake of Sary-Chelek. Then we will have a whole day trekking for 7 lakes of the area. Every lake has its own beauty as they are untouched wild lakes with flowers and untouched nature around them. In the last lake we have opportunity to swim and have a picnic in the nature. Trekking will last till about 17:00.
Dinner and accommodation in hotel Sary Chelek
Day 5 Sary Chelek - Son Kol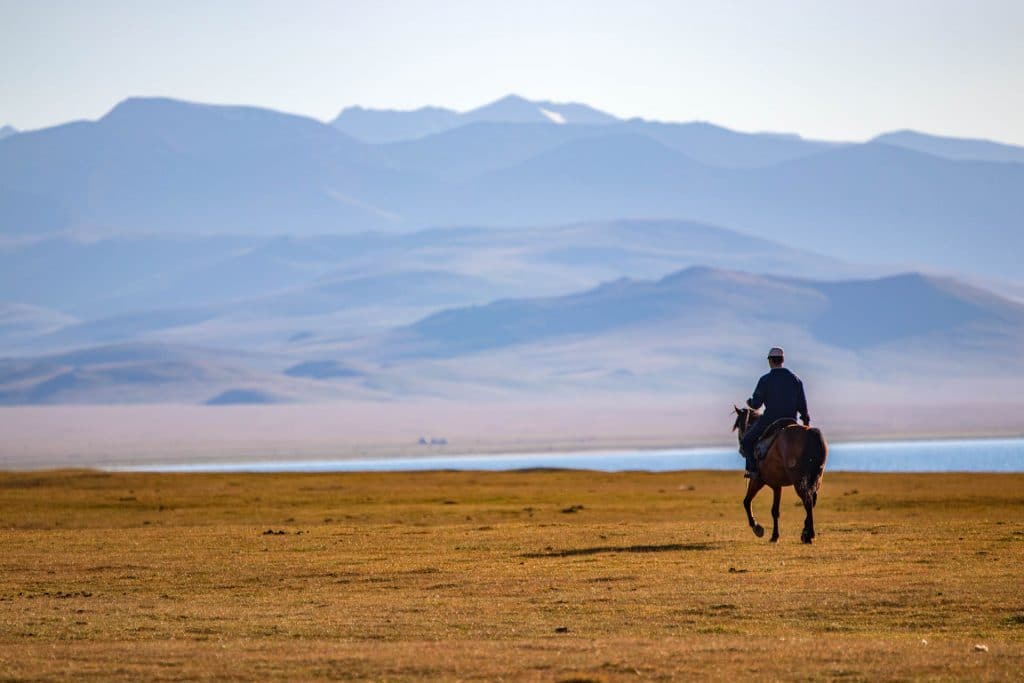 Sary Chelek – Son Kol (Two tunnels on a high mountain, Kyrgyzstan's largest water reserve (Toktogul), beautiful gorges, rivers and valleys, Son-Kol lake)
In the early morning, we drive from Sary-Chelek to Sol-Kol lake which is one of the largest alpine lakes in the world. Road takes us the whole day. On the way we will see the most amazing parts of Kyrgyzstan. "Chychkan" gorge is famous with its long zig-zag roads and the river always following the road. Later we will be in valley called Suusamyr which will surely surprise you with its high altitude and nomadic people who live with their thousands of animals. In this valley we will get a glimpse of the still very active Kyrgyz nomad lifestyle. Afternoon, we will go along the "Kokomeren" river which has a very strong flow and great views. Through a few villages and valleys, we will finally reach Son-Kol lake.
Dinner and accommodation in a yurt in Son Kul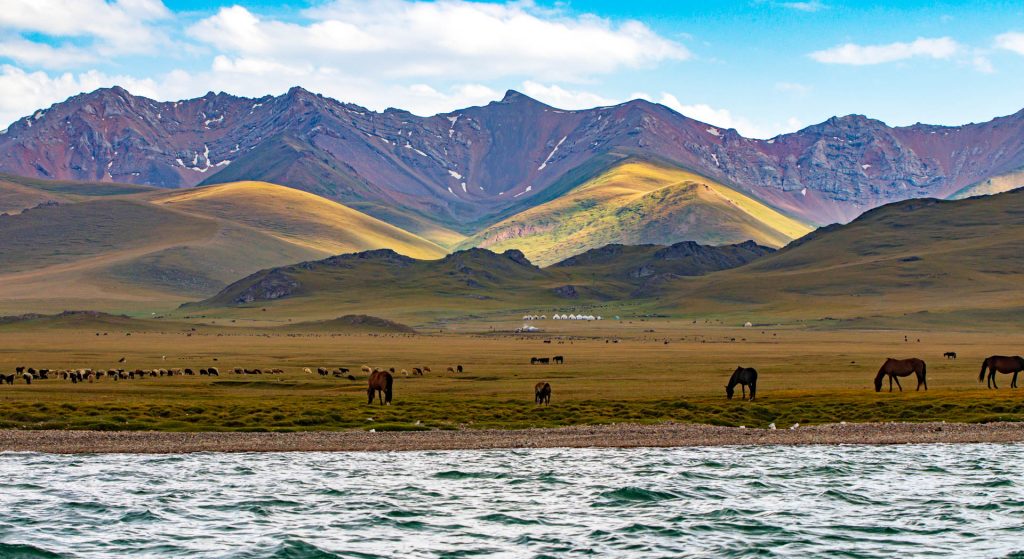 Son-Kol lake (Amazing landscape, horse riding, trekking)
We will have another day in Son Kol lake as there are many things to enjoy. The lake is located on 3016 meters from the sea level and is surrounded by the rare flowers called edelweiss. After having a breakfast, we take us to another side of the lake which has its own uniqueness. Afternoon we can ride a horse and go around the lake or have trekking. In the evening we see sunset on the top of a hill. It is also possible to swim in the lake.
Dinner and accommodation in yurt Son Kul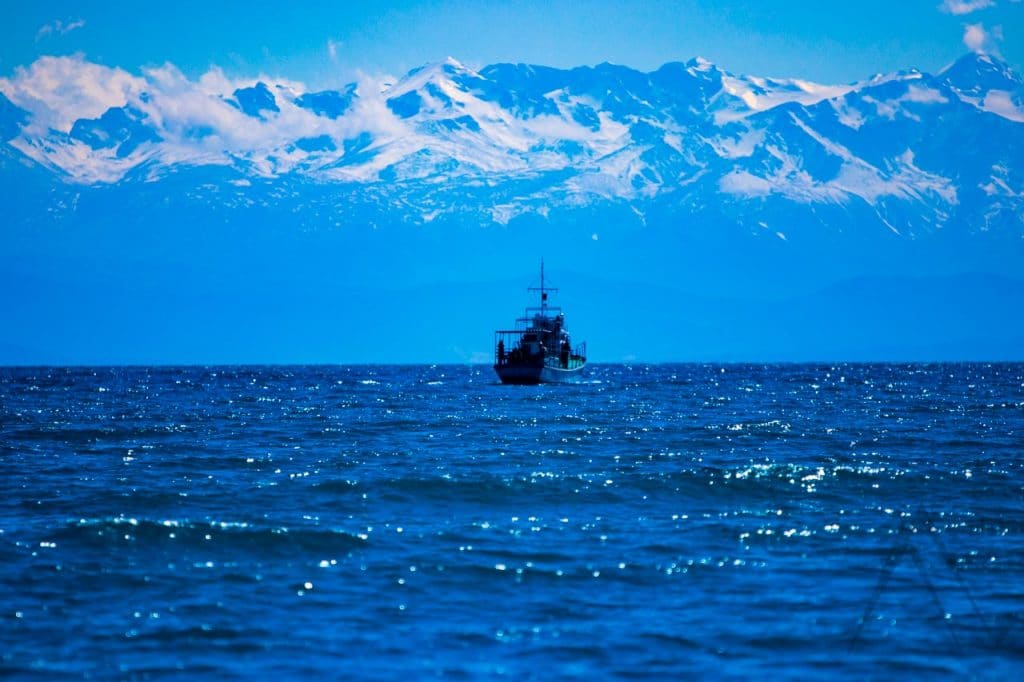 Son Kol – Issyk Kul (Long drive through different landscapes, camels, water reserve, Yssyk Kol)
In the early morning, we leave Son Kol and start the way toward Yssyk Kol. On the way, we stop in a local house where we can admire amazing hand-made carpets and horse saddles, and many other hand-made traditional items. Later we can see one more water reserve and camels around it. Afternoon, we arrive to Yssyk Kol lake which covers most of the same-named province with its massive length of 150 kilometers. We stop in yurt camp along the lake and enjoy views of the lake or you can swim and enjoy the beach.
Dinner and accommodation in a yurt camp in Issyk Kul
Day 8 Tamga – Barskoon – Karakol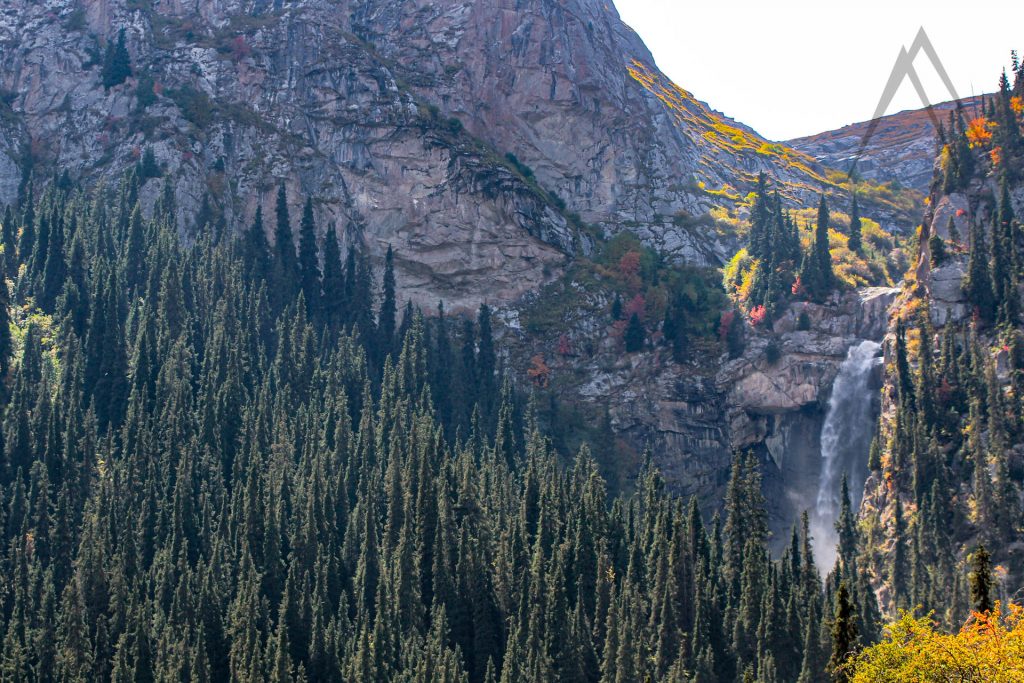 Tamga – Barskoon – Karakol (Waterfalls, green pastures, canyons)
In the morning we go to Barskoon waterfall and have a short trek up to the mountain. Later we will arrive to the most popular canyon in the country. Afternoon, we visit Zety Oguz (Seven bulls) town which was a famous sanatorium during the Soviet Union. Here we see waterfalls and valley covered with spruces. In the evening we arrive to Karakol city which is one of the touristic cities of Kyrgyzstan and the center of winter sports.
Accommodation: Guest house in Karakol
Day 9 Karakol - Cholpon Ata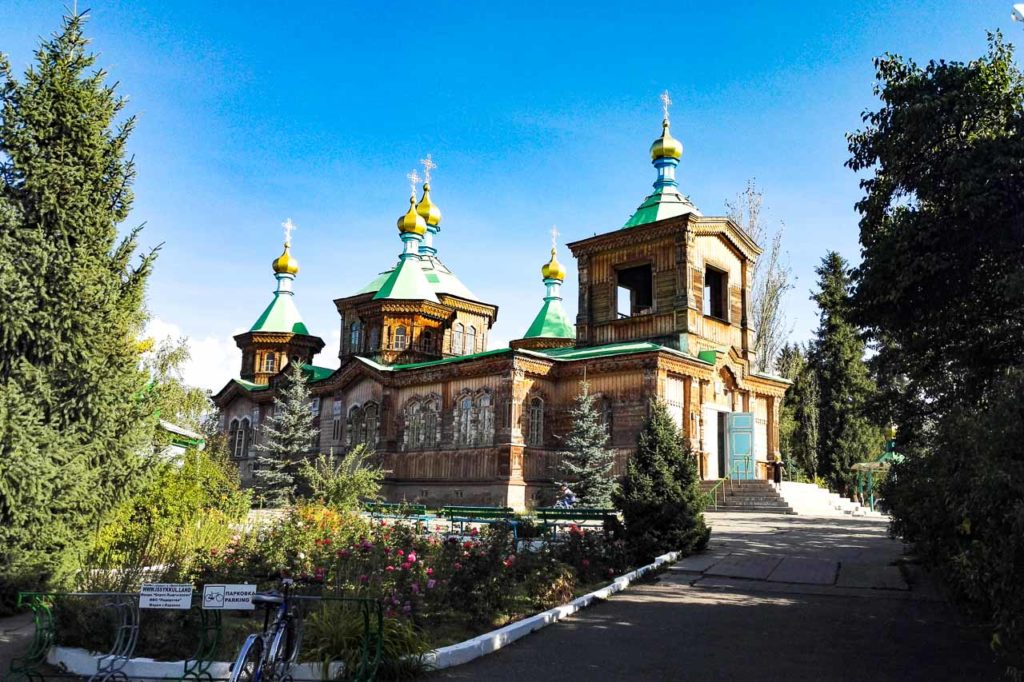 Karakol-Cholpon Ata (Kyrchyn and Grigorovskiy gorges, alpine lake and beach in Issyk Kul lake)
In the early morning, we drive to Cholpon Ata town by the northern beach of Issyk Kul lake. On the way, we visit gorge "Kyrchyn" which is the place for popular national holidays, games and marathons and other national sports. In this gorge Kyrgyzstan has hosted 3 World Nomad Games. Afterwards we continue to another gorge called Grigorevskiy and see a beautiful mountain lake and with some luck horses and other animals as well. In the evening we arrive to the beach of Issyk-Kol where we can swim in the cool waters of the lake (Even though Issyk Kul translates as a hot lake)
Accommodation: Hotel in Cholpon Ata
Day 10 Cholpon Ata - Bishkek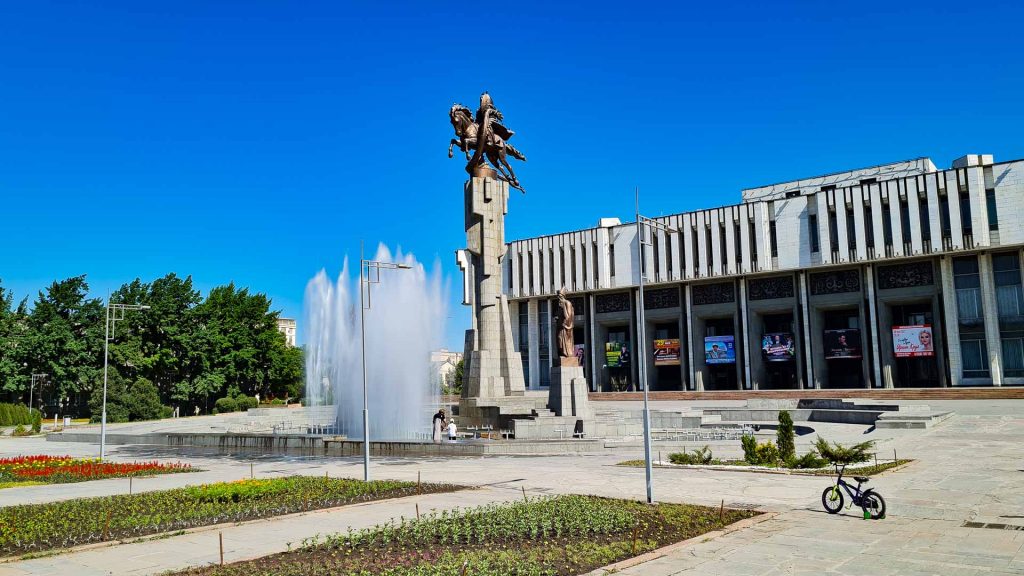 Cholpon Ata-Bishkek (Bishkek, city tour, central market)
In the last day of our trip we will reach the capital city Bishkek and have a city tour. After arrival to Bishkek in the afternoon, we will go to "Osh Bazar" where we can buy local foods, dry fruits and souvenirs. Then walking in the main street "Chuy" where we can see main buildings and city monuments.
Accommodation: Hotel in Bishkek
Day 11 Bishkek - Departure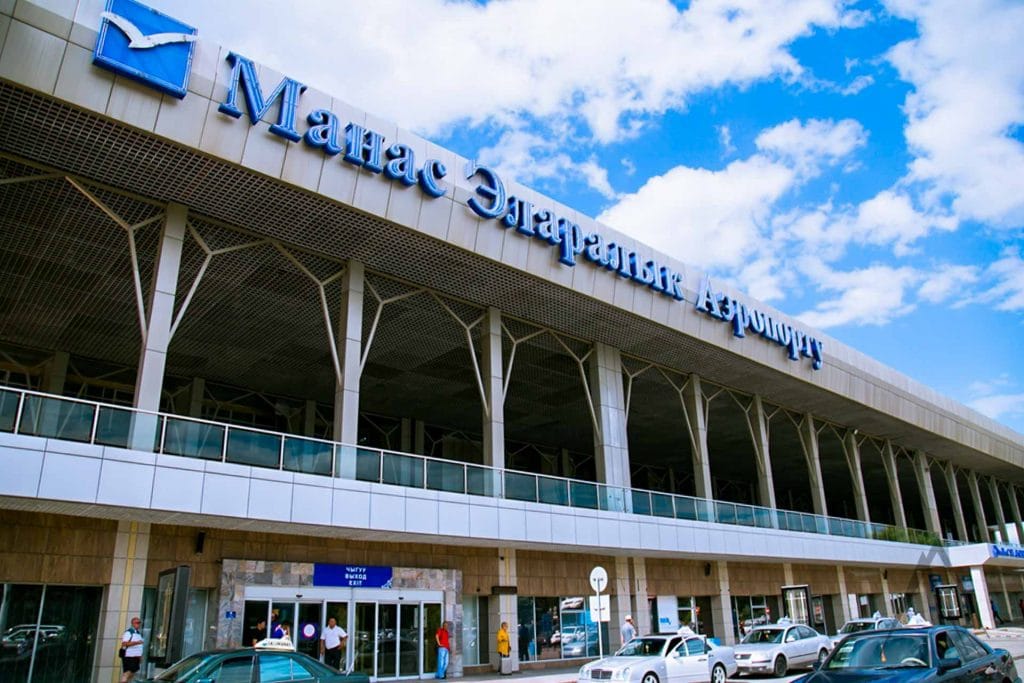 Departure from hotel to the Manas International Airport, end of tour.
What is included or not included in tour cost?
Accommodation according to itinerary
All transportation inside Kyrgyzstan
Local English speaking guide
Program activities
Breakfast & Dinners (except in Karakol, Cholpon Ata, and Bishkek),
International traveling (air tickets etc.)
Travel insurance
Visa services
Lunches on the way
Dinners in Karakol, Bishkek, and Cholpon-Ata
Alcohol and other drinks
What to bring with you:
Comfortable walking/hiking shoes, warm clothes, rain clothes, sunscreen, the cap for the sun and sunglasses, personal medications.

Start & Finish
From Osh in Southern Kyrgyzstan & In Bishkek, the capital of Kyrgyzstan

Requirements
This tour requires normal physical condition. There will be some walking in easy and moderate terrains.
Price per person
1 – 2 pax;
3 pax: 

4 pax:

5 – 6 pax:
7 – 10 pax:
10 – 15 pax:


Ask for price
1015 $
900 $
870 $
825 $
660 $
If you would like to customize your tour please don't hesitate to contact us. We are happy to organize a custom tour or to provide a modified itinerary based on one of the tours provided by us or our cooperatives.
Other tours in Kyrgyzstan